Thousands of Australian children skipped school on Friday in defiance of the prime minister to protest for greater action on climate change.
Organizers estimated around 15,000 left their classrooms in 30 locations across the country, including Melbourne, Brisbane and Perth, carrying signs reading "procrastinating is our job not yours" and "I've seen smarter Cabinets at Ikea".
Friday's protests followed similar protests in Canberra and Hobart earlier this week.
As the children prepared for three days of protest, Prime Minister Scott Morrison told Parliament "what we want is more learning in schools and less activism."
Two Central Victoria pupils, inspired by Greta Thunberg, a 15-year-old student in Sweden who staged her own climate strike outside the Swedish Parliament in September, started the "Strike 4 Climate Action."
Harriet O'Shea Carre and Milou Albrecht, both 14, penned a call to arms asking fellow school children to join them in protest, stating: "Just going to school isn't doing anything about climate change. And it doesn't seem that our politicians are doing anything, or at least not enough, about climate change either."
On Thursday Thunberg tweeted her support for the Australian schoolchildren, "Time for bed in Sweden. But in Australia it's already morning… I stand strong Australia. We are with you."
The Australian newspaper reported that environmental groups and parents supported the protests.
"I wake every morning in a state that is 100% drought declared," said 17-year-old Ruby Walker, a protesting pupil from the state of New South Wales.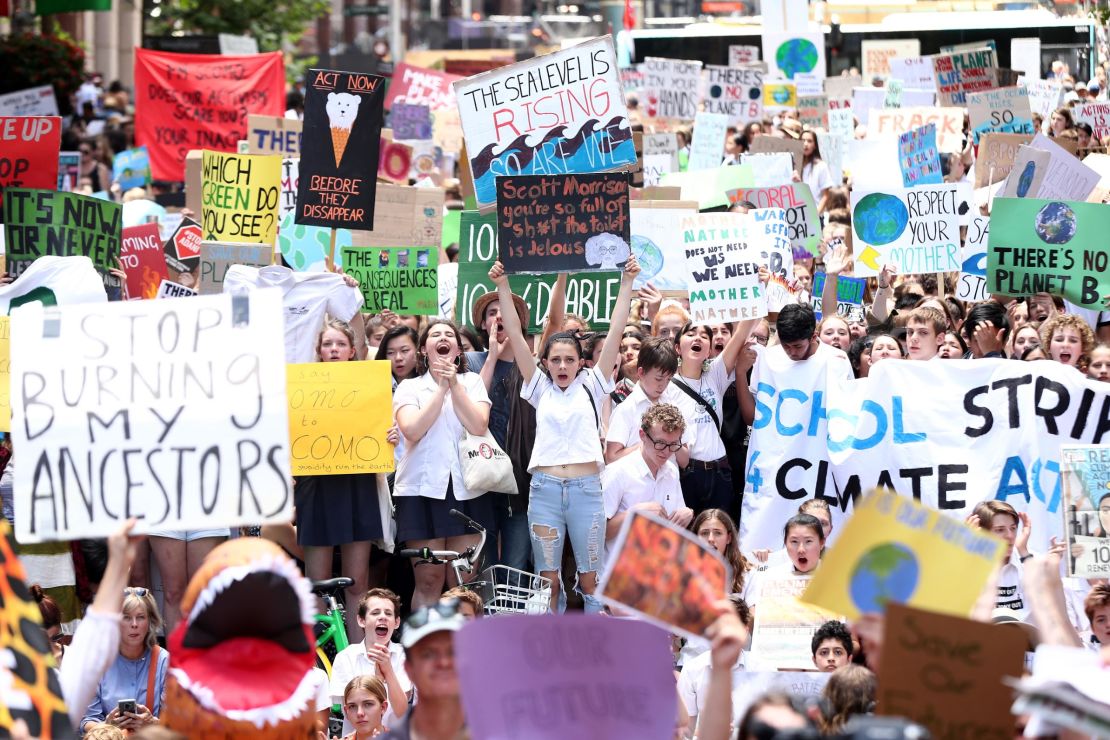 "I have seen our government ax policies to protect my generation's future. I have seen the failure to invest in solutions that would protect us and the failure to prevent and prepare for the climate crisis. Enough is enough," she added in a statement from "School Strike 4 Climate."
Jean Hinchcliffe, a pupil who spoke at the Sydney rally said, "Scott Morrison said this should be dealt with outside of school, but it's not being dealt with and that's why we're taking action."
"Students are keen for more because the student revolution is well underway," added the 14-year-old in a statement.
On Friday, the resources minister Matt Canavan said he would prefer students to learn about mining and science rather than protest. "These are the type of things that excite young children and we should be great at it as a nation," he told 2GB radio. "The best thing you'll learn about going to a protest is how to join the dole queue."
The children are also protesting against the possibility that the Carmichael coal mine, a controversial development in Queensland, will gain the regulatory approvals for work to begin.
The proposed use of Australian taxpayer dollars had enraged opponents of the mine, who say it will be a "death sentence" for the Great Barrier Reef because of the high levels of carbon pollution that coal produces. Large parts of the reef have already been destroyed by rising ocean temperatures linked to global warming.
Indian conglomerate the Adani Group announced Thursday that the project would be "100% financed" through its own resources, removing the need to rely on government funding.
"We will now deliver the jobs and business opportunities we have promised for North Queensland and Central Queensland, all without requiring a cent of Australian taxpayer dollars," the company said.
On Friday thousands of school children in Sydney chanted "stop Adani, stop, stop Adani."
The students' protest gained momentum this week with the release of several reports that warned of the severe consequences of climate change and the world's collective failure to meet goals set by the Paris Climate Agreement in 2015.
A US government report released last Friday warned that climate change could cost the US economic hundreds of billions of dollars by the end of the century.
Another, compiled by researchers from 27 global institutions, predicted that heat waves could reduce food supplies and aid the spread of diseases such as dengue and cholera.