A magnitude 7.0 earthquake that struck near Anchorage, Alaska, on Friday morning crumbled roads and splintered buildings, sent residents scurrying for cover and triggered a tsunami warning for a time, authorities said.
The booming quake hit about 8:30 a.m. (12:30 p.m. ET) some 10 miles northeast of Anchorage, at a depth of 21 miles, according to the US Geological Survey. Aftershocks continued after the tsunami warning was canceled.
"It was very loud when it came," Anchorage Mayor Ethan Berkowitz said. "It was very clear that this was something bigger than what we normally experience. We live in earthquake country so folks … but this was a big one."
Social media and television news video depicted scenes of chaos, including students taking shelter under desks while sending texts from their phones, roads buckling under passing cars, grocery store products tumbling from shelves, hospital workers scrambling for cover and panicked attorneys under tables as a courtroom rocked from side to side.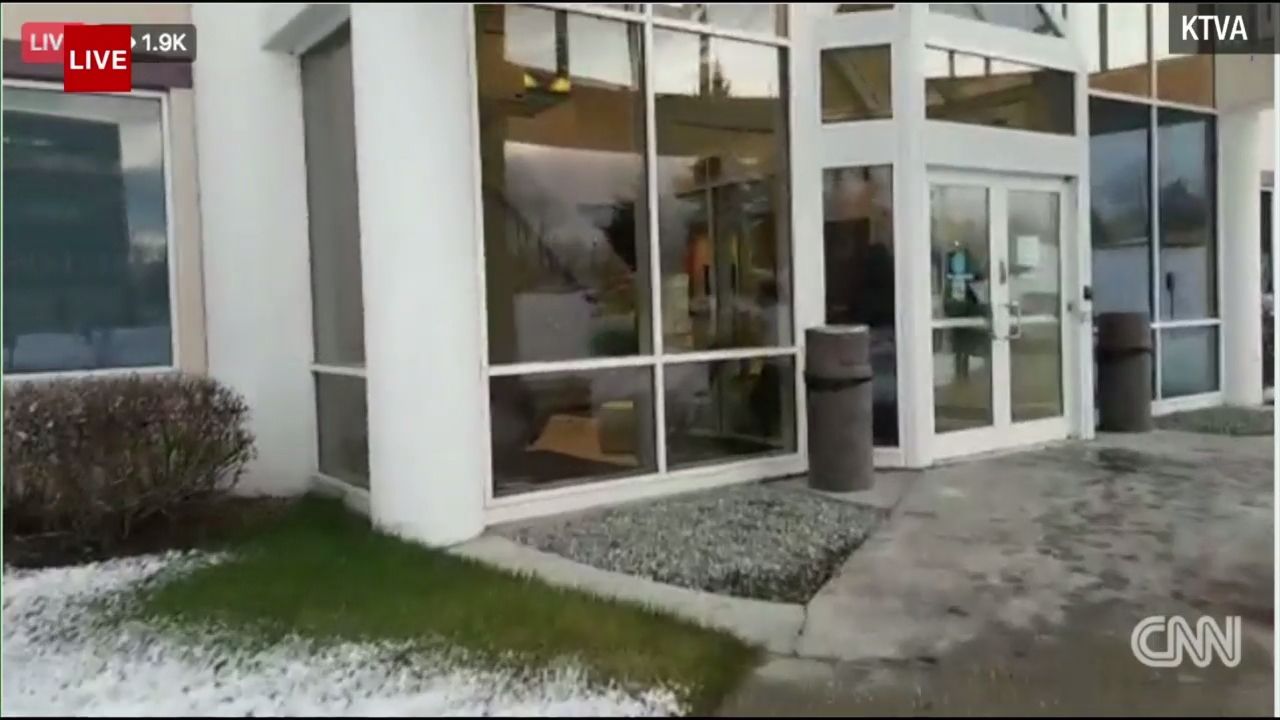 The quake also knocked CNN affiliate KTUU off the air. Items rained down from shelves and ceilings at the station, news director Tracy Sabo told CNN's Sara Finch.
"It was absolutely terrifying," Kristin Dossett, a resident of Palmer, Alaska, told CNN.
It was the most violent quake she felt in her 37 years in a region where temblors are common, Dossett said. One aftershock moved her piano a foot and half from the wall.
"It shook like I have never felt anything shake before," she said.
"It just didn't stop. It kept going and got louder and louder, and things just fell everywhere — everything off my dressers, off my bookcases, my kitchen cupboard. Just broken glass everywhere."
Despite the confusion, Anchorage authorities said Friday night that no fatalities or serious injuries were reported.
No serious pipeline leaks were reported. Alyeska Pipeline Service Co. said on Twitter that the Trans-Alaska Pipeline System was shut down at 8:34 a.m. and was brought back online at 3:30 p.m.
Authorities didn't have firm figures on damages Friday night. Helicopters and drones were being used to assess infrastructure damage across the region.
The Anchorage School District canceled classes for Friday because of the earthquake and for next Monday and Tuesday to assess facility damage.
Seismologists predict more aftershocks in coming days and weeks
Gov. Bill Walker issued a disaster declaration, according to a post on his Facebook page.
The Kenai Peninsula Borough School District said all its students were safe.
The US Geological Survey has reported dozens of aftershocks. The largest, registering 5.7, was located in the city of Anchorage. Seismologists predicted many more in the coming days and weeks.
FOLLOW LIVE UPDATES ON THE QUAKE
The Anchorage Office of Emergency Management for a time urged residents to shelter in place.
The Municipal Light & Power utility reported that between 7,000 and 10,000 customers were without power.
"I could tell this was bigger than anything I'd been in before, and it wasn't going to stop," resident Philip Peterson said.
Peterson was in a multistory building in downtown Anchorage as the structure swayed and coffee mugs fell from tables and tiles from the ceiling.
"I just jumped under my desk and had to ride it out," Peterson said.
Michael West, the Alaska state seismologist, told CNN the 7.0 earthquake was felt up to 400 miles outside of Anchorage. West said damage reports across the region were beginning to arrive at the Alaska Earthquake Information Center.
West called it the most significant earthquake in Anchorage since 1964.
"I think it's safe to say that, not measured in magnitude or location but in terms of how strong the ground itself shook during the earthquake," he said during a question-and-answer session at the University of Alaska, Fairbanks.
President Trump tweets: 'Federal Government will spare no expense'
The White House said via Twitter that President Donald Trump, who is in Argentina, had been briefed on the disaster.
Trump tweeted: "To the Great people of Alaska. You have been hit hard by a 'big one.' Please follow the directions of the highly trained professionals who are there to help you. Your Federal Government will spare no expense. God Bless you ALL!"
The President approved a federal disaster declaration for Alaska. That authorizes the Department of Homeland Security and Federal Emergency Management Agency (FEMA) to coordinate all disaster relief efforts.
Former Alaska governor and vice presidential candidate Sarah Palin tweeted that her house is not intact after the quake, but did not elaborate on specific damage.
"[Pray] for Alaska. Our family is intact – house is not… I imagine that's the case for many, many others. So thankful to be safe; praying for our state following the earthquake," she said on her verified Twitter account.
The Dena'ina Civic and Convention Center in downtown Anchorage was being used as a shelter for people unable to get home.
Two of the city's main hospitals – Alaska Regional and Providence Alaska Medical Center – sustained damage but emergency rooms were open, according to hospital officials.
The Anchorage Police Department said in a statement that it was handling "multiple situations" and reported "major infrastructure damage" across the city.
At Ted Stevens International Airport, the Federal Aviation Administration implemented a ground stop for flights. The airport reopened hours after the quake.
The FAA said the tower at Ted Stevens was evacuated at one point.
International Airport Road near Ted Stevens has been damaged, the airport said via Twitter, advising motorists to use extreme caution.
Alaska Airlines' operations at Ted Stevens resumed hours later and flights started to arrive and depart from the airport, according to the airlines' website.
The Coast Guard said the Port of Anchorage remained open to inbound and outbound maritime traffic.
Blair Braverman said she was staying in a hotel with her husband when the quake hit. She grew up in California and was familiar with earthquakes "but this was next-level," she said.
"The bed started shaking, everything was shaking so dramatically," she told CNN.
"My husband sort of crawled across the room and threw himself on top of me and we crawled to the bathroom together and waited it out in the doorway and waited out the aftershocks."
Reporters at CNN affiliate KTVA described falling window panes at the station's offices.
"The structure of the roof just collapsed," one said. "We can't even get into our studio right now. There were computers flying, cameras toppling over."
CNN's Shawn Nottingham, Chuck Johnston, Keith Allen and Matthew Hilk contributed to this report.