A Budapest-based university founded by billionaire investor and philanthropist George Soros said Monday that it has been "forced out" of Hungary in "an arbitrary eviction."
Central European University (CEU), which is a graduate institution accredited in the US and Hungary, has been forced to stop accepting new students after January 1, 2019, by Hungarian law.
As a result, it said in a statement, the institution will launch all US-accredited degree programs in the Austrian capital of Vienna as of next September.
It comes after the university has been subjected to verbal and thinly-veiled legislative attacks by Hungary's Prime Minister, Viktor Orbán.
The populist and anti-immigration leader has been openly critical of both Soros and CEU's academic agenda, which appears antithetical to his government's nationalist worldview.
CEU said that forcing the university out of Hungary violates academic freedom.
"This is unprecedented," CEU's president and rector, Michael Ignatieff said in the statement.
"A US institution has been driven out of a country that is a NATO ally. A European institution has been ousted from a member state of the EU."
The statement said that over the past 20 months, the university had complied with Hungarian legislation and launched educational activities in the US that were certified by American authorities.
However, the Hungarian government has refused to sign an already agreed-upon document negotiated with the State of New York that would allow CEU to stay.
"The government has never even tried to pretend that there were academic grounds for their actions," the statement said, adding it was a "dark day for Europe and a dark day for Hungary."
Ignatieff said that "the government has done an injustice toward its own citizens – the hundreds of Hungarians who work and study at CEU, and thousands of Hungarian alumni and their families."
In response, a spokesperson for the Hungarian government's international communications office told CNN that "this is nothing more than a Soros-style political bluff, which does not merit the attention of the government."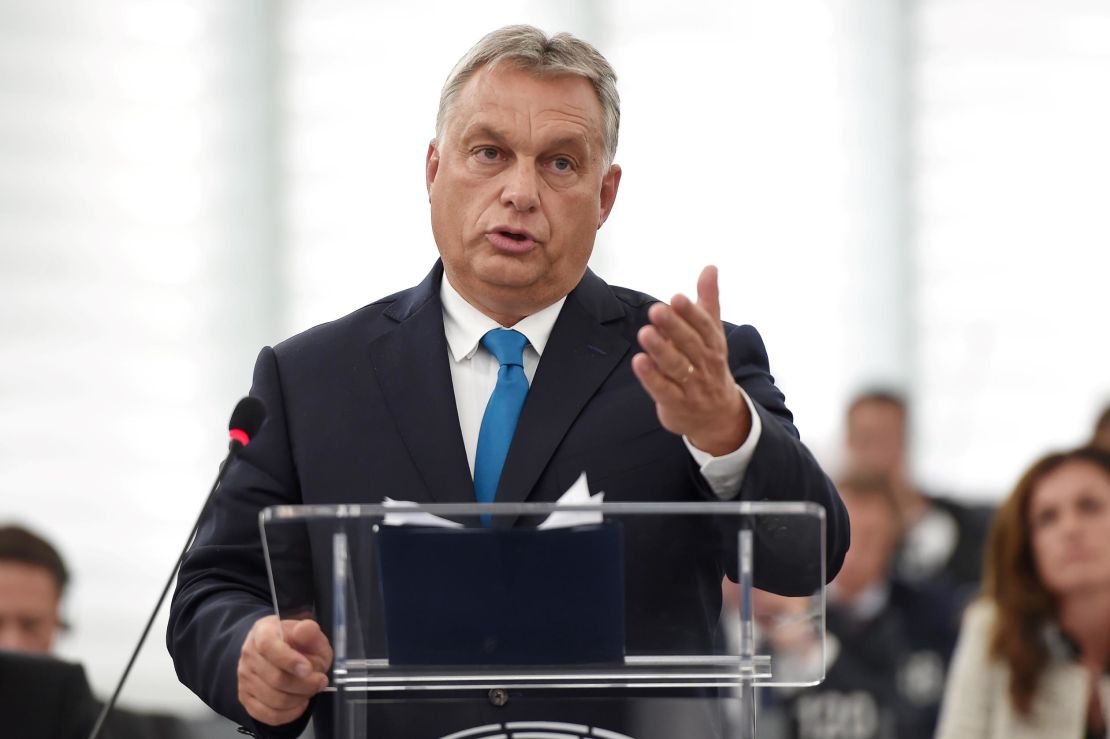 The emailed government statement added that, "it's common knowledge that a significant number of its courses will still be held in Budapest," referring to the fact that students currently enrolled will complete their studies in Budapest.
In June, Hungary's parliament passed legislation – informally known as the "Stop Soros" law – which criminalized helping undocumented immigrants, including asylum seekers.
Soros' support for refugees fleeing Africa and the Middle East in recent years has made him a frequent target for Orbán's right-wing coalition.
As a result, in August CEU suspended programs for refugees and asylum seekers after a newly introduced "immigration surtax" threatened a 25% levy on any activities seen to assist immigration.
The US State Department said in a statement it was "disappointed" that CEU and the Hungarian government couldn't come to an agreement which would allow the university to remain in Budapest.
"The departure of these US-accredited programs from Hungary will be a loss for the CEU community, for the United States, and for Hungary," it said.
The relocation to Vienna forces the university to not only leave the country it has operated in since opening in 1991, but also its recently opened premises.
CEU's chairman of the board of trustees, Leon Botstein, said in the statement that "the City of Vienna and the federal government of Austria have welcomed up with open arms as part of their commitment to academic freedom and research."
In May, the Budapest branch of Open Society Foundations, also founded by Soros, announced it was leaving Hungary for Germany because of "increasingly repressive political and legal environment."
A spokesperson for Orbán accused the foundation at the time of wanting "to create an immigrant continent and an immigrant country."
CNN's Lindsay Isaac contributed to this story.