Walmart is turning to new tech to reduce costs and convince shoppers to keep taking trips to the store.
This week, Walmart (WMT) announced it would bring robotic floor scrubbers to 360 stores by the end of the year. It also touted a new app, Dotcom Store, that allows associates to order products for customers on Walmart.com when they're out of stock on the shelves.
Both innovations tie into Walmart's plan to build what CEO Doug McMillon has called "tech-empowered stores."
More than 3,500 US supercenters are Walmart's biggest advantage over Amazon (AMZN), but they're expensive to run. Walmart has 704 million square-feet of space to mop up around the country, and the company believes the robot janitor will save time and free up workers to do other jobs around the store.
It is searching for ways to generate efficiency on the labor side and eliminate hassles for customers.
Robot janitors and grocery pickers
The 920-pound self-driving scrubbers, called the "Auto-C," use automated technology to navigate custom routes around the store and mop up the floors. The machine relies on sensors to scan for people and aisles.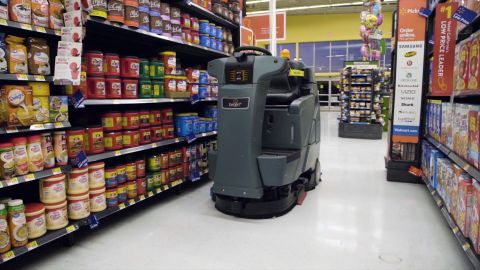 Walmart has tested out other robots and tech to automate tasks, such as unloading boxes from delivery trucks, checking items on the shelves, changing price labels on products, and selecting items for online grocery.
"One of our focus areas has been on bots," CFO Brett Biggs told investors at an October gathering.
Walmart is running an experiment at 50 stores with "Auto-S," a shelf-scanning robot that travels around aisles and identifies which items are low or out of stock, or where prices are wrong and labels missing. That information is important to help squeeze out sales.
It's experimenting with a bot in around 500 stores that unloads boxes off delivery trucks and automatically scans and sorts the items by department. Walmart said the unloader saves time and helps reduce worker turnover in the labor-intensive back areas of the store.
Down the road, Walmart sees all three robots communicating with each other to get products to the shelves more quickly and ensure they're fully stocked.
In Salem, New Hampshire, Walmart is piloting "Alphabot," a mobile cart that gathers refrigerated and frozen items from storage to speed up grocery pickup orders. In Sherman, Texas, it's testing an ATM-like machine that automatically dispenses fresh grocery pickup orders.
"There are all these activities – mopping, checking inventory, unpacking trucks – that are not sexy, but are required," said Oliver Chen, who covers retail at Cowen. "If you can utilize technology to make that happen, you can free up labor to do other things."
Although Walmart maintains that the bots serve as assistants to workers and allow them to engage more with customers on the sales floor, labor advocates worry that automating manual tasks will lead to job losses.
"There will be have and have-nots that can afford the robotization of retail," Chen added.
Amazon bought Kiva systems to automate its warehouses, but Walmart has a more difficult task of trying to figure out how to deploy robots in stores.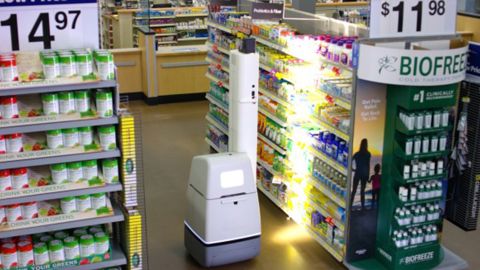 Options for customers
Dotcom Store, a new app for workers, will help the company keep shoppers from heading to Amazon when they can't find something on Walmart's shelves.
The new app, available in nearly all of Walmart's stores, allows workers to order items online for customers if they're out of stock. Customers can pay with cash, check, or credit and get the product shipped to their homes or for in-store pickup.
"Dotcom Store offers customers even more assortment options than what's on our physical shelves," Tom Ward, Walmart's senior vice president of digital and central operations, said in a statement this week.
The app adds to two other programs Walmart has rolled out recently: detailed mobile store maps for customers to locate items on the shelves, and "Check Out with Me," which allows workers to ring up customers on the spot while they're shopping.
Walmart is trying to reduce customer pain points in stores, such as waiting in long lines or trouble finding an item, Chen said.
He warned, however, that retailers like Walmart should proceed with caution when launching new tech in stores. "You don't want to mess up the experience for the 95% of people who aren't interested in this yet and cause friction for the bulk of your revenue."