She had pictured the trick plenty of times in her mind's eye and even tried it once onto an airbag but no woman had ever pulled it off on snow. Now, high on Austria's Stubai Glacier, snowboarder Anna Gasser gazed down at the huge white ramp that could propel her into history. Quiet in her helmet and dark goggles, Gasser contemplated her leap into the unknown. "I'm thinking triple," she whispered.
Specifically, she was thinking a cab triple 1260, a trick that involves taking off in the switch position – the opposite direction of travel with your "wrong" foot forward – before completing three-and-a-half full rotations and landing with your other foot in front. Pulling it off would require confidence, commitment, and a whole lot of bottle. "For sure it was one of the craziest tricks I've ever done," the 27-year-old Austrian told CNN Sport. Staring down the run in, Gasser tried to flood her body with confidence. Naturally, though, nerves crept in. Her stomach churned, but she hopped forward on her snowboard and started speeding towards the giant snow ramp sculpted by machines.
READ: 'Spiritual' end to 157-day swim around Great Britain
"I had some butterflies in my stomach for sure before I dropped in," said Gasser, who won gold in the big air contest at the PyeongChang Winter Olympics in 2018. "There was not much going through my mind actually, I was just trying to trust myself and telling myself that I could do it. Other than that, I was just full-on focusing on what I wanted to do."
Gasser knew a big take off would be essential. A triple requires far more force and power than your average jump; complete commitment to the cause is key, because abandoning the trick midair can be treacherous. She sped up the steep ramp and launched into the Austrian sky. Once airborne, the feeling was like nothing she had experienced on a snowboard before. Gasser had made history before when she became the first female snowboarder to perform a cab double cork 900 – two back somersaults and a horizontal spin, giving the effect of a corkscrew – in November 2013. Now she was about to take the sport into another new realm.
Visit CNN.com/TheMoment for more stories and videos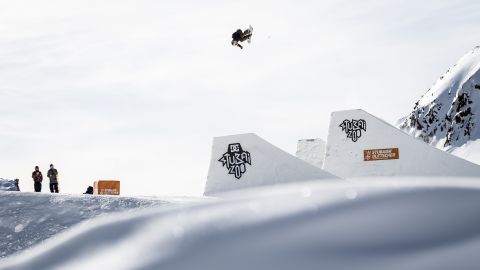 "I had more physical power than I've experienced compared to another trick … There's so much more physics to jump up and spin that fast," says Gasser. "As soon as I took off I knew there was no way back because when you initiate it you cannot open up anymore. It's maybe more dangerous than just going for it." It was a trick so daring, so nerve-wracking, and so exhilarating, that it took Gasser an hour away from the slopes to come to terms with what she had just done and for the rush to subside.
"My heart was still racing and I had so much adrenaline," she says. "I went to sit down for an hour before I started riding again." Her secret? It was all about waiting for the right moment and seizing it with both hands when it came. "I've had the trick on my mind for a long time, over a yea now," she admits. "I've been doing doubles for so long and I knew the next step would be to go for the triple. I just knew I had to feel it and that was the case when I was at Stubai."
Gasser's milestone was, in many ways, a giant leap for women's snowboarding, five years after her double. To put that in perspective, Torstein Horgmo became the first man to land a triple cork in 2010, seven years after JP Walker stomped the first recorded double.
READ: How to ski fast – the US special forces way
'It's about freedom'
Gasser has arrived at her snowboarding career via an early life competing in gymnastics. Despite being selected for the Austrian national squad at the age of 14, she wasn't satisfied her athletic energies being spent on the bars. "I was a competitive kid and I just thought that I wasn't good enough at gymnastics at that age," she explains. "It was really time consuming. I had a lot of fun and it was a passion of mine but at one point I was like, it's not worth the work for what I get out of it.
"Then I stopped with the gymnastics side and after not doing anything for two years my cousin took me snowboarding for the first time and I just loved.
"It's more about freedom. You always decide yourself what you're going to do with snowboarding. In gymnastics someone tells you what to do; with snowboarding actually in the first couple of years it was everything I wanted to do. I loved it from the beginning." It's a love that, in recent years, has brought great success. Slopestyle gold at the Winter X Games in 2017 was backed up with big air gold at the world championships in Sierra Nevada a few months later. At the start of 2018 she won gold at the Winter X Games, and she added victory in the inaugural Olympic big air competition in South Korea.
READ: World's best ski resorts in 2018
With the confidence of the world's first cab triple 1260 in her locker, Gasser is flying high. But she's keen to keep pushing the sport – and herself. "In snowboarding there are always a lot of ways to improve," she says. "It doesn't always have to be a triple. "There so much more stuff I can learn and want to learn. "Of course I want to be one of the top girls but I'm just going to see how it feels. In this sport you never know what's going to happen."