Former UN Human Rights Commissioner Mary Robinson has been criticized for describing a daughter of Dubai's billionaire ruler who was feared missing as "troubled" and in the "loving care of her family."
Robinson, who appeared in photos alongside Sheikha Latifa bint Mohammed Al Maktoum dated December 15 – told BBC's Radio 4 on Thursday that the princess was a "vulnerable" young woman with a "serious medical situation" for which she was receiving psychiatric care.
She also said Sheikha Latifa "now regrets" her planned escape from Dubai earlier this year.
However, Radha Stirling – the CEO of UK-based advocacy group Detained in Dubai – accused Robinson's account of being too similar to the emirate's official position.
She said Robinson, the former president of Ireland, "appeared to be reciting almost verbatim from Dubai's script."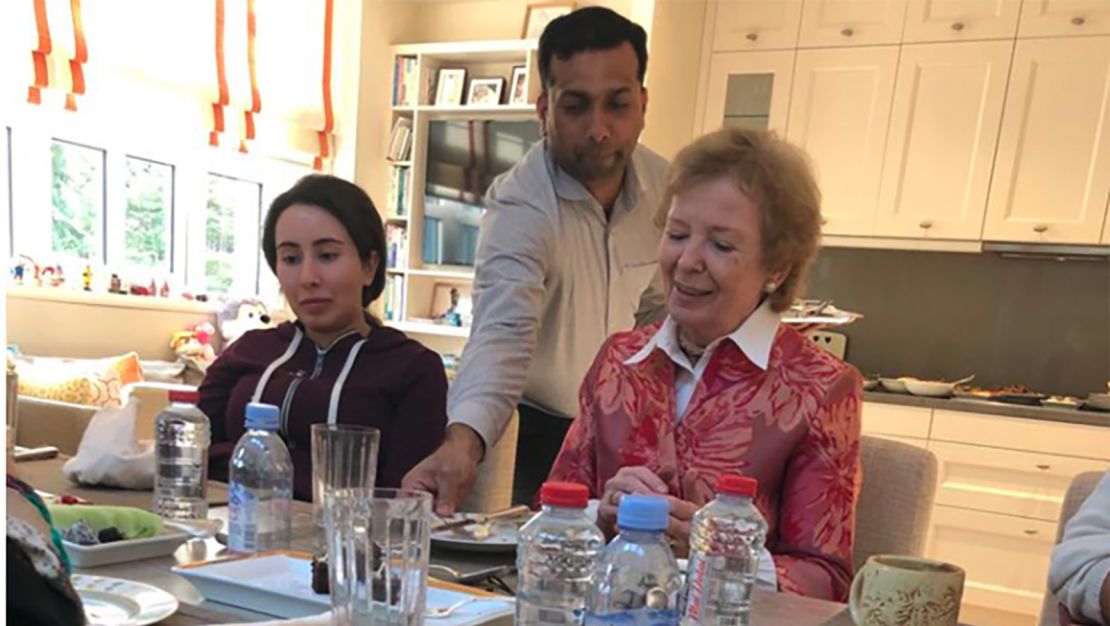 Stirling questioned why Robinson made no reference to Sheikha Latifa's previous claim that she was tortured and detained for three years following a previous failed attempt to leave the UAE in 2002 as a teenager.
She also said Robinson failed to question the raid of Sheikha Latifa's boat in international waters amid her second escape attempt earlier this year.
"Sheikha Latifa phoned me on the night of her abduction, pleading for my help," Stirling said.
"Given what she has conveyed to me, this meeting in no way satisfies me that she is free from the abuse that she told me she had suffered for years."
Executive Director of Human Rights Watch, Kenneth Roth, also questioned Robinson's comments on Twitter.
"Mary Robinson says UAE Princess Latifa is 'troubled,' suggesting a pre-existing condition though I'd be troubled too if I tried to escape a gilded prison and was kidnapped back," Roth said.
"Would Robinson know the difference?"
Robinson defended the encounter in a statement issued by her office, adding that she would make no further comment at this time.
"During my time with her Sheikha Latifa presented as a very likeable young woman with a wide range of interests but her vulnerability was apparent," the statement said.
"Since my return from Dubai I have written a report of my visit to Michelle Bachelet, the UN High Commissioner for Human Rights. I believe future action rests with that office, with the UN Committee on Enforced Disappearances and with the Special Rapporteur on extrajudicial, summary or arbitrary executions.
"I am dismayed at some of the media comments on my visit and I would like to say I undertook the visit and made an assessment, not a judgement, based on personal witness, in good faith and to the best of my ability."
Three low-resolution photos, which were released by the UAE foreign ministry on Monday, showed Sheikha Latifa dressed in a dark hooded sweatshirt and gray jeans while she either looked away from the camera or towards Robinson.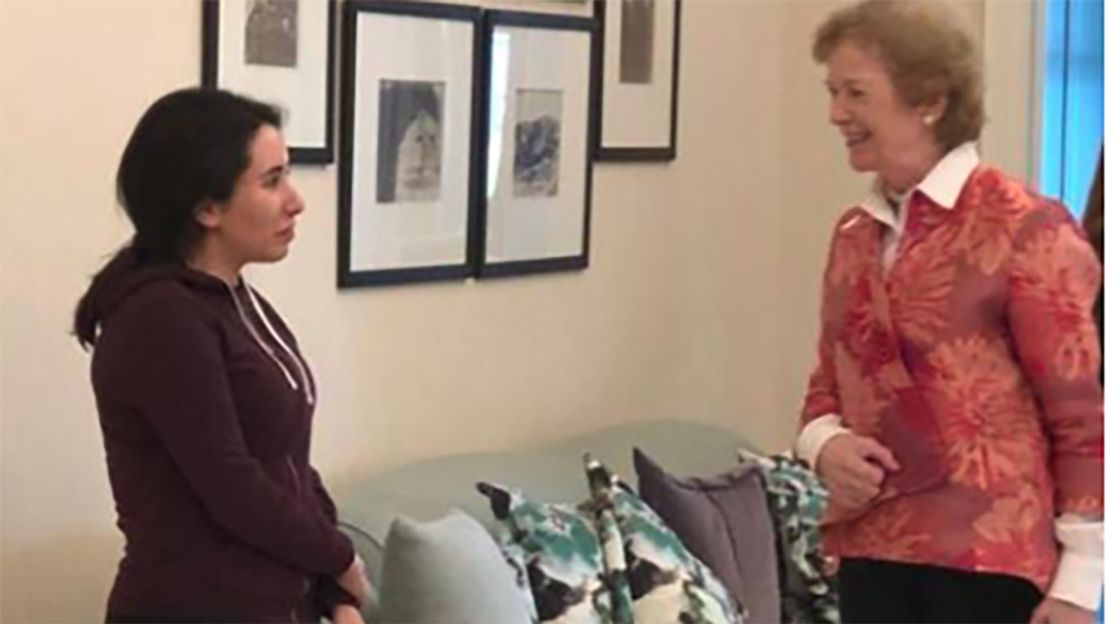 Robinson made the visit at the request of the ruling family, according to a communique the UAE mission in Geneva sent to the Office of Special Procedures at the High Commissioner for Human Rights for the United Nations.
"The documents respond to and rebut false allegations that have been made about Her Highness, providing evidence that she is alive and living with her family in Dubai," the statement said.
A 'disposable life'
Before her attempted escape, the daughter of UAE Prime Minister Sheikh Mohammed bin Rashid Al Maktoum recorded a 39-minute video detailing why she was risking a second attempt to flee Dubai and the ruling family.
She claimed she was tortured and detained for three years – sometimes in solitary confinement – following her failed attempt to leave the UAE in 2002 as a teenager.
"If you are watching this video, it is not such a good thing. Either I'm dead or I'm in a very, very, very bad situation," Sheikha Latifa said in the video, which was posted online after her disappearance in March.
"They are not going to take me back alive," she said.
The princess, once well known for her skydiving videos brandishing the Emirati flag, said she couldn't leave Dubai without permission.
"If you are female, your life is so disposable," she said.
Sheikha Latifa sought to escape with the help of a former French spy, Hervé Jaubert, who authored a book chronicling his own escape from the UAE in 2008 following corruption charges.
Jaubert, his yacht crew, and Sheikha Latifa's Finnish friend Tiina Jauhiainen were briefly detained and released in March, according to Detained in Dubai.
CNN's Jennifer Deaton, Caroline Faraj and Milena Veselinovic and journalist Peter Taggart contributed to this report.