Thailand will head to the polls Sunday for the first elections since a military coup in 2014, with the ballot widely considered to be a vote between a return to democracy and legitimized military rule.
Throughout their time in power, military leaders have repeatedly promised – and failed – to hold democratic elections, prompting anger and frustration among many Thais.
A series of small but significant protests have taken place in recent months – a poignant show of opposition during a period in which free speech advocates have been prosecuted and face years in prison.
In February, the vote was delayed until March 24, ostensibly because the date would interfere with the new king's coronation ceremony plans.
The monarchy is revered in Thailand, but activists have accused the ruling military junta of manufacturing the delay.
"The junta are playing a game," Netiwit Chotiphatphaisal, a 21-year-old student activist told CNN. "If the election is a trick on the people, Thais will march and not accept it."
While public outrage has not reached levels seen before the coup in 2014, violent street protests between rival political factions have been common in recent years. Mass violent confrontations in 2010 paralyzed the capital Bangkok and an ensuing military crackdown killed 90 people and injured more than 2,000.
The military will be keen to quash a repeat of such unrest, and Army chief Gen. Apirat Kongsompong, who was put in charge of the country's army in September, warned pro-democracy protesters in January, "don't step over the line," the Bangkok Post reported.
Leaders of the National Council for Peace and Order (NCPO), the junta that has ruled Thailand since the 2014 coup, have become accustomed to power. A military-drafted 2017 constitution aims to prevent big parties such as the opposition Pheu Thai from returning to office – and ensure the army will continue to have a say in the country's future, no matter who wins the election.
Power of Prayut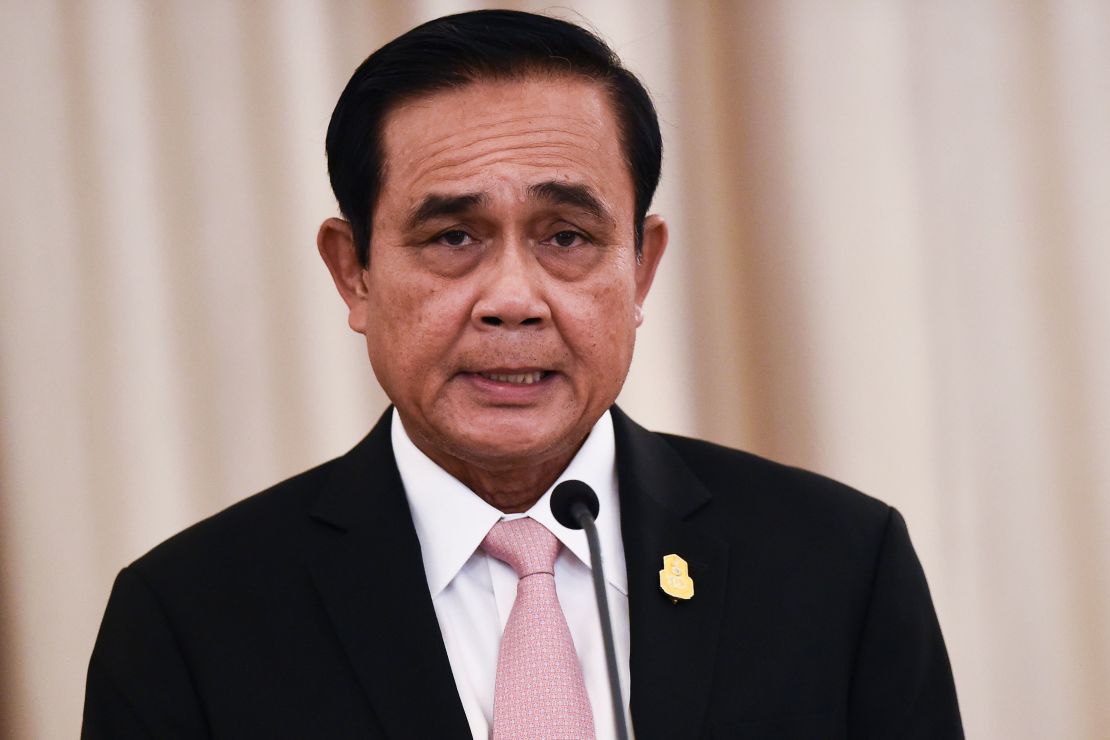 The rule of Prayut Chan-o-cha, the military coup leader turned prime minister, has been marked with increased repression, activists say.
Shortly after taking over, Prayut banned all political campaigning including political gatherings of more than five people, hundreds of activists have been arrested and charged under draconian laws such as sedition or the lese majeste – which prohibits criticism of the royal family – and the sphere for robust public discourse has all but disappeared thanks a Computer Crimes Act that restrict online expression and increases surveillance and censorship.
"General Prayut has wielded unchecked power with total impunity," Sunai Phasuk, senior Asia researcher at Human Rights Watch said in a June statement. "Ongoing repression means that voters, political parties and the media in Thailand will have their arms twisted and their mouths gagged in the lead-up to the election."
Prayut is contesting the poll with the newly formed Phalang Pracharat Party. "He desperately wants to be the premiership, this is about his personal ambition," Pavin Chachavalpongpun, associate professor at Kyoto University's Center for Southeast Asian Studies, told CNN.
To achieve that ambition, Prayut appears to have every corner covered. Even if a pro-military party doesn't win, the new constitution – the country's 20th since absolute monarchy ended in 1932 – is the junta's insurance policy as it allows for an unelected prime minister and a third of the legislature to be appointed by the military brass.
Thais will be voting for the 500-seat lower house of parliament, while the 250-member upper house, or Senate, will be chosen entirely by the military. The whole 750-seat parliament will then vote for the prime minister.
"These manipulated maneuvers are built into the constitution with the aim of maintaining military lordship over civilian leaders," said Thitinan Pongsudhirak, director of the Institute of Security and International Studies at Chulalongkorn University.
Thais are doubtful that any poll will be entirely free or fair.
Influence of Thaksin
The phrase 'history repeats itself' has taken on a new meaning in Thailand, a nation that has seen a dozen successful coups since 1932.
In recent times, the turbulent world of Thai politics has been centered around one man: Thaksin Shinawatra, who has dominated the political landscape in some form since 2001.
Thaksin himself was ousted in a coup in 2006. His sister, former prime minister Yingluck Shinawatra, was kicked out just before Prayut's coup in 2014, following six months of civil unrest and violent street protests.
Analysts say Thakisn and Yingluck are still calling the shots, despite both being in self-imposed exile. "He's still the one who pulls the strings behind the scene," said Pavin.
It appears a new Shinawatra generation could be about to make its mark. Thaksin's son, 39-year-old Panthongtae Shinawatra – known by his nickname Oak – officially joined Pheu Thai in November, the party's secretary general Phumtham Wechayachai confirmed to CNN, though he is currently not holding an executive position.
Panthongtae was indicted on money laundering charges in October, in a case that his supporters claim is another move by the junta to halt the Shinawatra clan's political machine. Panthongtae has denied the charges.
CNN Exclusive: Ex-Thai Prime Minister speaks out
Yet Pheu Thai and its populist policies remains strong, especially with its loyal support base in the northeast.
Chayika Wongnapachant, the niece of both Thaksin and Yingluck, has also entered the political arena after a decade working behind the scenes, but with new party Thai Raksa Chart (Thai Safe The Nation Party).
Speaking to CNN, Chayika said that she will fight against injustices that she sees "at every level" of society.
"The execution of the rule of law and economic policies are carried out unequally toward the people. I want to change it," she said.
After the military lifted a ban on political campaigning in December, a host of smaller parties appeared, including Pheu Dharmma and Thai Raksa Chart, with many Pheu Thai members joining their ranks. Analysts see these so-called defections as a tactic to get around new charter rules that disadvantage big parties.
"Together, these three Thaksin-aligned parties are the leading contender to come out as the largest-winning bloc after the poll, but probably not large enough to form a coalition government," Thitinan said.
Traditional Pheu Thai arch-rivals the Democrats have reportedly rejected an offer to make a coalition pact. Theirs would be an uneasy coalition, however, after years of opposing street protests that have often turned deadly.
Democrats leader and former Prime Minister Abhisit Vejjajiva reportedly said he would not support Prayut returning to power.
"Aside from poor performance in his handling of the economy and failure to deliver promised reforms, Gen. Prayut's attempt to hang on will likely create new conflicts and tension in contrast to the apparent stability that he has presided over in the last five years," Abhisit told CNN.
But he could well be in a position to play kingmaker come Sunday. "We aim to be the core of the next government," Abhisit said.
Military and monarchy
While former army general Prayut may find support in the old royalist establishment, he is not such a favorite among many young people who have come of age during his takeover and subsequent rule. With about 7 million voters between the ages of 18 and 25 – many of them first time voters — the youth vote could prove decisive.
"Now the atmosphere has changed and young people are more aware," 21-year-old LGBTQ activist and Future Forward party member Tattep Ruangprapaikitseree told CNN. "This election is not about policies of the parties, but is very significant for Thailand if we will stay in a dictatorship regime."
A string of corruption scandals – Deputy Prime Minister Prawit Wongsuwan was investigated and cleared over allegations he sported more than 20 luxury watches – falling rubber prices and land rights protests have eroded public confidence in the military government.
Added to the mix is that the election will be key for returning a sense of stability to a nation going through transition of a new monarch, and eyes will be on what King Maha Vajiralongkorn does once he is officially crowned in May. He took over the thrown in 2016 after the death of his father, King Buhmibol Aduledej, who reigned for 70 years and was a much beloved figure in Thailand.
If Thailand is to regain its footing, an uneasy compromise will need to be forged, Thitinan said, "among the major protagonists such as the military, palace, judiciary, and political parties and politicians."