Somber mourners paid tribute to the mayor of the Polish city of Gdansk as he was laid to rest on Saturday, less than a week after he was fatally stabbed during an open-air charity event.
Thousands of people watched in shock Sunday as a man rushed on stage and stabbed Pawel Adamowicz, 53, in the heart and stomach. The liberal mayor, a well-known critic of his country's right-wing government, died a day later despite emergency surgery.
Crowds gathered in the street outside St. Mary's Basilica in Gdansk to watch on a big screen as his funeral service was conducted within the centuries-old church.
European Council President Donald Tusk, a Gdansk native and friend of Adamowicz was among those in the pews, as was former President and Nobel Peace Prize winner Lech Walesa.
Polish Prime Minister Mateusz Morawiecki and other politicians also attended, Reuters news agency reported.
"What happened on Sunday evening … was perceived as a violent constant sound of a alarming bell, call for saving the conscience and changing the way of our living, political style," Gdansk Archbishop Leszek Slawoj Glodz told mourners during the Mass, according to Reuters.
The previous evening, many Poles turned out to remember Adamowicz as his coffin was carried to the church in procession through the chilly streets of the city he had served for more than two decades.
The procession began from the European Solidarity Center, a museum dedicated to Poland's pro-democracy Solidarity movement, co-founded by Walesa. Long lines of mourners earlier waited outside the museum to pass through and pay their last respects before his flower-banked coffin.
Polish President Andrzej Duda declared a day of national mourning Friday into Saturday.
Somber marches and vigils have been held this week in Gdansk and other Polish cities in solidarity with the mayor and against the increasingly toxic nature of rhetoric in Polish politics.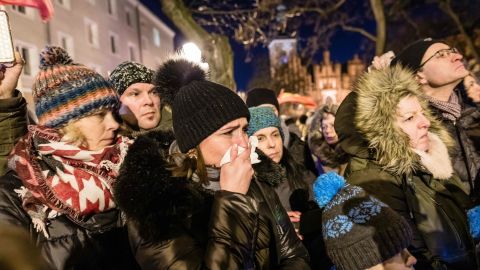 The brazen attack took place during the finale of a children's hospital charity event, known as the Great Orchestra of Christmas, when Adamowicz was thanking everyone who had helped raise funds for medical equipment.
The 27-year-old suspect, who was arrested, is a Gdansk resident with convictions for bank robbery and had spent time in prison. Gdansk city press officer Dariusz Wołodźko said the suspect came onstage shouting, and blamed the mayor and his party for his conviction and imprisonment.
Born and raised in Gdansk, Adamowicz had long been a fixture of public life in the Baltic port city. He entered local politics in 1990 as a local councilor before serving as Gdansk's mayor, a position he held for more than 20 years.
He was known as a progressive voice in a country ruled by a populist, staunchly right-wing government. He was a steadfast supporter of LGBT rights, immigrants, and minority groups.