A high-ranking Nigerian policewoman has warned gay people living in the country to leave or risk criminal prosecution.
Dolapo Badmos, a Chief Superintendent and spokeswoman for the Lagos State Police Command, made the comments on her personal Instagram account, which is set to private and has 125,000 followers.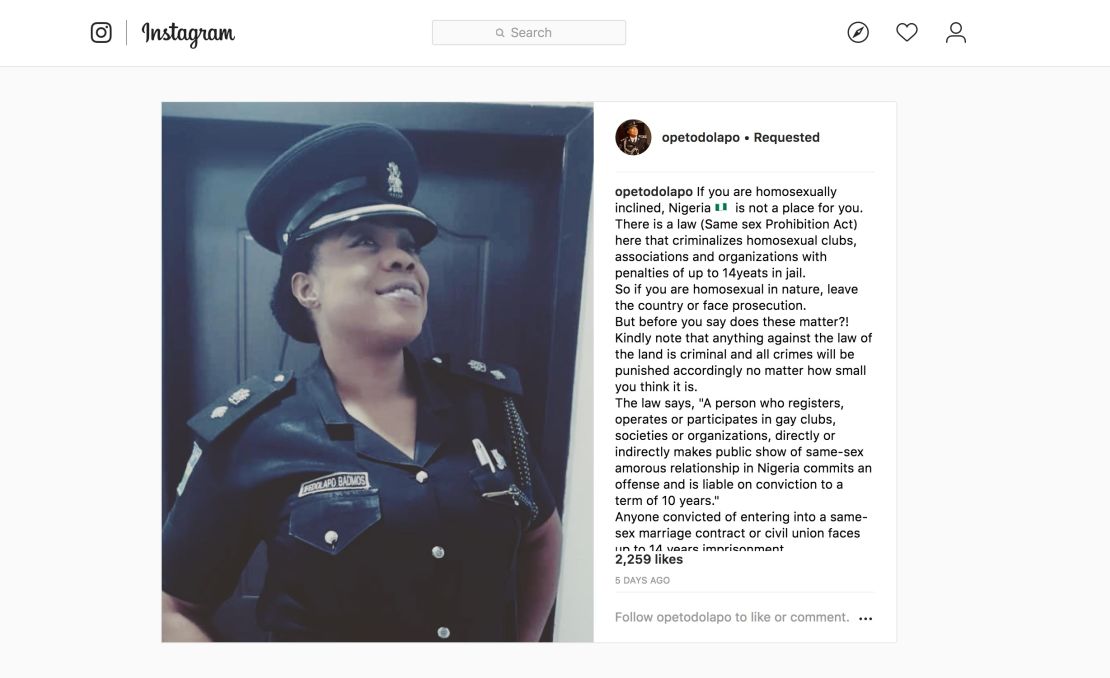 "If you're homosexually inclined, Nigeria is not a place for you," Badmos wrote last week.
"There is a law (Same-sex Prohibition Act) here that criminalizes homosexual clubs, associations, and organizations with penalties of up to 14yeats (sic) in jail.
"So if you are homosexual in nature, leave the country or face prosecution," wrote Badmos, who has attained celebrity status in the country due to her frequent social media posts.
Former Nigerian President Goodluck Jonathan signed the controversial Same Sex Marriage Prohibition Act (SSMPA) into law, despite widespread international objection.
Those found guilty of being in a same-sex relationship face up to 14 years in jail.
The law was widely condemned by human rights organizations such as Amnesty International and Human Rights Watch at the time, as well as the then United States Secretary of State, John Kerry.
Badmos' comments are the latest reminder of the challenges facing members of the LGBT community in a country where the anti-gay law enjoys broad support among its citizens.
According to a survey of 2,000 individuals conducted by The Initiative for Equal Rights (TIERs), a Nigeria-based human rights organization, about 90% of Nigerians support the continued enforcement of the SSMPA.
Following her post, Badmos received scores of comments, with most of them expressing support for the proposed prosecution of gay people living in Nigeria.
"It is illegal and ungodly," one user wrote.
Another user said, "we must say no to lesbianism and homosexuality it's evil."
Badmos did not respond to CNN's requests for clarification on her comments.
A spokesman for Lagos State police declined to comment and referred the inquiry back to Badmos.
Olumide Makanjuola, executive director at TIERs, told CNN the Instagram post is tantamount to inciting violence against LGBTQ people in Nigeria, calling her comments "unacceptable."
"Police should be wary with their statement and if they incite violence. What she said is out of line," Makanjuola said.
Homophobia is widespread in many African countries.
More than half of the countries on the continent have enacted laws that make it illegal to be gay and in several, including Somalia and South Sudan, homosexuality is punishable by death.
A 2013 Pew Research survey found that 98% of people in Nigeria believe LGBTQ people should not be accepted by society.
However, a 2017 survey by NOI Polls commissioned by TIERs showed a seven percent increase in the acceptance rates of LGBTQ people in Nigeria when compared to a similar survey from two years earlier.
Many of the people who commented under Badmos' post also singled out an openly transgender individual, who is prominent on social media, and called for their arrest.