"This used to be the greatest country on Earth, but we've lost the plot."
It might just be a commercial – Australian Lamb's annual advertisement ahead of Australia Day on January 26 – but it's struck a nerve with a lot of Australians this year.
As Australians deal with a record-breaking heatwave, environmental devastation and a sixth prime minister in just over a decade, the annual fierce debate over the country's national day might be the thing that pushes many of them over the edge.
Australia Day is held on the same date Britain's First Fleet sailed into Sydney Harbor in 1788, beginning the European colonization which led to the modern nation of Australia.
Not everyone sees it as a reason to celebrate. Aboriginal and Torres Strait Islander people see the date as the beginning of the deliberate destruction of their people and culture as colonists took lands they deemed "uninhabited" despite large indigenous populations living there.
Many Australians refer to January 26 as "Invasion Day."
The controversy has led to a growing push to change the date of the country's national celebration to another day without the historical baggage. Few former British colonies celebrate their national day on the actual day of colonization.
But a group of conservative politicians led by Prime Minister Scott Morrison have pushed back hard, saying they will protect Australia Day and ensure it is respected.
"I'm not just going to not change it, I'm going to ensure it doesn't get eroded … That's our historical day and we need to work together, to come together on that day to ensure that we can make it an important day for all Australians," Morrison said earlier this month.
'I don't want to celebrate it'
Polls suggest a majority of Australians agree – a 2017 survey found 54% of Australians supported keeping the date on January 26, while just 26% wanted it moved.
But the movement to change the date has become increasingly mainstream, with more than 100,000 people marching across the country to protest "Invasion Day" in 2018. Similar numbers are expected to march this year, according to local media.
A small number of local councils have already tried moving the celebration – which is also the date new citizens receive their Australian citizenship – from January 26, out of respect for the wishes of Aboriginal and Torres Strait Islander people.
On January 17, after the latest clashes over the date had begun, an impassioned appeal by television host Brooke Boney went viral across the country.
"This is the best country in the world no doubt, but I can't separate January 26 from the fact that my brothers are more likely to go to jail than they are to go to school, or that my little sisters and my mum are more likely to be beaten and raped than anyone else's sisters and mum," she said on morning TV.
"And that started from that day. So for me it's a difficult day and I don't want to celebrate it. But any other day of the year I'll tie an Australian flag around my neck and I'll run through the streets."
Boney received a wave of negative comments on social media after her speech, but also a large number of articles and commentary in support of her position.
Tom Calma, co-chair of the advocacy group Reconciliation Australia, said there needed to be more education for people to understand why the date should be changed.
"Don't make it that day … Make it any other day when it's not coinciding and we're happy to celebrate as Australians," he told CNN.
No shoes, no socks, no citizenship
Two weeks before Australia Day 2019, Prime Minister Morrison announced potential measures which would ban councils from holding citizenship ceremonies on any day other than January 26.
"If you want to hold Australia Day ceremonies and be given that privilege, well, Australia Day is the day," Morrison said.
Opposition lawmakers accused Morrison of playing politics with Australia's national day and TV commentators questioned the Prime Minister on whether it was a big enough issue to require top-level decrees.
"I don't want Australia Day undermined in the future and just see it sort of fade away," Morrison said.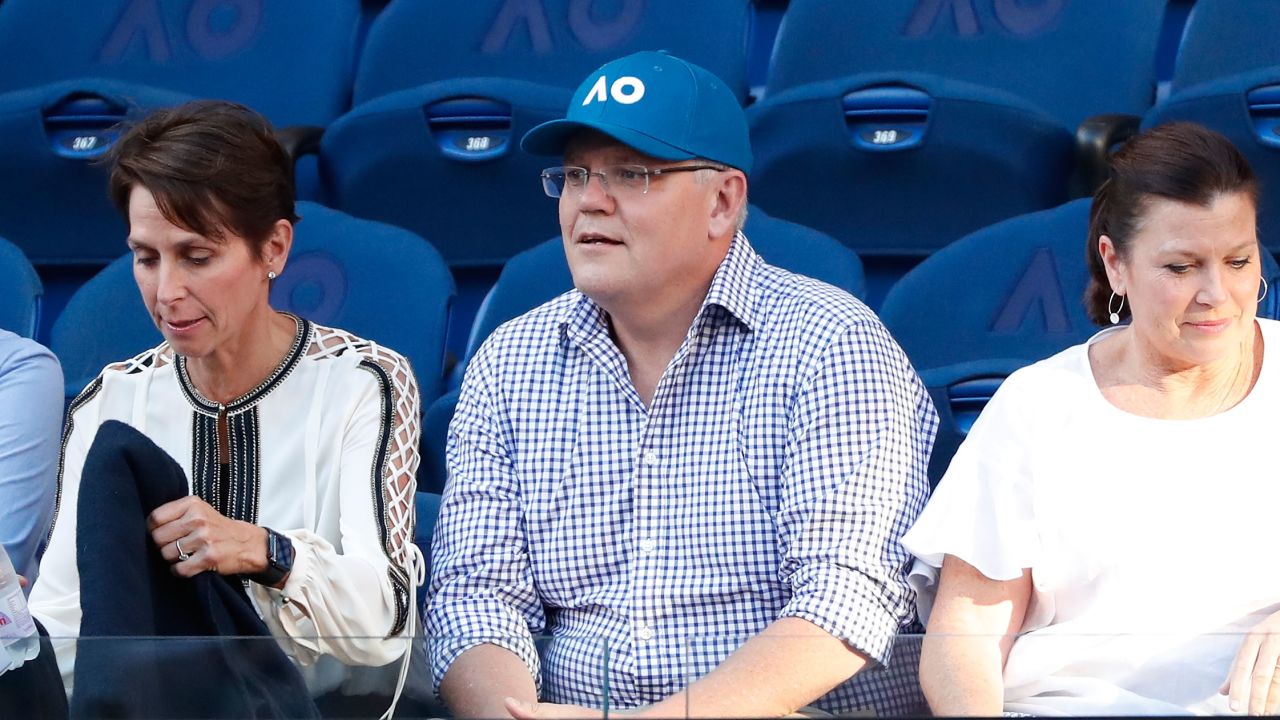 Other suggestions by Morrison to safeguard January 26 as Australia Day include enforcing dress codes at citizenship ceremonies – an idea which was widely criticized.
One West Australian mayor said that telling new citizens what they could or couldn't wear to their ceremonies wasn't "fair dinkum," and he wouldn't be enforcing dress codes.
"This is not a big pompous ceremony … Whilst I am officiating Australia Day citizenship ceremonies, if you want to emblazon yourself in an Australian singlet or wear (swimmers) cause you are joining in the fun, I will let you up on stage and gladly welcome you as a new Australian," Greater Geraldton mayor Shane Van Styn told the ABC.
But conservative politicians refused to be deterred, even raising the possibility of passing legislation to set the date as January 26 to hamper any future attempts to change it.
"Australia Day remains unprotected," Liberal Party Senator Dean Smith wrote in The Australian on Thursday.
Bitter debate
Aboriginal and Torres Strait Islander activist Calma said he felt the conservative Morrison government was rushing to make changes to Australia Day before it likely loses power at a national election due to take place before May.
"We encourage discussion, meaningful and respectful discussion, of the issues and opportunity for all Australians to become better informed about what the issues are, why (January 26) is offensive to many Aboriginal and Torres Strait Islanders," he said.
Calma believes the movement to change the date Is gaining momentum, adding: "We see the big marches and the protests, and participating in events around Australia.
"If you just have a look it's not Aboriginal and Torres Strait Islander people only, it's also the majority are Australians. For us, that's a real true sign of reconciliation."