In just over three years, two dams have collapsed in the same Brazilian state, leaving thousands of families in mourning. This time, some Brazilians say they fear that the country's monitoring system is deeply flawed.
At least 121 people were confirmed killed, and hundreds more are missing after a dam crumbled at an iron ore mine Friday, unleashing a muddy sea of debris that all but buried the nearby town of Brumadinho.
The dam is one of hundreds in the mining hub and southeastern state of Minas Gerais, a state whose name literally translates as "general mines." In November 2015, another dam in the state burst, inundating the small village of Mariana and killing 19 people.
Both dams are associated with the Brazilian mining giant Vale. The disasters have renewed scrutiny of the company's practices and of environmental regulations in Minas Gerais.
The latest tragedy in Brumadinho also comes against the backdrop of Jair Bolsonaro's rise to power. The far-right president is an outspoken critic of environmental protection and activists fear that he will loosen regulatory conditions and make another mining disaster inevitable.
Bolsonaro will meet with members of his Cabinet Thursday to discuss the deadly dam collapse in Sao Paulo, where the President is recovering from surgery, according to state media Agencia Brasil.
The Ministry of Regional Development issued a recommendation Wednesday for businesses that manage dams to submit revisions of security plans, which includes audits on procedures and standards for dam safety oversight. They will also have to update the records of these measures in Brazil's national information system.
Rating Brumadinho as "low-risk"
Brazil's National Mining Agency classified the Brumadinho dam as "low risk" just weeks before its collapse, the agency confirmed to CNN.
The certification – which found the dam "stable" – has raised serious concerns among some analysts, who said that classification undermined the audits of other dams across the country.
"If this so-called 'stable' dam is breaking, there is no guarantee whatsoever about the security of other dams in Brazil," said Luiz Jardim de Moraes Wanderley, a mining specialist at the State University of Rio de Janeiro.
"It shows a major problem in the public and private monitoring and inspection of dams in the country," he added.
On Tuesday, Regional Development Minister Gustavo Canuto announced the decision to prioritize the review of the conditions of more than 3,300 dams across Brazil.
The list contains dams classified as "high risk" or "high potential harm." More than 200 of those under review are mining dams, of which 70 are built based on the same model of Vale's Corrego do Feijao mine.
Self-assessed safety checks
Mine safety checks have changed little since the Mariana disaster. Mining companies are currently responsible for hiring safety consultants, who make their assessments based on reports supplied by the mining companies themselves.
Andrea Zhouri, professor of anthropology at the Federal University of Minas Gerais, who has campaigned heavily for victims of the Mariana collapse in 2015, told CNN that the safety regulations amounted to "practically self-assessment."
It's a view shared by Wanderley, who said the safety evaluation method was "problematic," and that there was "no public control over this evaluation." "The Brazilian state does not have enough staff to inspect all the country's dams, basing their data only on the companies' report and audition," he said.
Vale contractor TÜV SÜD evaluated Brumadinho dam for safety in June 2018 and September 2018, the German firm said in a statement emailed to CNN. TÜV SÜD expressed regret for the dam break, but declined to comment further "due to recent investigations." The firm said its September inspection of the dam had revealed no damage, The New York Times reported.
A Vale spokeswoman told CNN it had "no comment" on the mining regulation process.
The National Mining Agency also told CNN that the dam was assessed in March, June and September last year. It said the most recent survey, carried out in December 2018 by a group of Vale technicians, found "no indication of problems related to the security of the structure."
The agency declined to comment on the regulation processes, telling CNN it was a matter for the Ministry of Mines and Energy. The ministry in turn told CNN that its disaster response council would oversee a revision of national policy on dam safety. Its mining and geology departments will also investigate the causes of the Brumadinho collapse, it said.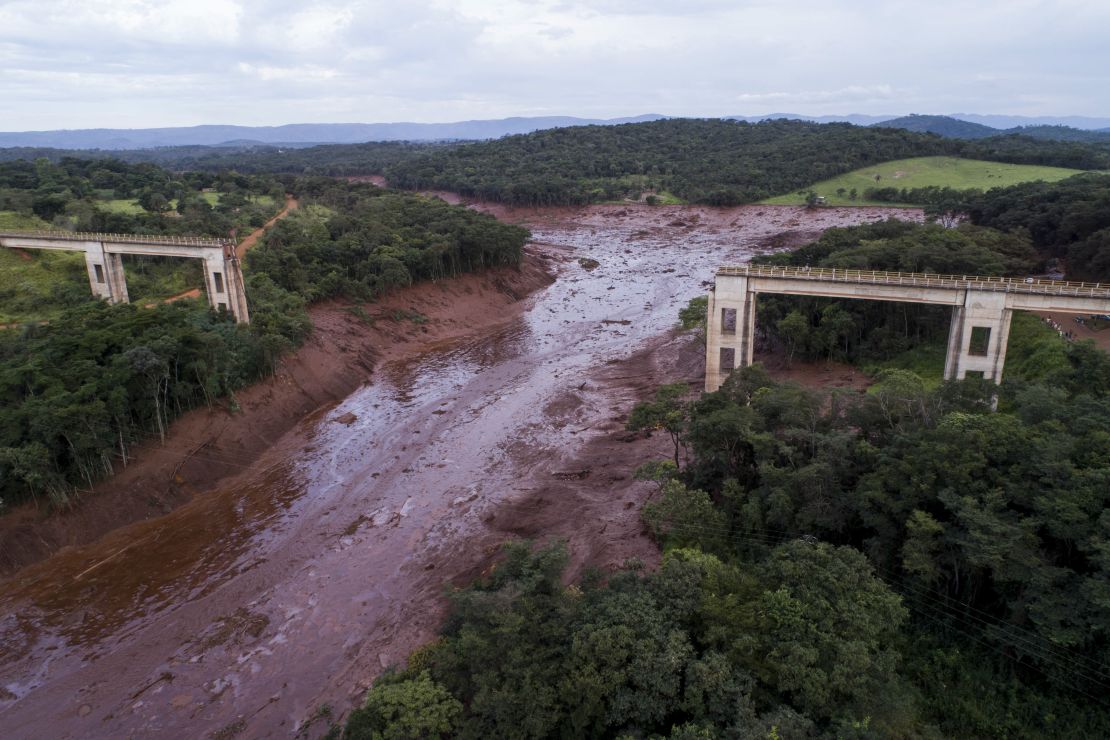 Three Vale employees and two TÜV SÜD contractors were arrested on January 29 on orders of the state court of Minas Gerais. A statement released by the court quoted Judge Perla Saliba Brito saying, "It is unbelievable that dams of those magnitudes, managed by one of the largest mining companies in the world, suddenly rupture without giving any indication of vulnerability."
Vale has said it is "fully cooperating with authorities" in light of the arrest warrants issued.
In response to the tragedy, Vale chief executive Fabio Schvartsman said Tuesday that the company will decommission 10 dams similar to Brumadinho. "This is the adequate and needed response in face of this enormous tragedy that we had in Brumadinho. This plan was produced 3 or 4 days after the accident," he said of the closures at a press conference in the city of Belo Horizonte.
The announcement follows Vale chief financial officer's promise on Monday to donate 100,000 reais ($26,500) to "the families of each missing person or confirmed fatality" of the Brumadinho disaster.
But Greenpeace Brazil says that, with two disasters in just over three years, Brumadinho was "not an accident" but a "crime against people and nature." "How many lives do we still have to lose (until) the Brazilian state and mining companies learn from their mistakes?" said Greenpeace Brazil campaigns director Nilo D'Ávila in a statement.
In addition to regular safety checks, mines must obtain an environmental license before work begins. That process has accelerated in recent years, sparking alarm among some experts.
For years, various political parties and businesses complained that Brazil's mining licensing process was slowing development, said Kathy Hochstetler, professor of international development at the London School of Economics and Political Science. Shortly after the Mariana disaster in 2015, the state of Minas Gerais simplified the environmental licensing process.
Under the changes, the state's multiple stages of licensing can now be reduced to one, several experts told CNN. But in the interest of accelerating operations, environmental assessments became less detailed, with very little input from environmental agencies and the public, the analysts said.
President Bolsonaro has already said that environmental regulations in Brazil – home to the Amazon rainforest – are too stringent. Shortly after taking office, he floated plans to combine the country's agriculture and environment ministries but was forced to backtrack following international condemnation.
"We intend to protect the environment without creating roadblocks to progress," Bolsonaro said in November, Reuters reported. Environment permits sometimes take as long as 10 years for certain infrastructure projects and that "cannot continue," he added. CNN contacted his office for comment on the president's position on regulation, but had not received a reply at time of publishing.
On Saturday, Bolsonaro expressed "sadness" over the deaths at Brumadinho in an official statement, and said that the Brazilian government will take all necessary measures to ensure such tragedies do not happen again.
Marcia Reverdosa reported from São Paulo, Sheena McKenzie wrote in London. Taylor Barnes and Emanuella Grinberg contributed to this report.