Editor's Note: David M. Perry is a journalist and historian. He's the senior academic adviser to the history department at the University of Minnesota. Follow him on Twitter. The views expressed here are those of the author. View more opinion articles on CNN.
The temperature rose to a warm 9 degrees last Saturday afternoon. The sun was bright, the snowpack mostly gone. My wife and I trudged up some steps into our backyard and combined a few pieces of dry seasoned wood to a pile of semi-frozen brush and some broken pieces of old stump I had chopped in the fall and left outside.
I crumpled up the entire sports page under the pyramid of brush and logs and set it on fire. After all, the Timberwolves stink, baseball hasn't started yet and it's not like the Vikings are in the Super Bowl, so what did I need with local sports news?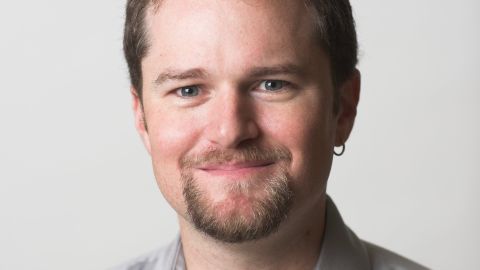 We built a roaring fire, burned it down to coals, then made borscht lifted from a declassified CIA translation of a 1948 Russian army cookbook. It was an excellent Minnesota day. The kids did not eat the borscht, but my wife and I enjoyed the hearty flavors of acid and fat, smoke and dill.
Then the temperature started to fall. On Sunday, I smoked ribs, Southern style. The kids didn't eat that either (I make 'em spicy, in their defense), but my wife brought home a chocolate cake, showing once again that I married up! Monday was snowy but not too cold, but schools were out anyway, so we shoveled and ate leftovers. Tuesday is when it got serious, dropping down into the -20s – before windchill.
I lit a fire in the late morning and kept it smoldering all day. My wife made mac and cheese (which the kids did eat) while I braised beef cheeks for tacos in the slow cooker. On Wednesday, with the windchill near -50, I threw a pan's worth of boiling water into the air and watched it turn into ice crystals before it hit the ground. What is a little deep freeze without science?
We moved back to Minnesota from the comparatively warm balmy climate of Chicago over a year and half ago and these are the days we expected. Chicago winters are in fact often nastier than Minnesota ones, with wind coming off the lake cutting through your layers of clothing and into your bones, but we enjoy the depths of cold and the guilt-free descent into relentless pursuit of coziness, or "hygge" as the Scandihoovians (once a slur for immigrants from Scandinavia, but now just a generic term for Scandinavian-Midwesterners) around here might say.
My daughter, bundled in a blanket and intending to stay in PJs all day chirped, "It's just like staying home from school when you're sick, but you're not sick!"
We live in a nice house in a nice suburb of St. Paul. For us, a cold snap is something to be borne, enjoyed and maybe even whined about as the kids get restless. My wife and I have jobs that can be done from home. Many other people are scrambling. Note: Refusing paid time off to employees missing work due to their kids having snow days may violate local laws. A Title IX counselor at the University of Minnesota sent out an email blast reminding everyone that unpredictable child care needs due to snow days are covered by the statute and students cannot be penalized for missing class.
This isn't the first polar vortex in history, though it is one of the coldest. A polar vortex happens when the air that usually circulates around the North Pole is pushed south. Climate-change deniers try to use frigid temperatures as a way to undermine belief in this planet-threatening, manmade catastrophe, but as the National Oceanic and Atmospheric Administration (NOAA) tweeted, it takes a simple cartoon to rebut those deniers.
Our hot oceans are disrupting global weather patterns, so the fires are hotter and more frequent, the cold snaps worse, the most vulnerable people threatened and, meanwhile, the water just keeps rising.
This polar vortex, though, has a body count. At least five people have already died, a number that will surely go up. Frostbite can hit in minutes. Cities are scrambling to add beds to homeless shelters, but this is applying a Band-Aid to a deep wound. The time to attack homeless vulnerability to frigid weather was during the summer, to build trust and infrastructure, or just to get people into their homes. It's three times cheaper to give housing to the homeless than to leave them on the street. In other words, doing the morally right thing aligns with the fiscally prudent move. How often does that happen?
Get our free weekly newsletter
Sign up for CNN Opinion's newsletter.
As in all such moments, the people who will suffer the most are those who are homeless and multiply marginalized by factors such as race, gender or sexual identity, and disability. We can't just open up more warming shelters, though we must. We can't just build houses, though we should. We also have to build a more just society to bring so many more Americans in from the cold.