Adeline Chan's nose crinkled at the market's pungent, briny smell.
Chan and her mother were once regulars at Hong Kong's Dried Seafood Market, in Sheung Wan, where endless stalls display plastic bins stuffed with various forms of dried shark fin.
"We don't need shark fins for ourselves, but sharks need their fins," said Chan, now a vegan. "I stopped consuming shark fin soup four years ago after learning what sharks had to go through before a bowl of shark fin soup is served."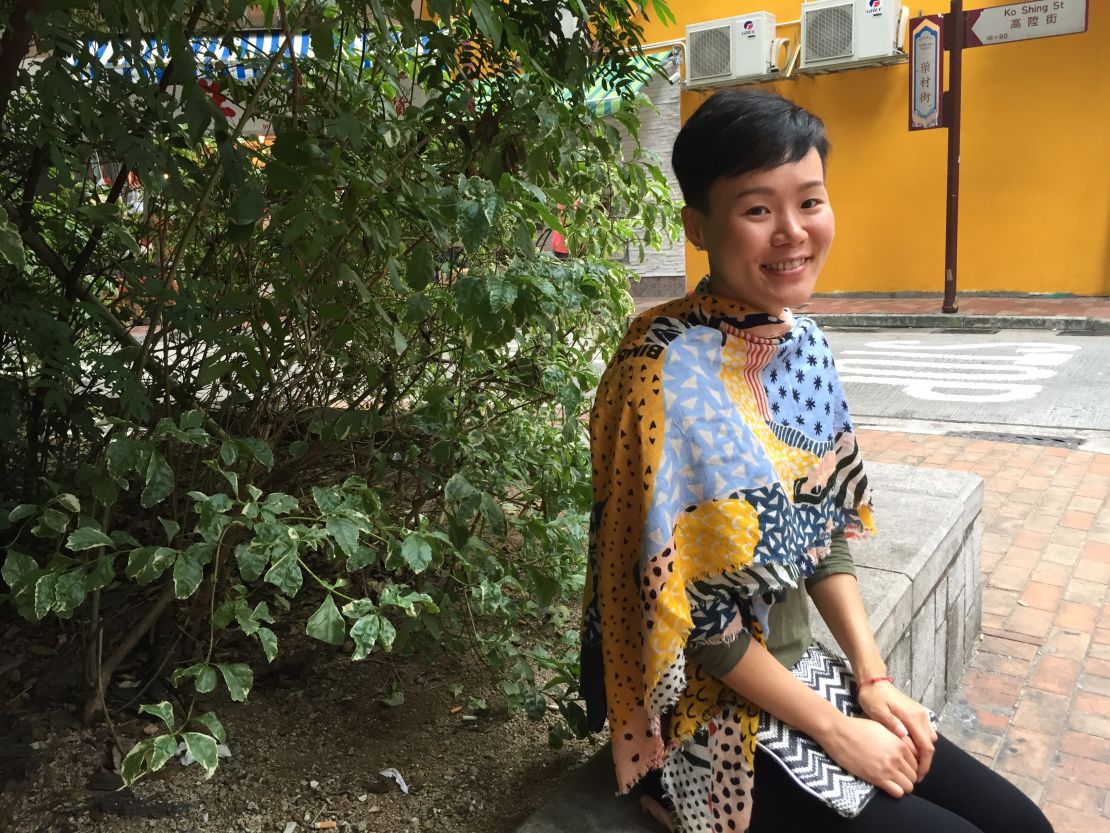 But fins continue to be popular at these stores, along with other delicacies such as sea cucumbers, scallops and abalone.
According to Hong Kong's tourism board, this seafood market has been around for at least 50 years, but the dried seafood trade can be traced to the 1860s, said Sidney Cheung, director of the Centre for Cultural Heritage Studies at the Chinese University of Hong Kong.
Shark fin has long been a status symbol at Chinese dinners, particularly for wedding banquets.
As much as half of the global supply has been found to pass through Hong Kong, the second-highest consumer of seafood in Asia at 71.8 kilograms (158 pounds) per person per year. This is more than three times the global average, according of the United Nations Food and Agriculture Organization.
And on Chinese New Year, many family dinners will include shark fin. Last year, the Hong Kong Shark Foundation found that over 80% of 291 Chinese New Year menus in Hong Kong included these dishes.
A culture of fins
For many Chinese families, culture dictates the consumption of shark fin.
"There was an old saying in Hong Kong in the 1970s: 'To stir shark fin with rice.' It was used to describe the lifestyle of the wealthy, implying that they were rich enough to afford shark fin on a daily basis," said Tracy Tsang, manager of WWF-Hong Kong's Footprint program.
"Today, the older generation still considers serving shark fin to their guests during banquets a sign of hospitality."
Many people in China, Taiwan, Indonesia, Singapore, Macau and Vietnam all consume shark fin – primarily the Chinese population.
"The concept of 'no fin, no feast' is still deeply rooted in many people's minds," said Bowie Wu Fung, an 86-year-old Hong Kong actor who now speaks for WildAid, appearing on billboards in Hong Kong against shark fin consumption.
Fung hopes to reach the older generation, who constitute the bulk of the buyers at Hong Kong's Dried Seafood Market.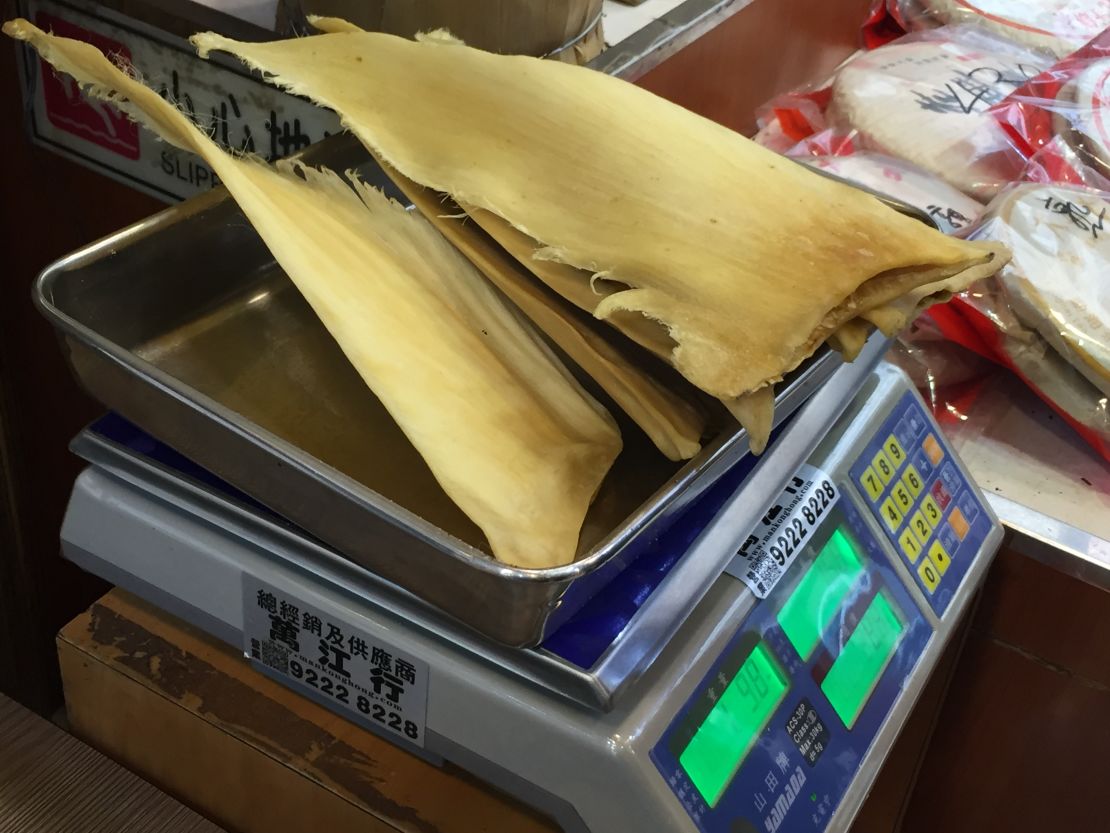 "Shark's fin is one of the 'four treasures' of Chinese dried seafood, along with fish maw, dried abalone and sea cucumber," said Daisann McLane, director of the gourmet food tour company Little Adventures in Hong Kong. "All four are expensive products that are valued for their rarity and also for their texture."
The bigger the fin and the thicker the veining, the more expensive it is, store clerks at Hong Kong's Dried Seafood Market said.
Prices can range from $90 Hong Kong dollars (about $12) for 600 grams (1.3 pounds) for small shredded pieces to $7,000 Hong Kong dollars (around $930) for 600 grams. According to a report released in 2016 by the conservation organization Traffic, shark fin prices can range from $99 to $591 per kilogram in Hong Kong.
On the lower end, a shark fin set lunch can cost $80 Hong Kong dollars to 90 Hong Kong dollars ($11 to $12) at Chinese restaurants, while some upscale places charge up to $1,200 Hong Kong dollars ( $160) for a bowl of shark fin soup, Tsang said.
'A shark trading hub'
More than 1 million tons of shark are caught each year, according to a 2018 study in Marine Policy, which named Hong Kong as the "world's biggest shark trading hub" where shark fin imports have doubled since 1960.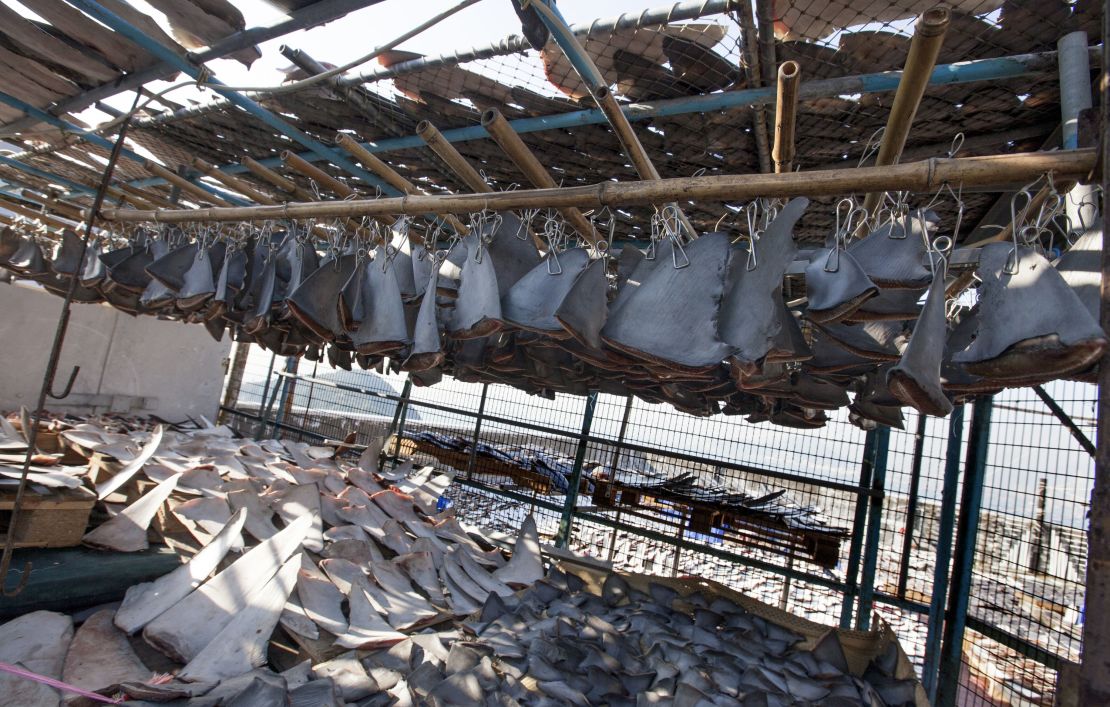 Nearly 60% of the world's shark species are threatened, the highest proportion among all vertebrate groups, and the populations of some species, such as hamm