The United Arab Emirates is "recklessly" supplying militias and other factions waging war in Yemen with an array of advanced weaponry, according to an investigation published by Amnesty International on Wednesday.
The report, citing open-source evidence, details how the UAE has become what Amnesty described as a "major conduit" for armored vehicles, mortar systems and guns that are being sent to groups accused of war crimes.
Amnesty's report comes on the heels of an on-the-ground CNN investigation, published Monday, which revealed that Saudi Arabia and the United Arab Emirates – its main partner in the war – have transferred American-made weapons to al Qaeda-linked fighters, hardline Salafi militias, and other groups, in violation of their agreements with the United States. The US Department of Defense tells CNN that those countries are legally obligated to obtain authorization from the U.S. government prior to transferring the equipment to any third party. That authorization was never obtained.
After CNN presented its findings, a US defense official confirmed there was an ongoing investigation into the issue.
CNN's report also found that US weapons had made their way into the hands of Iranian-backed rebels battling the Saudi-led coalition, exposing some of America's sensitive military technology to Tehran and potentially endangering the lives of US troops in other conflict zones.
"While the USA, the UK, France and other European states have rightly been criticized for supplying arms to Coalition forces, and Iran has been implicated in sending arms to the Houthis, a deadly new threat is emerging. Yemen is quickly becoming a safe haven for UAE-backed militias that are largely unaccountable," Patrick Wilcken, arms control and human rights researcher at Amnesty International, said in a statement.
"Emirati forces receive billions of dollars' worth of arms from Western states and others, only to siphon them off to militias in Yemen that answer to no one and are known to be committing war crimes."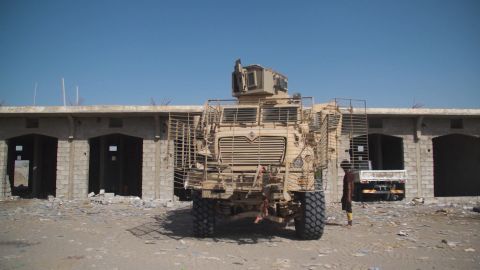 From 2001 to 2017, the US has made over $22 billion in arms agreements, but has actually sold and delivered over $6 billion in weapons to the UAE, according to the US Department of Defense.
The US is not alone in selling arms to the UAE. A number of European countries – along with Australia, China and South Africa, among others – have supplied the UAE with over $3.5 billion worth of arms since the Yemeni conflict began in March 2015, according to Amnesty, citing data from Stockholm International Peace Research Institute and UN Comtrade.
Related Article: Sold to an ally, lost to an enemy
'Wide variety of US-supplied vehicles' in militia hands
Footage, images, and social media posts from the battle for Yemen's flashpoint city of Hodeidah, analyzed by Amnesty International, showed that military vehicles and weapons supplied to the UAE by the US and others are now in the hands of militias on the ground.
The report details "a wide variety of US-supplied armored vehicles equipped with heavy machine guns" in the hands of the Giants Brigade, a predominantly Salafi, or ultra-conservative Sunni, militia, as well as UAE-backed militias Security Belt and Shabwani elite forces.
Militias in Hodeidah were also documented using the Agrab armoured-truck-mounted Singaporean 120mm mortar system, which is made in South Africa. The UAE is the only country known to have purchased this combined weapon system, according to Amnesty International.
As revealed on Monday, a CNN team on the ground in Hodeidah witnessed the Giants Brigade in possession of several American-made Mine-Resistant Ambush Protected (MRAP) vehicles. One even had the export label showing it was sent from Beaumont, Texas to Abu Dhabi, in the UAE, before ending up in the hands of the militia.
And in September 2017, a Houthi-run television channel broadcast images of Mohammed Ali al-Houthi, the de facto rebel leader, proudly sitting behind the wheel of a US-made MRAP in the capital Sanaa, as a crowd chanted "death to America" in the background.
By handing off such military equipment to third parties, some of the countries that make up the Saudi-led coalition are breaking the terms of their legal arms deals with the US, according to the Department of Defense.
The Saudi coalition did not respond to multiple requests for comment ahead of the publication of CNN's investigation Monday. A senior UAE official denied "in no uncertain terms" that it had violated its end-use agreements with the US.
The Giants Brigade is a "part of Yemeni forces," the UAE official told CNN, adding that the group was under the direct supervision of the UAE and, therefore, the equipment was in the "collective possession" of the coalition.
On Tuesday, the top US military commander in the Middle East, Gen. Joseph Votel, told a US Senate hearing: "We have not authorized Saudi Arabia or the Emirates to retransfer any of this equipment to other parties on the ground in Yemen."
"And as you are well aware, when we do provide equipment, whether it comes government to government or commercially provided, that they recipients do have to agree to certain stipulations on the use of those and that we do have monitoring and enforcement mechanisms," he added.
Votel also said that the US would be looking closely at CNN's findings.
Amnesty: Stop supplying weapons to UAE
For many states, supplying weaponry to the UAE violates the global Arms Trade Treaty, which regulates the international trade in conventional arms, Amnesty International says. The transfers are also in breach of EU law, and, in many instances, domestic laws of suppliers.
Related Article: Shrapnel in Yemen ties US bombs to civilian deaths
In its report, Amnesty International has called on states to stop supplying arms to all parties to the conflict in Yemen.
"Only a handful of countries have done the right thing and stopped the conveyor belt of arms to the Yemen's devastating conflict. Others must follow in their footsteps or they will share responsibility for the devastating toll these billions of dollars' worth of arms transfers are wreaking on civilians in Yemen," Wilcken said.
Saturday is the deadline for US Secretary of State Mike Pompeo to re-certify to Congress that Saudi and the UAE are taking adequate measures to avoid harming civilians, thereby allowing US-provided aerial refueling services to the coalition to continue.
"This investigation needs to be a wake-up call," US senator Chris Murphy said Tuesday, referring to CNN's report. "Congress should immediately pass our bipartisan War Powers Resolution to get us out of the war in Yemen that has gone horribly wrong, and we must stop selling weapons to help Saudi Arabia and the UAE continue to perpetuate this disastrous war."
The State Department did not respond to CNN's request for comment on the approaching certification deadline.
CNN's Nima Elbagir and Salma Abdelaziz contributed to this report.