The top United States military commander in the Middle East suggested Tuesday that America would continue to back its allies waging war in Yemen, despite new evidence of arms deal violations uncovered by a CNN investigation.
Gen. Joseph Votel, the head of Central Command (CENTCOM), told a Senate hearing on Tuesday that withdrawing US support for the Saudi-led coalition in Yemen would remove the "leverage we have to continue to influence them" and could further endanger Americans in the region.
Votel said the military was "looking more closely at the allegations" in CNN's report, published Monday, which revealed that Saudi Arabia and the United Arab Emirates had transferred US-made weapons to al Qaeda-linked fighters, hardline Salafi militias, and other groups on the ground.
Exclusive: How US arms end up in wrong hands in Yemen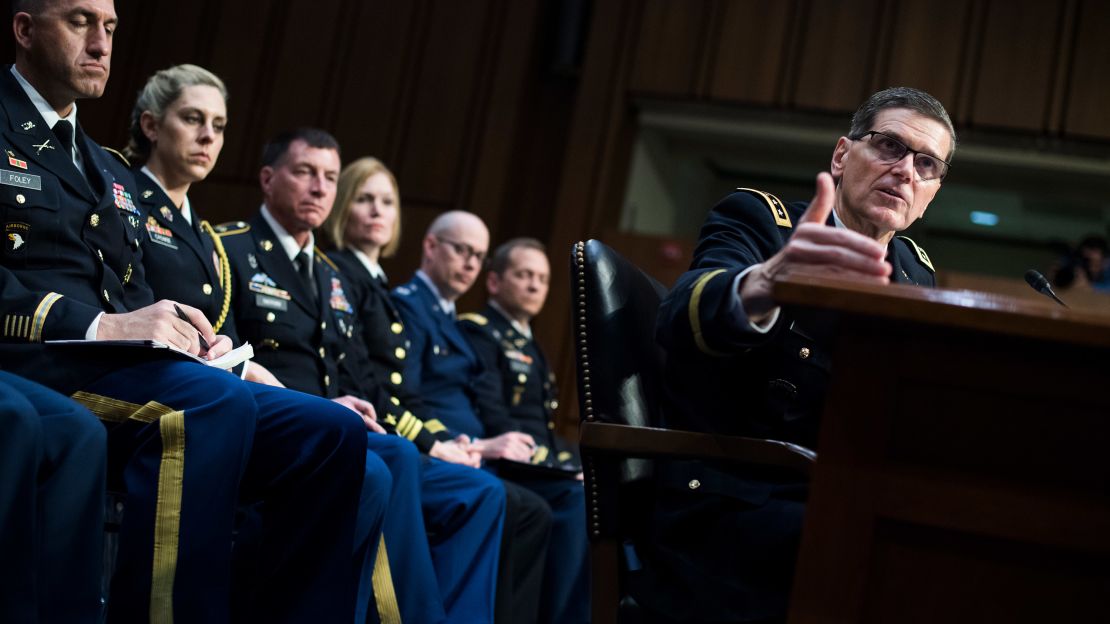 The weapons have also made their way into the hands of Iranian-backed rebels, exposing some of America's sensitive military technology to Tehran and potentially endangering the lives of US troops in other war zones.
By handing off this military equipment to third parties, the Saudi-led coalition is breaking the terms of its arms sales with the US, according to the Department of Defense.
CNN's investigation was cited by several US senators on Tuesday, one of whom described it as a "bombshell" report that should serve as a "wake-up call" to end US support for the war.
Responding to a question during the hearing from Democratic Sen. Jeanne Shaheen on CNN's report, Votel said: "We have not authorized Saudi Arabia or the Emirates to retransfer any of this equipment to other parties on the ground in Yemen."
"And as you are well aware, when we do provide equipment, whether it comes government-to-government or commercially provided … the recipients do have to agree to certain stipulations on the use of those and that we do have monitoring and enforcement mechanisms," Votel added.
Shaheen pressed Votel on how the Pentagon planned to address the finding in the CNN report that US weapons had ended up in the hands of Houthi rebels, who are backed by Iran.
"In legislation that we passed relative to Yemen, there are requirements for us to certify how the Saudis are using weapons, and so far we have not gotten authoritative certification of how those weapons are being used," Shaheen said.
"As we've seen in Iraq in the past, where we saw our partners overrun, we have seen American equipment provided to them lost in the course of a fight end up in the hands of our adversaries out there. So I think we have to, we will have to examine that better," Votel replied.
Exclusive: Shrapnel in Yemen ties US bombs to civilian deaths
Senator, citing 'bombshell' report, calls for end to US support
The revelations raise fresh questions about whether the US has lost control over a key ally presiding over one of the most horrific wars of the past decade, and come as Congress considers whether to force an end to the Trump administration's support for the Saudi coalition.
Democratic Sen. Chris Murphy said CNN's "bombshell" report was further proof of the need to "get us out of the war in Yemen that has gone horribly wrong."
"When the United States indiscriminately sends weapons into war zones, they inevitably get into the wrong hands," Murphy said, citing US intervention in the Afghanistan and Syria wars.
"This investigation needs to be a wake-up call," he added.
Last week, Murphy joined a bipartisan group of Senators in introducing a resolution to end US support for the Saudi-led war in Yemen.
Saturday is the deadline for US Secretary of State Mike Pompeo to re-certify to Congress that Saudi Arabia and the United Arab Emirates are taking adequate measures to avoid harming civilians, thereby allowing US-provided aerial refueling services to the coalition to continue.
Previous CNN investigations established that US-made weapons were used in a series of deadly Saudi coalition attacks that killed dozens of civilians, many of them children.
The State Department did not respond to CNN's request for comment on the approaching certification deadline.
The Saudi coalition did not respond to multiple requests for comment. A senior UAE official denied "in no uncertain terms" that it had violated its end-use agreements with the US.
After CNN presented its findings, a US defense official confirmed Monday that there was an ongoing investigation into the issue.
CNN's Mike Conte and Antoine Sanfuentes contributed to this report from Washington.