The number of young individuals admitted to hospital with wounds inflicted by knives or sharp objects has soared by more than half in England, according to official figures released by the National Health Service (NHS).
A total of 1,012 people aged between 10 and 19 were admitted to hospital with wounds caused by knives or sharp objects last year, up from 656 hospital admissions in the same period five years earlier, according to NHS England. A total of 103 people aged under 24 were killed by sharp objects in the year ending March 2018, compared to just 58 in 2012/13.
The overall admissions across all age groups for these injuries also rose by close to a third since 2012, from 3,849 to 4,986 last year.
Professor Chris Moran, national clinical director for trauma, NHS England, warned that hospital visits linked to knife crime are a "major cause for concern and put extra pressure on our expert staff."
"Violent crime destroys lives, devastates families, and diverts doctors' time away from other essential patient care," he said in a statement. "Far too many young people are able to buy knives on the high street, and we need councils and retailers to work together to stop this."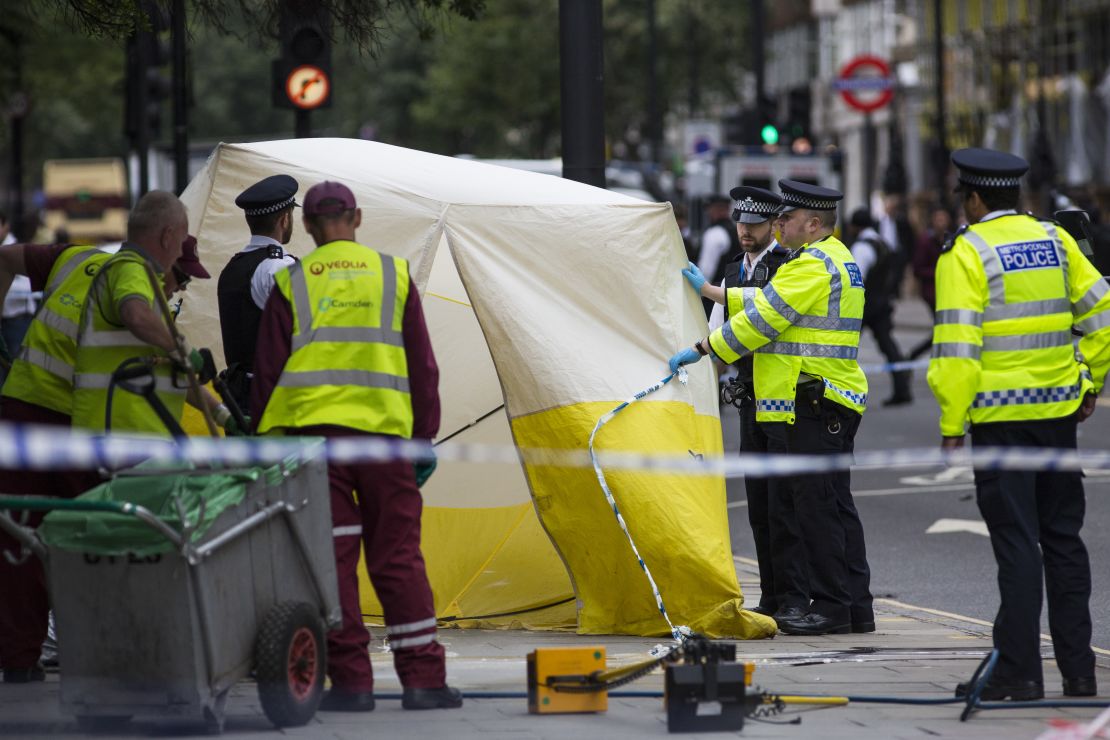 Martin Griffiths, head of trauma surgery at The Royal London Hospital, also noted that he sees on average two stabbings every day, which he warns have "relentless repercussions that stretch far beyond the victim."
"You never forget the sound a mother makes when given the devastating news that her child has died," he said in a statement. "I see the wasted opportunities of young people stuck on hospital wards with life-changing injuries. Friends don't always visit, they carry on with their lives."
A spokesperson for the Home Office told CNN in a statement that they are "very concerned about the increase in knife crime," and acknowledged that young people are most at risk of falling victim.
"We are investing around £220 million in community early intervention projects and have made clear that all public bodies need to treat serious violence as a priority and will be consulting on making it a legal duty," they said.
The findings, which were produced by NHS Digital, come shortly after the Office of National Statistics published figures showing an 8% rise in recorded knife crimes in the year up to September 2018, and a 19% rise in violent crime overall.
It was also revealed on Thursday that fatal stabbings in England and Wales have reached their highest level since records began more than 70 years ago. There were 285 homicides involving a knife or sharp object in the year up to March 2018, 73 more than in the previous year and the highest figure since the Home Office's Homicide Index was founded in 1946.
David Lammy, Labour MP for Tottenham, in north London, expressed concern over the findings. "I am upset and angry that we have let knife crime reach record levels," he wrote on Twitter. "There is no silver bullet for this problem, but various complex factors must be urgently addressed. Ambivalence and inaction will mean more young lives are needlessly lost."
NHS England and doctors have accused certain high street shops of fueling the crisis by selling knives to underage individuals, and have called on the government and politicians to take firmer action.
Home Secretary Sajid Javid unveiled plans last week, however, for new knife crime prevention orders that can be imposed on people as young as 12, in a bid to clamp down on knife crime.
The order, which can be imposed on anyone suspected of regularly carrying a knife, could force individuals to attend knife awareness courses, abide by curfews and geographical restrictions, and limit their social media access. Those found to be in breach of the order could face jail sentences of up to two years.
"The police already have a range of measures they are using to keep our streets safe, but there is more we can do to help them in this battle," Javid said when presenting the measures. "I have listened to their calls and will be introducing these new orders to stop gang members carrying knives in the first place."
Sarah Jones, a Labour Party MP, who chairs the All-Party Parliamentary Group on Knife Crime (APPG), told CNN in a statement, however, that Javid's measures risk "criminalizing a generation of young people who have grown up unsupported and who often turn to carrying weapons out of fear."
"Knife crime is an epidemic which the government has failed to grip," she said. "Ministers have listened to our calls to intervene with young people at an earlier stage – but this proposal is flawed. Imprisoning a young person as young as 12 for two years for breaching this order is completely disproportionate."