With survivors of sexual abuse in attendance, New York Gov. Andrew Cuomo, flanked by lawmakers and victims' advocates, signed into law the Child Victims Act, ending a 13-year fight and decades of personal pain for many.
"This is society's way of saying we are sorry," the governor said, speaking to survivors at the bill signing.
"We are sorry for what happened to you. We are sorry that it took us so long to acknowledge what happened to you. We are sorry that justice took so long. We are sorry to the other victims who, in the interim, were also violated because society was slow in acting."
The new law allows survivors of child sex abuse until their 55th birthday to file a civil suit, an increase from the previous age limit of 23. Felony charges can be sought until they're 28 years old, up from 23. Misdemeanors can be filed until their 25th birthday, extending the previous statute of limitation by five years.
The law also provides victims a one-time "lookback" window, referred to as "a window of justice" by Marci Ann Hamilton, CEO of CHILD USA, a think tank to prevent child abuse and neglect. The window allows victims to file suit in instances in which the statute of limitations has lapsed.
Catholic Church opposition
Thursday's law signing comes after more than a decade of opposition from the Catholic Church in New York.
In a news conference after the New York State Legislature passed the Child Victims Act in January, Cuomo, who is Roman Catholic, blamed the church for preventing the bill's passage for years.
"I believe it was the conservatives in the Senate who were threatened by the Catholic Church." Democrats took over the Republican-held Senate in November 2018 and the bill passed the Senate unanimously on January 28.
"This year, with a new Senate, the bill came to the floor, it passed unanimously 63 to 0 because even the Republicans voted for it," the governor said before signing the bill into law.
Survivors note the healing power of justice
Survivors of Larry Nassar, one of the nation's most notorious sex abusers and former USA Gymnastics doctor, attended the bill signing.
"Nothing is more important for the healing of sexual abuse survivors than seeing their abusers and the institutions that enable abuse brought to justice," Nassar victims Sarah Klein and Jessica Howard said Thursday. Klein has identified herself as the first known Nassar victim and Howard is a three-time national rhythmic gymnast champion and one of the first women to expose the Nassar scandal on national television.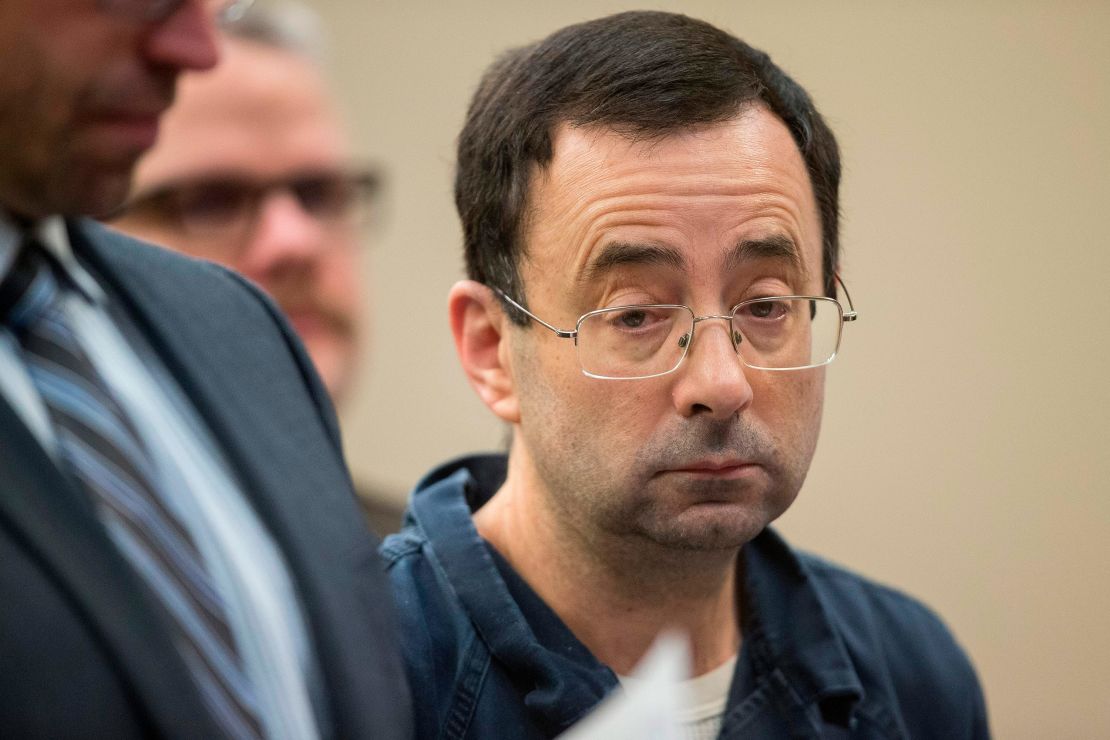 The disgraced doctor was sentenced by a Lansing, Michigan, judge to 40 to 175 years in prison in January 2018 after more than 150 women and girls said in court that he sexually abused them over the past two decades. He was sentenced by a separate Michigan court 40 to 125 years. Nassar is expected to serve those sentences concurrently after serving a 60-year sentence in a federal prison on child pornography charges.
"There are two things that historically have forced institutions that protect sexual predators to be held accountable for their actions: media attention and civil litigation," John Manly, a California-based attorney who represents more than 180 Nassar survivors, said in a statement to CNN.
"The Child Victims Act will allow thousands of New Yorkers who were abused as children to have access to the courts where they can seek justice," he said.
The governor signed the Child Victims Act into law from the New York Daily News newsroom, seen as a tip of the hat to the local newspaper that gave voice to survivors and covered the topic for more than a decade.
"And at a time when some think that journalism has been reduced to no more than 280 characters in a tweet, the Daily News wrote 252 articles on the Child Victims Act. Since 2009, the Daily News wrote 223 articles, 29 editorials, 975,000 characters on one issue," Cuomo said.
CNN's Augusta Anthony and Eric Levenson contributed to this report.