While the Trump administration sends humanitarian aid to Venezuela and ratchets up its rhetoric against Nicolas Maduro's regime, a growing group of Venezuelans who've fled to the United States are finding themselves in legal limbo and calling on Congress for help.
"The US is talking about the persecution of the Venezuelan people," immigration attorney Juan Carlos Gómez says, "and yet not receiving the Venezuelans that are fleeing the persecution with open arms."
The problem, according to lawyers and advocates, is that even as the US government grows increasingly critical of Maduro, proving an asylum case in the United States remains a tough legal mountain for anybody to climb. And Venezuelans are no exception.
US deportations to Venezuela are continuing "even as the country conditions are terrible right now," says John De la Vega, an immigration attorney in Miami. "There's no special treatment for Venezuelans. They're the same as everybody else."
Fear alone is not enough to win an asylum case. And now, De la Vega says, Venezuelans seeking asylum in the United States are afraid they could lose their cases and be sent back into danger.
More than 70,000 Venezuelans have come to the United States seeking asylum in the past four years, according to the United Nations. Detailed statistics about how those cases have fared aren't yet publicly available. Immigration attorneys say many are still pending due to case backlogs.
Immigration and Customs Enforcement deported 336 people to Venezuela last year, a 35% increase over the previous year. But that's far below the tens of thousands deported to Mexico, Guatemala and other Latin American countries
Still, some lawmakers have taken note. Rep. Eliot Engel described the uptick in deportations at the opening of a House Foreign Affairs Committee hearing on Venezuela this week.
"That's like sending people back into a burning building," he said.
Lawmakers are weighing temporary protections
The New York Democrat is among the co-sponsors of a bipartisan measure that would temporarily shield Venezuelans from deportation.
It's something Adriana Kostencki has been pushing for since 2017. As violent protests rocked Venezuela that year, the president of the Venezuelan American National Bar Association led an effort to petition the White House, asking President Trump to provide Venezuelans in the United States with what's known as TPS, or temporary protected status.
The Trump administration has scaled back such protections for other countries, and so far hasn't seemed inclined to provide them to Venezuelans.
But Kostencki says the need is clear.
"If you are concerned about the Venezuelan people because of how unsafe the situation in Venezuela is," she said, "then you should also be concerned about the Venezuelans who are here in the United States."
A sister fears for her brother's safety
Airam Figueroa says she worries constantly that her brother is on the brink of being deported to Venezuela.
"I live day to day with the fear that they'll kick him out of the country. If he goes back," she says, "they're going to put him in jail and torture him for 30 years."
Argenis Gabriel Figueroa Rodriguez, 26, was a lieutenant in the Venezuelan army. Now he faces a warrant for his arrest there for deserting his military post and treason.
According to his sister, he decided he didn't want to be part of Maduro's regime and defected, walking to Colombia on foot and then flying to the United States. Authorities detained him after he arrived at the Houston airport in October. He's been behind bars ever since.
Figueroa says her brother's been told that US officials don't find his fear of future persecution in Venezuela credible and have ordered his deportation. His attorney is trying to persuade authorities to hear his case one more time.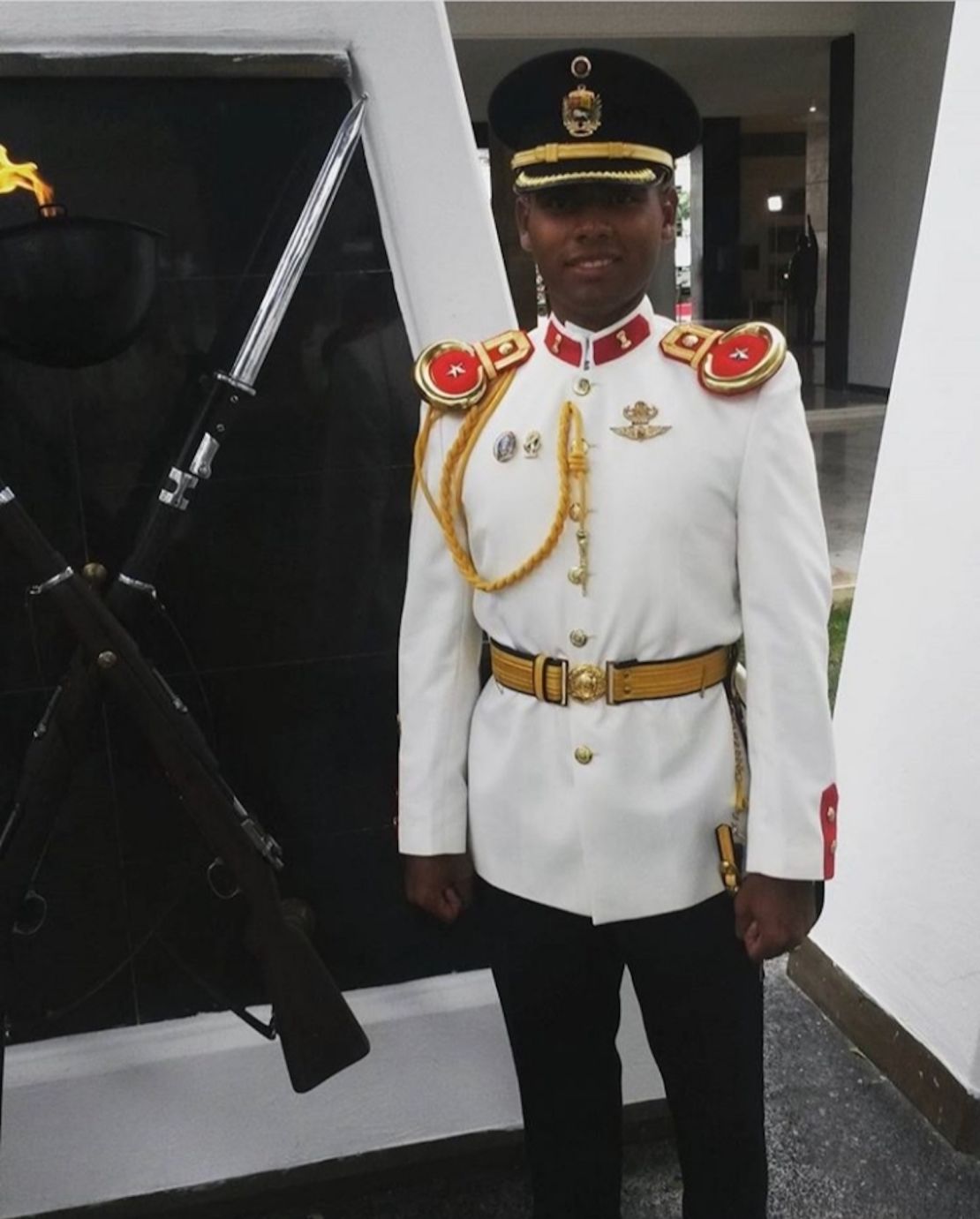 A statement from US Immigration and Customs Enforcement confirmed that Figueroa has been in the agency's custody since October 10, but didn't specify why he was detained or whether he'd been ordered removed.
"He remains in ICE custody pending the disposition of his immigration case," ICE spokesman Tim Oberle said.
His attorney says he ended up in ICE custody after he told authorities he was afraid to return to Venezuela. It's common for US authorities to detain people seeking asylum at ports of entry.
To Figueroa, it doesn't make sense for the US government to decry how dangerous Venezuela has become on the one hand, while trying to deport her brother on the other.
"We never thought we were going to have to go through all this," she says. "He came without any problems. He has his passport. He has his visa," she says. "All of this happened because he told the truth."
A 'monumental crisis'
Julio Henríquez spotted something changing in 2014.
The Boston-based immigration attorney noticed Venezuelans were appearing among the top nationalities seeking asylum in the United States. In February of that year, Venezuela ranked 10th, with 92 asylum applications filed.
"That was extraordinary back in the day," Henríquez says.
Since then, the number of Venezuelans fleeing the country has skyrocketed, prompting a UN official last month to call it a "monumental crisis." Venezuela, once the richest country in Latin America and a safe haven for others fleeing turmoil, is in the throes of an exodus.
At least 3 million migrants and refugees have fled the country, the United Nations revealed in November. And the Brookings Institution predicted that number could more than double in the near future to more than 8 million.
This phenomenon isn't just affecting the United States. More Venezuelans are seeking asylum in Peru and Brazil than the United States, and hundreds of thousands have fled to other countries in the region. Thousands stream daily across Venezuela's border with Colombia.
The number of Venezuelans seeking asylum in the United States also has increased dramatically. Venezuela now ranks first – and far outpaces every other country – on monthly lists of asylum application numbers released by US Citizenship and Immigration Services.
Meanwhile, visas to the US have become more difficult for Venezuelans to obtain. In fiscal year 2015, more than 237,000 nonimmigrant visas were granted to Venezuelans, according to the State Department. Last year, just 28,540 were issued.
A relatively small number of Venezuelans have shown up at the US-Mexico border rather than getting a visa in advance – a fact Trump alluded to recently as he described the situation on the southern border as a "disgrace."
"You have problems even with – I understand yesterday – even people from Venezuela want to come through," Trump said at a Cabinet meeting at the White House.
Hours later, Trump stood before Congress, invoking Venezuela in his State of the Union address.
"We stand with the Venezuelan people in their noble quest for freedom," Trump said, "and we condemn the brutality of the Maduro regime, whose socialist policies have turned that nation from being the wealthiest in South America into a state of abject poverty and despair."
Comments like this have made Trump increasingly popular with many Venezuelans in the United States.
"If anything, the majority of Venezuelans that are applying for asylum, they see in Trump an ally," Henríquez says.
And many arrive in the United States expecting a smooth road to getting asylum, given the government's stance.
Some are successful. But others learn the reality can be far more complicated.
'It was a shock'
Juan Carlos Gómez sees this realization flash across people's faces every time he visits the US Citizenship and Immigration Services office in Miami.
"They get an appointment to go and pick up their decision. … You see the people as they're walking out," says Gómez, who runs an immigration law clinic at Florida International University. "You see a certain look on people's faces, from sheer joy to devastation."
To qualify for asylum in the United States, applicants must prove they have faced persecution in the past or have a well-founded fear of future persecution due to their race, religion, national origin, political opinion or membership in a particular social group.
Someone who can document they were held as a political prisoner in Venezuela should be able to successfully obtain asylum, says Henríquez, who also works for a Venezuelan NGO that helps victims of arbitrary detention and human rights violations.
But others don't have that kind of evidence, even if they do have a very real fear of returning to Venezuela.
"Someone would have to show that they've already suffered persecution in the past in Venezuela. … Showing that you suffered past persecution is not easy, and many times people have not suffered past persecution. They are afraid of future persecution," Henríquez says.
"And you have to have a very, very clear case of some reason you are going to suffer future persecution if you haven't suffered past persecution."
Luz Marina Méndez thought she had a clear-cut case. And the asylum officer she met with seemed sympathetic.
But when the 65-year-old mechanical engineer got the official response to her application weeks later, the results weren't what she'd expected.
"They told me that I didn't have enough evidence," Méndez says. "It was a shock."
Next month she has a hearing in immigration court, where she'll try to make her case again before a judge. If she loses, she could face deportation – a possibility that terrifies her. Last year, 45% of the Venezuelan asylum cases decided in US immigration court were denied.
Méndez says she was already threatened in Venezuela for denouncing government corruption on the job. If she's forced to return, she fears retribution from officials or from Venezuela's notorious colectivos – armed gangs known to target protesters and dissidents.
"They have all the power. Where am I going to find work? They are going to look for me. They are going to say, 'This woman is dangerous because she speaks.' They know who I am."
A letter asking for help
The dilemma has drawn the attention of a group of Venezuelan expats in South Florida. This week they asked Venezuela's self-declared president, Juan Guaido, to push for more protections for Venezuelans in the United States. Guaido, who leads Venezuela's National Assembly, has been recognized as the country's interim president by the United States, much of the European Union and most countries in South America.
"There are more than 70,000 Venezuelans in the United States who are in a migratory limbo, and some within this group who do not have a legal status," wrote José Antonio Colina, a former Venezuelan military officer who now leads a Miami-based group of Venezuelan expats.
"That's why it's very important to get them temporary protection while the political situation in Venezuela changes and stabilizes."
In the meantime, immigration lawyers say they're fielding questions from clients who are increasingly confused about where to turn. Those conversations are even tougher for attorneys who have personal connections to the crisis.
Henríquez, who's originally from Venezuela and immigrated to the United States in 2006, says he advises seven out of every 10 Venezuelans who come to his office not to apply for asylum.
"Everyone in my family, every single one of my high school friends, every single one of my college friends have called me or referred someone to talk to me about this. I have very, very personal conversations with people that I grew up with," he says.
"It's heartbreaking … telling them, 'Sorry there's actually not a clear avenue for you here in the US, because immigration laws are not providing you one.'"