Voters in Nigeria's presidential election Saturday faced an "undue burden" because of "serious operational shortcomings," European Union observers said Monday.
Saturday's vote was mostly peaceful as tens of millions of Nigerians cast their vote in Africa's largest democratic exercise, the observers said. But voting was beset by violence in pockets of the country, and there were some reports of ballot boxes being snatched and voting papers set alight.
At least 39 people were killed in several states across Nigeria in election-related violence over the weekend, civil society groups said on Monday.
Incumbent President Muhammadu Buhari, 76, is running for re-election against 71 other candidates. His main challenger is Atiku Abubakar, 72, a businessman and Nigeria's former vice president. The outcome remained in doubt late Monday as votes were still being counted.
Most of the deaths occurred in the southern Rivers State, where seven people were killed in clashes between the Nigerian army and armed men, according to the Situation Room, a network of more than 70 civil societies, citing data from analysis firm SBM intelligence.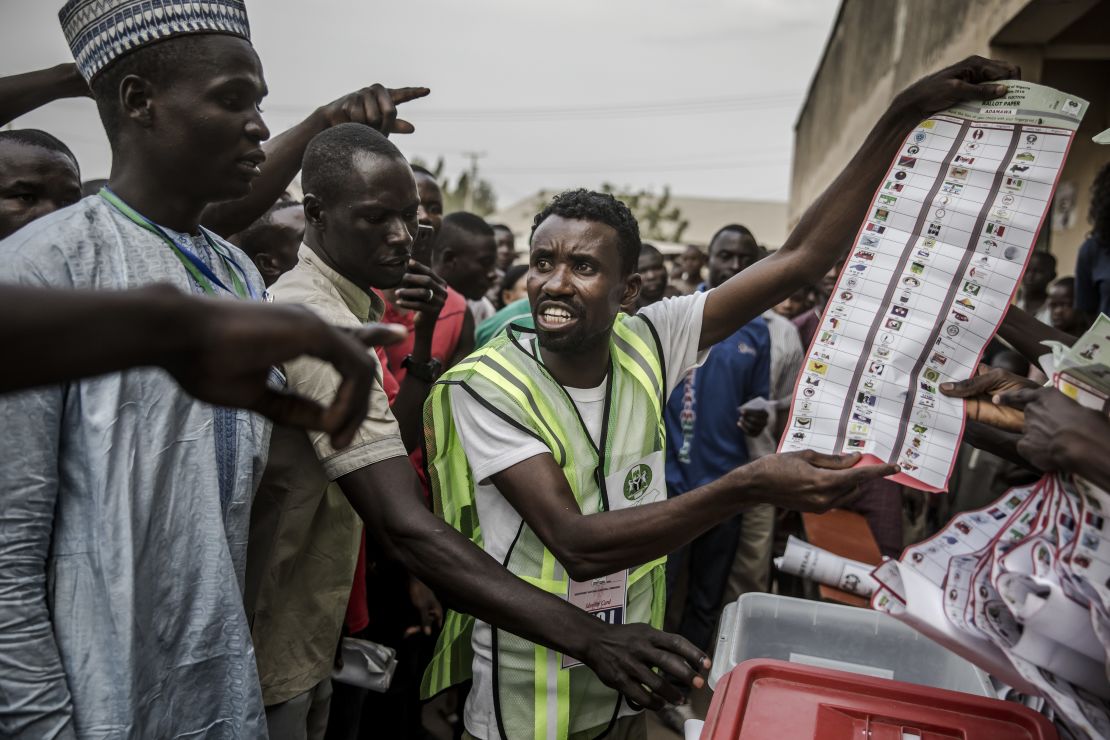 US observers from the International Republican Institute and the National Democratic Institute (IRI/NDI) said although the deaths were tragic, they should be placed in the broader context.
"We don't want to overemphasize the deaths," the IRI's John Tomaszewski told CNN. "We understand the contextual relationship. Violence happens every day here. It's not just on Election Day."
The death toll reported in Saturday's vote is lower than in previous national elections. In 2015, at least 100 people were killed in violence that broke out during and after the election, according to the International Crisis Group.
The Nigerian police said Monday they arrested 128 people for election-related offenses ranging from homicide to vote buying and snatching of ballot boxes. Police also recovered 38 weapons and a cache of explosives during the arrests.
Election marred by violence
On Sunday, the Nigerian army said its troops killed six people after unknown shooters opened fire on its forces in a remote village in Rivers State. The army said a high-ranking military officer died in the exchange.
Nigeria police spokesman Frank Mba told CNN on Monday that police were still gathering casualty figures from across the country.
"We know people died as a result of violence during the polls in some states, but we want to be scientific about the casualty figures before we share it," Mba said.
Maria Arena, the EU's chief observer and member of the European Parliament, told reporters in Abuja Monday that voting was delayed for several hours in some polling centers and there were some problems with electronic voting machines.
The majority of polling places opened extremely late, leaving voters uncertain when voting would begin, Arena said.
A few hours before polls opened on Saturday, multiple bomb blast went off in Maiduguri capital of Borno State, where the Boko Haram terror group has waged a decade-long war by bombing churches, mosques, and public places.
The military also said its soldiers stopped an attack by suspected Boko Haram militants on its military base in Yobe State, also a few hours before the polls opened. Army authorities said no one died in both incidents.
The race appears to be tight
Nigeria's presidential election had been originally slated for February 14 but was delayed by the country's electoral body due to logistical reasons, increasing tensions among the political parties.
Vote are now being counted from Saturday's polls, and provisional results announced by electoral officers on Monday showed Buhari and Atiku in the lead.
To win a candidate must garner the majority of the ballot and more than 25% of the vote in at least 24 of the country's 36 states.
There would be a runoff if neither of the candidates in the first round are able to achieve a majority of the vote.