North Korea asked for only a partial lifting of sanctions during a meeting this week with US President Donald Trump, Foreign Minister Ri Yong Ho said during a rare news conference early Friday morning.
Pyongyang would be willing to allow US experts to witness North Korea permanently dismantle uranium and plutonium production facilities at its Yongbyon nuclear site if the US removed partial sanctions, Ri said.
"If the US removes partial sanctions, the articles of sanctions that hamper the economy and the livelihood of our people, we will permanently and completely dismantle all the material in the nuclear material production facilities in the Yongbyon area including plutonium and uranium," he said.
Ri made the comments just hours after Trump walked away from negotiations with North Korean leader Kim Jong Un in Vietnam. The US President said he did so because North Korea demanded the removal of all sanctions levied against Pyongyang.
"Basically they wanted the sanctions lifted in their entirety, and we couldn't do that," Trump said at a news conference following the summit.
Ri appeared to suggest Trump's claims were incorrect, saying North Korea only asked for the removal of five of the 11 sets of sanctions levied by the United Nations Security Council to punish Pyongyang for its repeated nuclear and ballistic missile tests.
Those sanctions have stood in the way of Kim's efforts to improve the North Korean economy and raise the livelihood of his people, one of the young North Korean leader's stated goals for his country.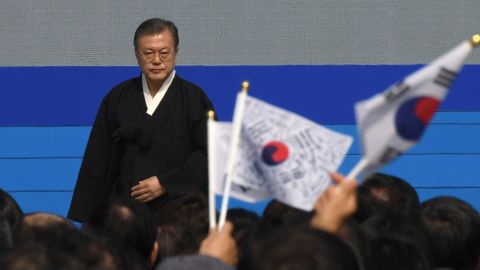 Speaking Friday, South Korean President Moon Jae-in said his country would push forward in promoting peace on the Peninsula.
"The second North Korea-United States summit in Hanoi, Vietnam, made meaningful progress, given the fact that the two leaders had conversations at length, enhanced mutual understanding and built more trust," he said.
"The spring of peace that arrived on the Korean Peninsula was not ushered in by someone else. It is an outcome accomplished by ourselves – by the power of the people."
Moon, who has been the primary driver of the peace process, said that progress between the two Koreas "will lead to the normalization of North Korea's relations with the United States and Japan, later expanding into a new order of peace and security in Northeast Asia."
"Unification need not be far away," he added. "Achieving a unity of mind while acknowledging differences and establishing mutually beneficial relations – this is exactly what unification is all about."
Denuclearization dispute
Kim said early last year that his country had completed its quest to obtain viable nuclear weapons and would solely focus on economic development.
However, analysts say Pyongyang still considers nuclear weapons key to its survival.
Ri called the North Korean proposal "the biggest denuclearization measure we can take at the present stage in relation to the current level of confidence" between the two countries, according to his translator.
Ri also said North Korea would commit to permanently halt testing of nuclear weapons and long-range missiles.
But the United States also demanded "one more thing on top of (dismantling) Yongbyon," the country's only publicly known facility that produces fissile material for nuclear weapons, he said.
Once that happened, Ri said, "It became crystal clear that the US was not ready to accept our proposal."
Trump characterized the lack of deal as only a short-term disappointment, even though he'd hoped coming into the talks to be able to point to a new, concrete pathway toward denuclearization. A major agreement struck in Hanoi might also have pushed aside embarrassing headlines about Trump's former lawyer Michael Cohen testifying that the President is a racist con man.
The personal chemistry that Trump has cultivated – and loudly trumpeted – with the young despotic leader remains intact, the President insisted.
And the summit ended amicably, without either man storming away.
Still, US and North Korean officials remain at odds about the precise definition of denuclearization, which is the stated goal of their efforts.
"He has a certain vision and it's not exactly our vision, but it's a lot closer than it was a year ago and I think eventually we'll get there," Trump said in his news conference after the summit.
Trump also described Kim as singularly focused on ending the sanctions that have crippled his economy and helped bring him to the negotiating table in the first place.
CNN's Yoonjung Seo contributed to this report.