Programming note: For more on George H.W. Bush and the political family that produced two Presidents, watch CNN's Original Series "The Bush Years," Sundays at 10pm ET on CNN.
Facing down a Democratic-controlled Congress in a time of mounting budget deficits, President George. H. W. Bush made it clear that he wanted the power of the line-item veto to strike down elements of left-leaning spending bills.
In public addresses, Bush asked the American people "to demand" that he gain the tool through legislation or a constitutional amendment. Behind the scenes, his administration explored the possibility that a president held the power inherently – a theory pushed at the time by some conservative legal commentators.
William Barr, then Bush's assistant attorney general in charge of the Office of Legal Counsel, led the research effort. "I had my monks in the Office of Legal Counsel going back into hoary antiquity looking for any kind of precedent we could use," he recalled in a 2001 interview with the University of Virginia's Miller Center of Public Affairs.
The only case law they came up with – from Scottish monarchic rule – didn't cut it. Barr advised the White House they could not establish the line-item veto, disappointing the President's hopes.
When he discussed his decision with Bush, Barr remembered the President's measured agreement. "My view is that you weaken the presidency by asserting powers that aren't given, and then getting defeated," Bush said, Barr told the Miller Center.
More than 25 years after his first tenure in Washington, which was capped off by a stint as Bush's attorney general, Barr returned to the helm of the Justice Department in February, this time under a President being challenged for an executive action he did make.
Barr has not publicly weighed in on the legality of President Donald Trump's declaration of a national emergency at the southern border, announced last month in an attempt to win more funding for a border wall despite a now-realized threat by Democrats to fight it in court.
In written responses submitted to senators during his confirmation process, Barr said he didn't have the necessary awareness of the facts and circumstances surrounding the emergency declaration, which had been threatened at the time, to offer his opinion on it, but he promised to "ensure that the Department's advice on this subject is consistent with any applicable law."
People who worked with Barr in his last go-round say he's not afraid to make an unpopular decision.
"He made tough decisions when it wasn't in the political interest of his patron. That's Bill," said Stephen Colgate, a friend of Barr's who served as his assistant attorney general for administration.
Barr first met Bush in the 1970s when both men worked at the CIA – Barr beginning his career in Washington as a junior officer at the agency, Bush as its director.
In the 2001 interview with the Miller Center, Barr described one of their first interactions – as Bush was quizzed at a congressional oversight hearing.
"He leaned back and said, 'How the hell do I answer this one?' " Barr recalled. "I whispered the answer in his ear, and he gave it, and I thought, 'Who is this guy? He listens to legal advice when it's given.' "
In a statement to CNN, Barr called Bush "a great man by every measure and a gentleman of the old school – kind, considerate, decent."
"He was a true statesman who guided the country through consequential times. From the time he served as one of the youngest naval aviators in World War II through his presidency and beyond, his dedication to public service was unparalleled," Barr said.
Barr went on to help the 1988 Bush campaign with its vice presidential selection process, and was later appointed to head the Justice Department's Office of Legal Counsel, a decision made in part because of his support for presidential power, Barr has said.
At the Office of Legal Counsel, he helped shape legal opinions that influenced White House policy and action, and he produced a 10-page memo outlining a broad vision of the executive branch's abilities to rebuff Congress' oversight attempts.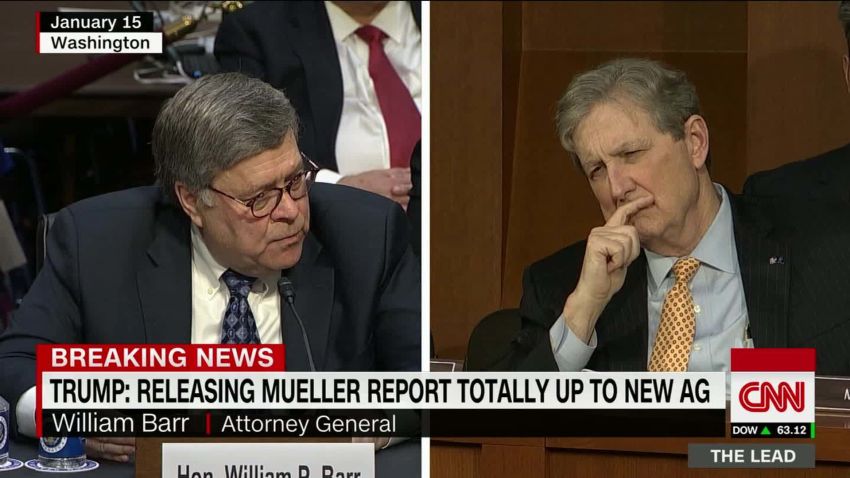 Unclear whether AG Barr will share full Mueller report with Congress
The Mueller probe
Barr's views on executive authority, on display in that memo and a separate one he wrote last year criticizing part of special counsel Robert Mueller's investigation, were a source of anxiety for Democrats during his confirmation fight earlier this year.
In line with the unitary executive theory, a school of legal thought that draws a standard of uncompromising presidential power from the Constitution, Barr's support for executive authority once undergirded a decision to almost fire an independent counsel who had hounded Bush.
Bush was "infuriated" with Lawrence Walsh, the independent counsel appointed under Reagan to investigate the Iran-Contra scandal, Barr told the Miller Center. In an Oval Office tirade, the day after Election Day, the President blamed an indictment that Walsh had brought just days before the vote for his defeat, and invited Barr to fire him.
Barr, according to an account in Bob Woodward's 1999 tome "Shadow," agreed that Walsh should – and could legally – be fired after an inappropriate and apparently political move. Barr had been tempted to fire him before, Woodward reported.
"I've had an itchy finger," Barr said, according to "Shadow." He ultimately decided against it, however, worried that firing Walsh would only create more controversy and bring a new court-appointed independent counsel, Woodward wrote.
This year, in the run-up to his second term as attorney general, now under a President less genteel than Bush, Barr offered Congress a more fulsome defense of the Mueller investigation.
Appearing before the Senate Judiciary Committee in January, Barr promised to not interfere with the probe and to let the special counsel carry his investigation through until its end.
"I feel I'm in a position in life where I can do the right thing and not really care about the consequences in the sense that I can truly be independent," Barr said. "I am not going to do anything that I think is wrong, and I will not be bullied into doing anything I think is wrong – by anybody, whether it be editorial boards, or Congress or the President. I'm going to do what I think is right."
Barr in 1992: Roe v. Wade will be overturned