Prada is feeling China's economic slowdown as it struggles to keep pace with its global rivals in the biggest market for luxury goods.
The company's shares plunged almost 11% in Hong Kong on Monday after it reported disappointing earnings late Friday. Revenue for 2018 was about 1% below analyst forecasts, and operating profit came in 14% under expectations, according to Refinitiv data.
Prada posted an 8% overall increase in greater China sales last year, but the company said it had experienced "some slowdown" in the second half of the year, mostly due to lower demand in Hong Kong and Macau that it attributed to the weaker Chinese yuan.
Company executives acknowledged in an earnings call on Friday that they need to do a better job of managing the Chinese market.
China is one of the world's biggest markets for luxury goods, and Chinese shoppers at home and abroad make up almost a third of purchases globally, according to McKinsey.
As the value of China's currency has declined, "consumers just haven't been buying as much overseas this year," said Ben Cavender, an analyst at China Market Research.
The lackluster results come at a turbulent time for Prada. The Italian fashion house's stock price has fallen more than 36% over the last year.
The company isn't alone in suffering from the slowdown in the world's second biggest economy. In recent months a number of global companies, from Apple (AAPL) to Caterpillar (CAT) to Nvidia (NVDA), have felt the impact on their earnings.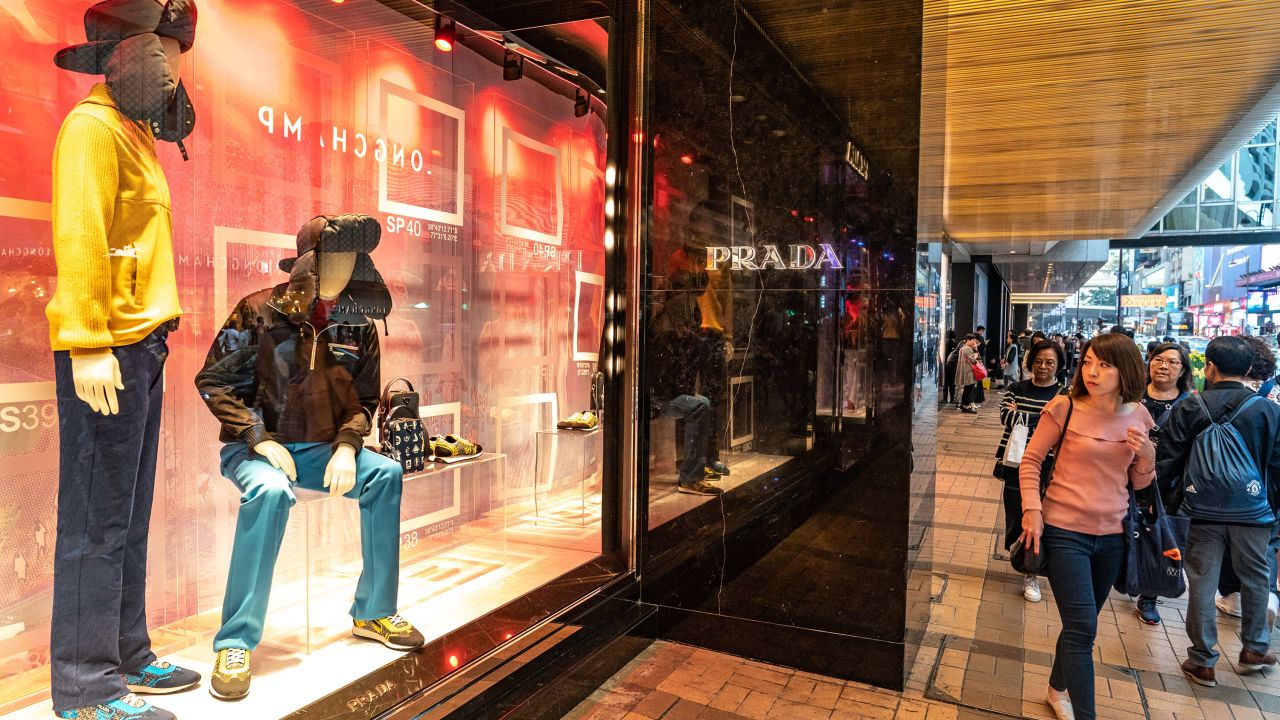 But some luxury brands are doing better. Earlier this year, LVMH (LVMH), the owner of Louis Vuitton and Dior, posted record sales for 2018 and raised its dividend by 20%.
'Behind the curve'
Analysts say that Prada has fallen behind its competitors. They say it hasn't invested enough to create a unique experience for customers and hasn't rolled out new products fast enough to create buzz.
The company is working to put this right, but it has some catching up to do to compete with brands like Gucci, which is owned by French luxury group Kering (KER).
"Both Kering and LVMH have been able to invest very heavily into store renovations, visual merchandising, and digital strategy in China which has made it easier for them to generate mainland China sales," said Cavender.
"Prada was behind the curve."
Luca Solca, an analyst at Bernstein, said that Prada still has some work to do in "trying to connect with the younger consumer group — especially in China."
"I believe this is the most important divide between brands like LV and Gucci, who have adapted their marketing mix faster and more effectively to millennials," he said.
Prada has made some inroads over the last year. Cavender notes that the company "has been more aggressive with product launches," and it recently relaunched a website for one of its most popular brands, Miu Miu, in Europe.
The company says it is planning to launch e-commerce offerings for both Prada and Miu Miu in new markets this year, and recently created channels to boost its "brand engagement" on South Korean messaging app Kakao and music streaming platform Spotify (SPOT).
"I think a lot of cost has gone into trying to make the brand relevant again to consumers," said Cavender. "But the sales are not coming back as quickly as Prada would like."