Christchurch, New Zealand
CNN
—
Zaid Mustafa should have been at school on Wednesday.
Instead, he was being pushed in a wheelchair to the graves of his father and brother, surrounded by mourning strangers in a country he had only recently made home.
The 13-year-old was shot in the leg last Friday when a gunman opened fire on worshipers at two mosques in the New Zealand city of Christchurch, killing 50 people and shocking a nation that thought it could never happen there.
The Mustafas didn't think it could happen there, either.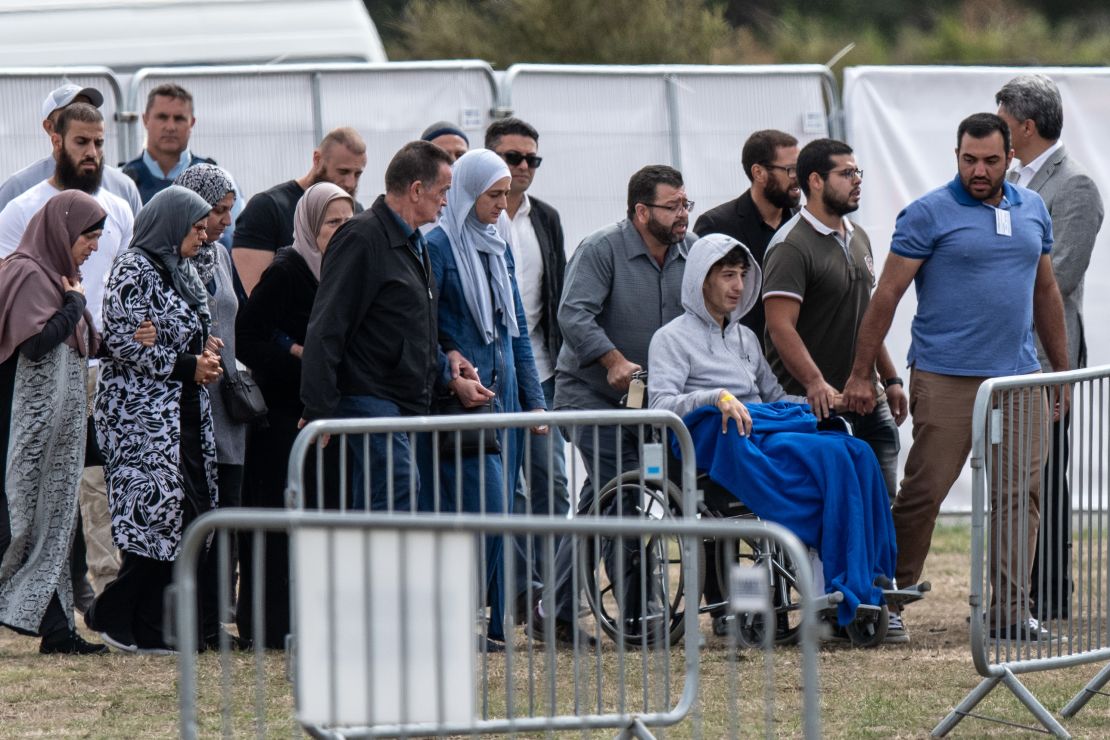 Khaled, 44, and Hamza, 16, were at Al Noor Mosque on Deans Avenue when they were gunned down, leaving behind Zaid, his mother, Salwa, and younger sister, Zaina.
The family of five had moved to Christchurch last July after fleeing fighting in Syria and spending years in a refugee camp in Jordan. They secured their visa for New Zealand under the country's refugee program, said Ali Akil from Syrian Solidarity New Zealand.
Their new life lasted eight months.
Prime Minister Jacinda Ardern referred to the Mustafas during a news briefing Wednesday, on her second visit to the city since Friday's attack.
In the hours after the attack, Ardern said she'd been briefed on the victims and that a family of Syrian refugees, "should have been safe here."
First burials
Khaled and Hamza Mustafa were the first of the 50 victims to be buried, five days after the massacre.
Some families have grown increasingly impatient about the length of time authorities are taking to complete the autopsies and release bodies.
New Zealand Police Commissioner Mike Bush said Wednesday that it would take longer than expected to formally identify all of the deceased. As of Thursday morning, authorities had publicly identified 34 of the victims online.
A mass funeral is expected Thursday when an unknown number of victims will be interred.
Salwa had wanted a separate, faster funeral for her husband and son, Akil said.
Wednesday's ceremony started after midday. A procession of cars slowly turned through the gates into Memorial Park Cemetery, past armed police officers and towards a tent screened off by a white fence.
Through the windows of a minivan, one guest could be seen with bandages around his head.
Volunteers in yellow hi-vis vests corralled the guests – some had come from other cities, others from overseas, to lend their support to their wider Muslim family.
"We were crying when we heard the news. That's why we got on the first flight," said Gulshad Ali from Auckland, New Zealand. "We just came here to support the family and friends and people who've been affected."
Ali said she didn't know the Mustafas but extended her sympathies to them.
Calls of Allahu Akbar could be heard in surrounding streets as guests were led through Islamic prayers.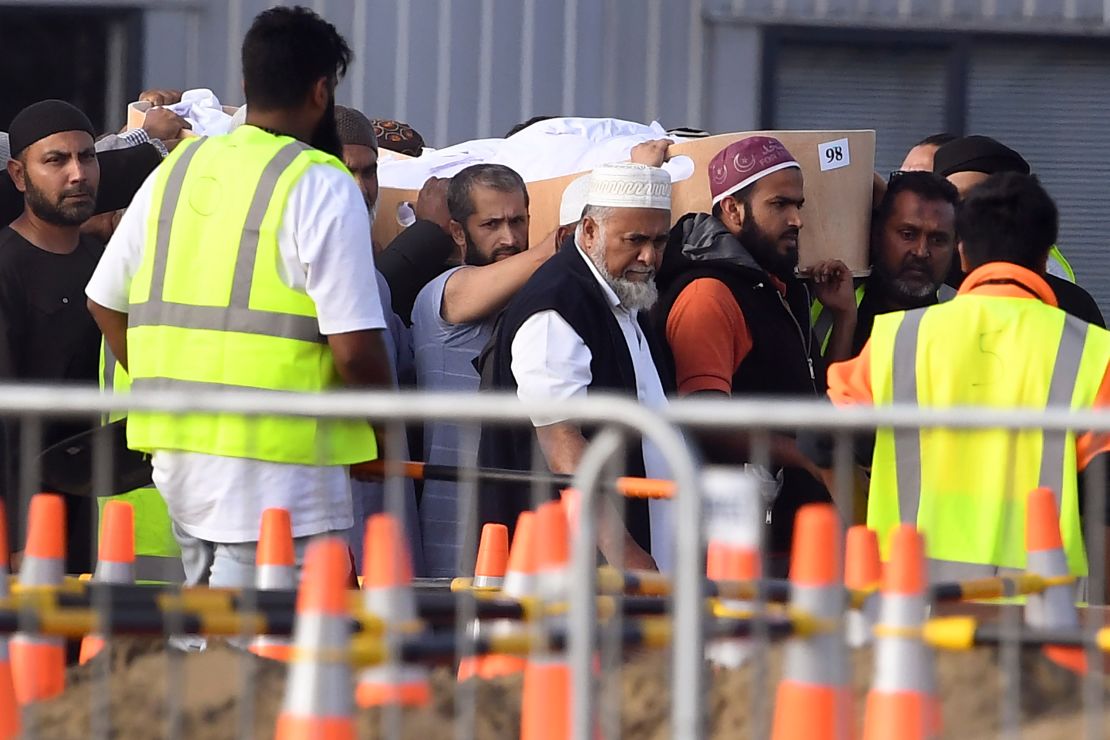 Mourners then emerged from the tent, carrying open wooden boxes on their shoulders to the burial site where 50 graves have been dug.
Guests consider it a mark of respect to throw dirt on the graves of the dead to help send them to the next life.
At smaller services, shovels are used to move the dirt. So many people attended Wednesday's service that Akil said guests were invited to throw a small handful each.
Zaid was too weak to hold a shovel, Akil said, so one was taken to him, piled with dirt.
'It's their names we need to keep telling'
Zaid stayed to accept condolences before being taken back to Christchurch Hospital, Akil said. It's likely to be some time before he's well enough to return to Cashmere High School, which his brother also attended.
Ardern visited Cashmere High on Wednesday to address the students who've been paying tribute to Hamza and another classmate who was killed, Sayyad Milne, 14. Former student Tariq Omar, 24, also died.
"You know some of the young people who lost their lives on Friday," Ardern told the students. "It's their names and their stories we need to keep telling."
The prime minister invited questions from the assembly. The first was: "How are you?"
"Thank you for asking," Ardern said. "I'm very sad."
New Zealand will fall silent for two minutes this Friday to remember the victims of the massacre.
The call to prayer will be also broadcast over national television and radio uniting a country wracked by grief one week on.