It was the scandal that damaged a proud cricketing nation. A year on, though, from the bans, the resignations and the outrage, Steve Smith and David Warner are back.
The yearlong suspensions of Australian cricket's former captain and vice-captain come to an end today, providing a line in the sand to formally end a deeply unpleasant episode.
Ever since March 24 2018, when opening batsman Cameron Bancroft was caught by television cameras trying to rough up one side of the ball with sandpaper during a Test match against South Africa, Australian cricket has been stuck in navel-gazing mode, attempting to move forward while trying to forget the past.
Bancroft – announced last week as the new captain of Durham in England's County Championship – was banned for nine months. Smith and Warner, christened as the "leadership group" whose team culture facilitated the actions, were hit with longer bans by Cricket Australia, preventing the pair from representing their country or playing domestically during their bans.
The good news, however, is that when they do eventually return, Australian cricketing great Shane Warne expects both men to "be on fire."
"They love the game," Warne told CNN. "To have that taken away from them for a year is pretty tough. I expect some huge things from them this year. I think with the year off, it will have freshened their minds up, they will be fit, raring to go."
In a sense, neither Warner nor Smith have truly disappeared from the cricketing landscape; they have both played in Twenty20 competitions, a shortened format of the game, in Canada and Bangladesh since the incident. After being excluded from the 2018 Indian Premier League, both have made their comebacks this year, with Warner making 85 in his first game of the 2019 tournament.
'Needed to be punished'
However, the official culmination of their bans – the lengths of which have proven as divisive a subject as the initial wrongdoing – remains a significant moment.
In effect, it is a date that marks the pair's return as international cricketers ahead of a crucial year; Australia face the double challenge of a World Cup, as well as a subsequent Ashes series.
Warne speaks from a better place than most, given his own time out of the sport. Warne was banned from playing for a year in 2003 after testing positive for a banned diuretic.
READ: Cash, Kings and Kohli: Shane Warne on the IPL's $2.5 billion juggernaut
While he doesn't attempt to play down the seriousness of the ball-tampering incident, he questions – 12 months on – whether the punishment handed down by Cricket Australia matched the crime.
"One, I don't condone what they did," he explained. "Two, I don't know how it got to that stage, where you can be taking sandpaper out onto the field. That's the most disappointing thing for me – how it actually got to that, to make that decision.
"But, you compare the penalties they got – Smith and Warner – compared to everyone else that's ball-tampered. Because you either ball-tamper or you don't – you don't say: 'That ball-tampering is worse than that ball-tampering.' You either do it or you don't.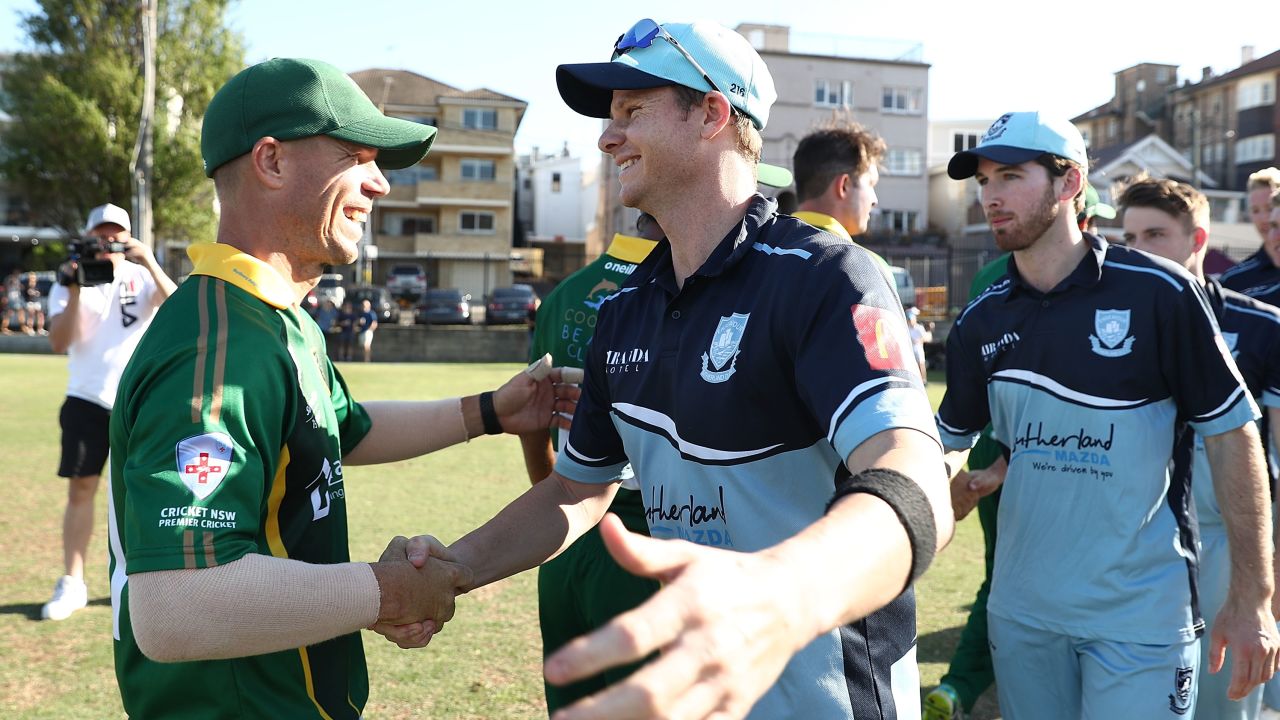 "Some people only got a bit of their match fee [taken away]. So, to have a 12-month ban probably equated to about $8 million," adds Warne, referring to the potential financial hit the players have taken. "That's a huge fine. But yes, they needed to be punished. I agree with that.
"I think, at the end of the day, these guys will be welcomed back by the Aussie public. I think they're going to get a tough time over here in England. They will be nailed a little bit and sung songs about and all those sorts of things."
'Media storm'
In the opinion of former England captain Nasser Hussain, how the two stars are reintegrated into the national setup could be crucial to Australia's chances in the World Cup – a competition it has dominated in recent times, winning four of the last five editions.
"How they cope and deal with all that is going to be important," he told CNN. "It is going to be a media storm and it is going to be quite close to the tournament. It won't be right on it, but it will be reasonably close.
"You don't want the focus to be on two cricketers – it never has been with Australian cricket. It has always been about the team. They will be a force, especially if Warner and Smith come back in."
READ: Will violence prevent India vs Pakistan World Cup showdown?
READ: Bangladesh cricket team 'extremely lucky' to avoid New Zealand mosque shootings
A Cricket Australia spokesman confirmed to CNN that "it will be business as usual" in terms of the handling of the pair as they make their international comebacks, despite the interest that the duo's presence is likely to generate.
He added: "Much has changed in Australian cricket over the last 12 months on and off the field. We're looking to the recent success of the men's and women's teams to continue in the World Cup and Ashes."
Indeed, perhaps the most curious aspect of a scenario that many believed could alter the future of Australian cricket is of what happens next.
In the time since the pair's bans were handed down last year, Cricket Australia's landscape has, indeed, changed. Coach Darren Lehmann stepped down from his own role in the aftermath to be replaced by former opening batsman Justin Langer.
Chief executive James Sutherland also left his position after 17 years in the post, though denied that it was directly related to the scandal. Cricket Australia (CA) chairman David Peever then resigned in November in the wake of a damning review into the organization's culture. Just days after the initial incident occurred, naming rights sponsor Magellan had ended its deal with the Australian Test team.
On the field, after a humiliating five-match one-day series defeat to England and Test losses against both Pakistan and India, Australia has shown signs of recovery. A one-day series win in India was lit up by the form of batsmen Usman Khawaja and Aaron Finch.
READ: How to solve cricket's ball tampering problem?
For Warne, though, there remains no debate over Warner and Smith's returns to the side.
"I mean, if you take [England's] Jos Buttler and Joe Root out of the side and a couple of guys come in and do really well and then they become available, they just go straight back in," he said. "Because they are the best, unfortunately.
"It's a good thing to have, but some of the form players are going to miss out. But that means it's strong. It's a strong team. Smith and Warner walk straight back into that side because they are class. They have proven that over a long period of time. It's great to have that backup.
"[They have] done their time, paid their penalty. They will be raring to go."