After scoring England's fifth goal, Raheem Sterling, a defiant grin on his face, cupped his ears towards the section of fans in Montenegro that had been racially abusing him and two England teammates.
Despite enjoying his best season as a professional footballer, having already scored 25 goals for club and country, Sterling has sadly fielded more questions about racism than his goalscoring feats.
In a post-match interview after Monday's Euro 2020 qualifier against Montenegro, he found himself once again having to tackle the subject.
"It's 2019 now … we can only bring awareness and light to the situation," Sterling said.
Over the past few months, the 24-year-old Manchester City forward has arguably done more than anybody else in Britain to promote racial discourse in an attempt to start changing perceptions.
READ: Raheem Sterling and Gareth Southgate want action on racist abuse in Montenegro
READ: People feel free to be 'openly racist,' says Stan Collymore
It started with an Instagram post in December, just 24 hours after Sterling had been racially abused by Chelsea fans during his side's Premier League match at Stamford Bridge.
He posted two articles from the MailOnline – one covering a young white player, the other a young black player – arguing they highlighted the role the media plays in perpetuating racial prejudices in society.
Sterling has a daunting fight on his hands, according to former Liverpool and England forward John Barnes, who had a banana thrown at him during the Merseyside derby between Liverpool and Everton in 1988.
"Until we change our perceptions of what black is, which means looking down to the lowest echelons of society and looking at black people and treating them exactly the same way we treat white people in the same situation, then nothing will change," Barnes tells CNN.
"Throughout history over the last 300 years, we have been told – and we continue to be told – that there is a certain group of people that are more worthy than us – that's what we have to challenge. Until we start challenging that in society, not just in football, nothing will change.
"It was good that Sterling mentioned that (media treatment) but more importantly you have to look at the perception people have of black people generally, not just black footballers and the influence the media plays in formulating those perceptions."
'I didn't mean to be a leader'
Barnes refers to the way in which the media painted the far-right terrorist who killed 50 Muslims in Christchurch, described as an "angelic boy" by the Daily Mirror and "blonde little boy" by the MailOnline.
In the wake of the racist abused suffered by Sterling, Danny Rose and Callum Hudson-Odoi in Montenegro, it was put to Sterling that he has become the face and the leader at the forefront of tackling racism in Britain.
READ: How Borussia Dortmund is leading football's fight against the far-right in Germany
READ: Fans back idea of points deductions to curb racism in football
How Borussia Dortmund is tackling anti-Semitism
On the pitch he had put in yet another match-winning display, cupping his ears towards the fans who had been abusing him after scoring England's fifth goal.
Off it, whether in interviews or press conferences, he has spoken eloquently about the issue of racism, which has sadly pervaded football and society.
"I didn't mean to be a leader," Sterling said. "I don't think I'm a leader. It's just something I thought to myself that I'd been seeing for a while and I thought it was sad and I just wanted to bring awareness."
The Montenegro Football Association has said it will not comment on the allegations made by the English FA but will, instead, wait for the outcome of UEFA's investigation.
Many have praised Sterling for the way he has matured into a leader both on and off the pitch but, in reality, it's not him that has changed at all, all that's changed is the way the media portrays him.
James Kirkham, Chief Business Officer at COPA90, led a survey into younger fans' relationship with football and believes Sterling's natural persona has endeared him to a new generation of supporter.
"I don't think Sterling has sat there and tried to orchestrate it," he said. "Sterling has never been anything but honest and transparent and I do know that he was shocked – as many of his colleagues and players were – by, frankly, the pretty sickening treatment they received from certain members of the press about a year ago."
READ: 'Jews to the gas' – The anti-Semitism shaming Dutch soccer
READ: Footballer banned for racial abuse quits the sport
Sterling moved to England from Jamaica as a five-year-old after his dad died from gun violence, the imposing arch of Wembley Stadium visible from the London estate he grew up on.
"I used to kick about in this green right by my house, and I could take a shot on goal and then turn round to celebrate and the Wembley arch would literally be right above my head," Sterling wrote in The Players' Tribune.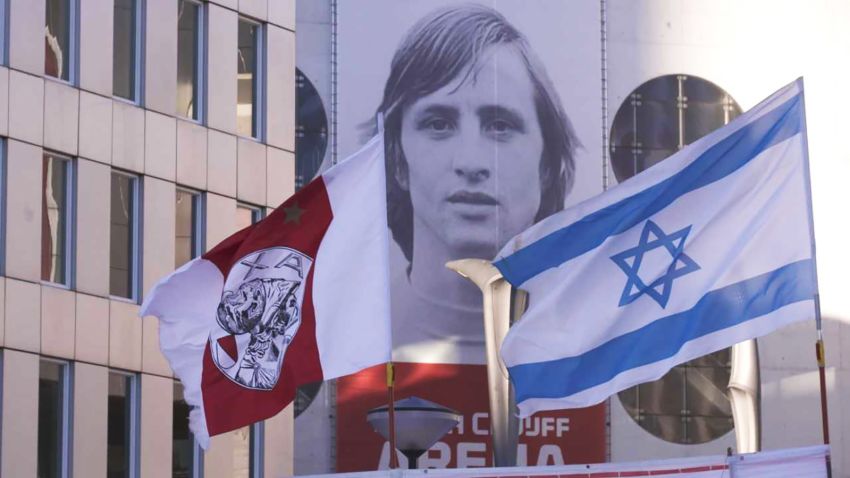 Ajax's 'Super Jews' keep on singing
"It was like you were there. I was really like, I can play there. I can do it."
London club Queen's Park Rangers spotted his talent early and signed him to their academy, before Sterling made the switch to join Liverpool as a teenager.
Sterling made his debut for the Merseyside club when he was only 17 and in 2015 his burgeoning talent convinced Manchester City to pay a then club record fee of £50 million ($65 million) for his services.
It was after that move that the press coverage took a more spiteful tone. Sterling was labeled a "footie idiot" by one paper, while he was criticized for both spending money and saving money by flying with economy airlines.
The vilification came to a head in the lead up to the 2018 World Cup when a photo emerged showing Sterling with a gun tattoo on his leg.
In the face of intense media scrutiny, the Football Association defended its player, praising his "honest and heartfelt" explanation for the tattoo.
"When I was two my father died from being gunned down to death," he said at the time. "I made a promise to myself I would never touch a gun in my life time, I shoot with my right foot so it has a deeper meaning."
'We are weak on racism'
In a time where Britain's two leading political parties have been accused of Islamophobia and anti-Semitism, perhaps it should come as no surprise that racism permeates into other areas of society, inluding football stadiums.
Just a week before Sterling was racially abused at Stamford Bridge, Arsenal's Gabonese forward Pierre-Emerick Aubameyang had a banana thrown at him by a Tottenham fan during the north London derby.
And while England manager Gareth Southgate was quick to condemn the abuse suffered by his players in Montenegro, he pointed out – as he did in the build up to the World Cup in Russia – that England is far from having its own house in order.
"I've seen this (racism) time and again," British journalist Darren Lewis told CNN. "I saw it in 2004 in Spain, I've seen it many times around Europe when I've gone to cover football matches on behalf of the Daily Mirror.
"I'm sad to say I've also seen it here in England as well and there are not degrees to racism. I won't accept somebody saying to me: 'It's not as bad here as it is in Montenegro.'
Sulley Muntari: Racism happens every game
"We are weak on racism in this country, I don't think it justifies us being able to go and lecture Montenegro on their problems. Gareth Southgate last night, very wisely, pointed to the fact that we need to clean up our act in English football. When we do that, then we can lecture other countries."
Southgate has been widely praised for tackling difficult subjects since becoming England manager, a refreshing change from the PR-washed answers given by coaches in the past.
He has consistently shifted the focus of racism in other European countries back onto England, emphasizing the need to address it in British stadiums and the press before taking the morale high ground over other countries.
"In the build up to the World Cup in Russia, he was very open when he said: 'Let's not just look at Russia as the problem. We've got our own problems here,'" Kirkham said.
"The other night he rightly talked about how abhorrent what he heard was.
"However, he stopped and reminded everyone that it is not a case of this problem has been solved at home, we've got our own house to still get in order – and you know full well he's also referring to some of those very journalists in that very room."
'Football can do nothing'
Southgate and Sterling called for tough sanctions on Montenegro by UEFA, though European football's governing has a patchy record in the way its meted out punishment for incidents of racist abuse.
In May 2018, the Russian Football Association was fined $29,000 for racist chanting whilst Turkish club Besitkas was fined $39,400 for a pitch invasion after a cat made it onto the playing surface during a Champions League game in the same season.
Sterling called for an entire stadium ban, while others have suggested Montenegro be expelled from Euro 2020 qualifying, but Barnes believes no amount of sanctions will remedy the problem.
"They (UEFA) can't do anything; society has to do it," he said. "Football can do nothing. Until we get rid of racism in society, football will mirror society.
"There's no different solution to getting rid of racism in football than there is to get rid of racism in society.
"You cannot pass laws to change perceptions, only through education and understanding why people are racist in the first place and working with that. So laws aren't going to change anything."