Borussia Dortmund, one of Germany's leading football clubs, has reaffirmed its commitment to fighting anti-Semitism by donating one million euros ($1.1 million) to Yad Vashem, the Holocaust memorial museum in Jerusalem.
The donation will help fund a new exhibition, the Shoah Heritage Collections Center, that will house artifacts, photographs, artwork and documents from the Holocaust.
The Bundesliga club, which has been outspoken in its battle against anti-Semitism in German football, running education programs for supporters and organizing visits to concentration camps to help teach about the horrors of the Holocaust, announced the donation on its website Tuesday.
"Remembering, documenting, researching and teaching are the pillars on which Yad Vashem rests, it is our honor and commitment to strengthen these," the club's chairman Hans-Joachim Watzke said in a statement.
"Future generations should know what people can do to make other people suffer. We are committed to international understanding, tolerance and peaceful coexistence."
READ: How Borussia Dortmund is leading football's fight against the far-right
READ: 'The word Jew was not a common insult when I went to school..it is now."
Dortmund is one of five German organizations which has donated to the museum, along with Daimler, Deutsche Bank, Deutsche Bahn and Volkswagen.
The new exhibition will be housed at the Shoah Heritage Campus, which is expected to open in the summer of 2021.
For Dortmund, the battle against anti-Semitism and racism has been a long and often challenging affair.
A new wave of anti-Semitism plagues Germany
During the 1980s and 1990s, the club attracted supporters from the far-right, including those from the infamous "Borussenfront" which became one of the country's most feared hooligan gangs.
But a combination of the left-leaning Ultra movement and club projects, such as that undertaken at Dortmund, has helped curb the far-right's influence.
Since 2011 the club has been taking supporters to concentration camps in order to educate them about anti-Semitism.
READ: Has the world learned the lessons of the Holocaust? I don't think so.
READ: The anti-Semitism shaming Dutch soccer
"For many years we have promoted our educational offers to BVB fans, colleagues, partners and sponsors.," Carsten Cramer, the club's CEO, added in a statement.
"Together with this strong network, we stand up for the memory of the Holocaust as well as against today's forms of anti-Semitism."
Since opening in 1953, Yad Vashem has gathered artifacts, documentation and testimonies from the Holocaust period.
Visit cnn.com/sport for more news and videos
According to the museum, its collections include more than 210 million documents, 500,000 photographs, 131,000 survivor testimonies, 32,400 artifacts and 11,500 works of art – all related to the Holocaust.
"The German Nazis were determined not only to annihilate the Jewish people, but also to obliterate their identity, memory, culture and heritage," Avner Shalev, Yad Vashem chairman, said in a press release.
"For many, all that remains are a treasured work of art, a personal artifact that survived with them, a photograph kept close to their person, a diary, or a note.
"By preserving these precious items – that are of great importance not just to the Jewish people, but also to humanity as a whole – and revealing them to the public, they will act as the voice of the victims and the survivors, and serve as an everlasting memory."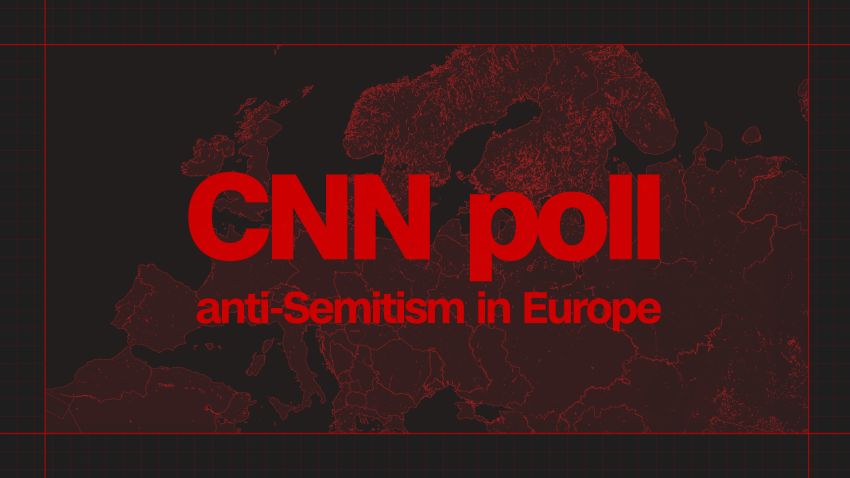 CNN poll reveals anti-Semitism is alive and well in Europe
A CNN survey of seven European countries – Germany, Great Britain, Sweden, France, Poland, Hungary, and Austria – carried out last year exposed the prevalence of anti-Semitism in 2018.
In Germany, the poll found that 55% of those surveyed believed that anti-Semitism is a growing problem in the country.
In addition, it also found that 40% of young German adults between the ages of 18 and 34 know little to nothing about the Holocaust.
CNN's Nadine Schmidt in Berlin contributed to this report.