The founder of one of the most highly trafficked neo-Nazi websites must face questioning in person under oath in the United States about allegations he called for a "troll storm" against a Jewish woman, a federal judge ruled.
But that's not likely to happen, according to Andrew Anglin's lawyer Marc Randazza.
"He doesn't live in the United States and doesn't want to come to the United States," Randazza says. "I really can't tell you why…But I am duty bound to respect it."
Anglin, who was raised in the U.S. but has claimed he is no longer a citizen, was willing to sit for a deposition via video conference or in an embassy and argued in court motions that he should be able to do so instead of coming to the United States.
Anglin has argued that he does not live in the United States and "claims he fears violence from Southern Poverty Law Center supporters and harassment from the Southern Poverty Law Center itself," according to court documents. Those are allegations the court "correctly concluded…" "were unfounded and without basis," David Dinielli, deputy legal director of the SPLC told CNN.
Anglin, founder of the Daily Stormer website, is being sued in a lawsuit which seeks to hold him liable after using his website to encourage his thousands of readers to contact Tanya Gersh. Most of the messages contained hate-filled language and centered on the fact that Gersh is Jewish. Anglin has argued his speech is protected by the First Amendment.
Gersh, with the help of the Southern Poverty Law Center, is suing Anglin for "invasion of privacy, intentional infliction of emotional distress and violations of Montana's Anti-Intimidation Act." That suit was filed in April 2017 in the US District Court for Montana.
Lawyers for Gersh and Anglin have been going back and forth about conditions for Anglin's deposition, which is central to the case.
But US Magistrate Judge Jeremiah C. Lynch ruled that "Anglin's personal safety concerns are factually unsupported" to provide a blanket protective order that would allow him to be deposed outside the U.S. Lynch did say the court could resolve disputes about the deposition as they arose if Anglin did come to the United States.
But Anglin has told his lawyer he will not come to the United States under any circumstance.
"The court has decided [Anglin] must re-emigrate to the United States in order to defend himself," Randazza told CNN. "Unless he has a change of heart, he is never going to cross into the United States as long as he lives."
"He has no fear of answering the questions. Just not under the circumstances the court is mandating."
What happens next
Randazza says he expects now Anglin will "willingly accept a default" judgement instead. Neither Anglin nor his attorneys have filed any paperwork indicating that he will defy the judge's order and not come to the U.S.
In the meantime, Dinielli says Gersh and the SPLC will continue to seek justice in the case.
"We'll proceed under the rules of procedure and if Mr. Anglin does not comply with his discovery obligations then there'll be consequences," Dinielli says.
Dinielli says "Anglin has from the beginning played games" and this is merely a "continuation of that pattern."
Randazza calls it a situation where "everyone loses."
"The end result of that will be that the SPLC will get a piece of paper, my client will pay nothing and there won't even be a decision on the legal merits, at least clarifying the law," he says.
Gersh's lawyers say they intend to see the process through and believe this isn't an everyone-loses situation. And it's not just a "piece of paper," if a judge rules against Anglin in this case.
"That would be a very important piece of paper for Tanya Gersh to possess," Dinielli says. "A significant judgment if not ultimately collected is an important message to people who would consider doing this kind of thing."
Case had been set up as a First Amendment clash
Lawyers on both sides of the case had prepared for a legal battle expected to examine the boundaries of the First Amendment and attempts to hold people responsible for their words.
In this case, the words came from readers of the Daily Stormer after Anglin wrote about Gersh on his website and asked people to unleash a troll storm on her.
Most of the messages from his readers came in the form of anti-Semitic slurs. There were edited images of her face on the gates of the Nazi Auschwitz death camp. A voicemail with the sound of gunshots. There were letters sent to the home she shared with her husband and young son, who also received messages on social media.
Randazza, Anglin's lawyer and a well-known First Amendment attorney, told CNN in the past, "The only thing he (Anglin) did was call for people to speak, but people want to draw the line for speech they don't like."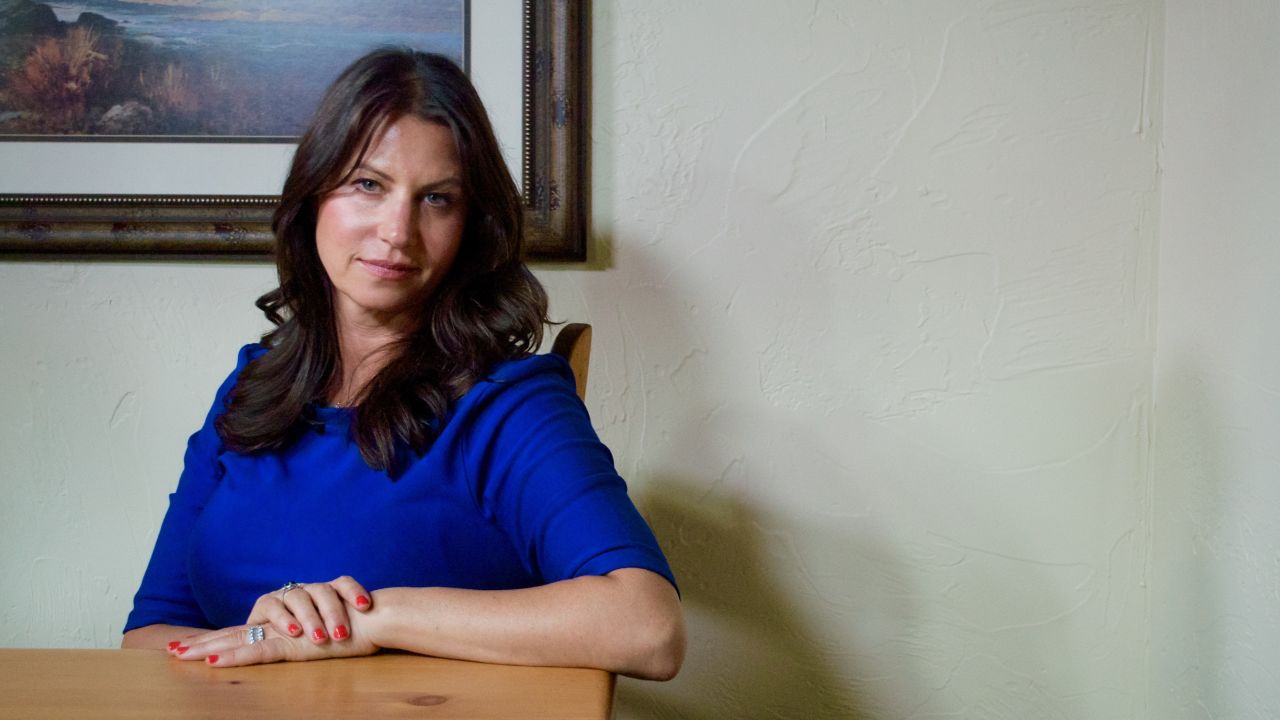 Gersh told CNN when she filed the lawsuit that she believed reducing the Daily Stormer readers to simply "trolls" minimizes the impact they had on her life.
"These are not trolls. They are terrorists," she told CNN. "They are very harmful, they are very malicious and they are dangerous."
That is not how the law sees it, Anglin's lawyers have argued during the case's early stages.
"Even Nazi expression, no matter the psychic harm on Jewish residents, is nonetheless protected speech," Anglin's lawyers wrote.
Speech that may be abhorrent to some still constitutes free speech, his lawyers maintain.
"Every word uttered by Mr. Anglin in this public dispute is protected by the First Amendment, no matter how many people find those views intolerable," Anglin's lawyers argue.
Fighting on
It's unclear now what may happen to the case. Discovery is still underway in the case. Gersh's lawyers are still trying to interview people connected to the "troll storm."
But the case may lack the courtroom showdown that was once expected.
"I'm not terribly disappointed nor excited one way or another. Unfortunately, the public likes to see a spectacle in cases. They are used to the movie version of legal cases," Randazza says. "That's just not how our court system works. The vast majority end with a whimper not with a bang."
Gersh's lawyers maintain that's not how they see this playing out. And that Gersh intends to make sure Anglin gets the message that what he did is not acceptable.
"She is intent on prosecuting the case to conclusion … in order to demonstrate the depths of harm when an individual is targeted with the hate and vitriol Mr. Anglin directed at her," Dinielli says.