Manchester, England
CNN
—
Bloodied but unbowed, Barcelona secured a narrow 1-0 win in the first leg of its Champions League quarterfinal tie against Manchester United Wednesday.
For Barcelona, a precious victory. For its captain, the mercurial Lionel Messi, a bloodied nose and a black eye courtesy of a Chris Smalling challenge.
On a quiet night for Messi, a 12th minute own-goal by Luke Shaw, the defender deflecting the ball into his own net after Luis Suarez had headed across the six-yard area, proved the difference in a scrappy and often underwhelming affair.
Shaw's own-goal was initially ruled out for offside but then reinstated by VAR, the video assistant referee, as technology took center stage in the Champions League for the second consecutive evening.
Not that United had any ground for complaint. The home side hardly looked capable of finding an equalizer and rarely threatened as Barcelona controlled the contest without ever moving out of second gear.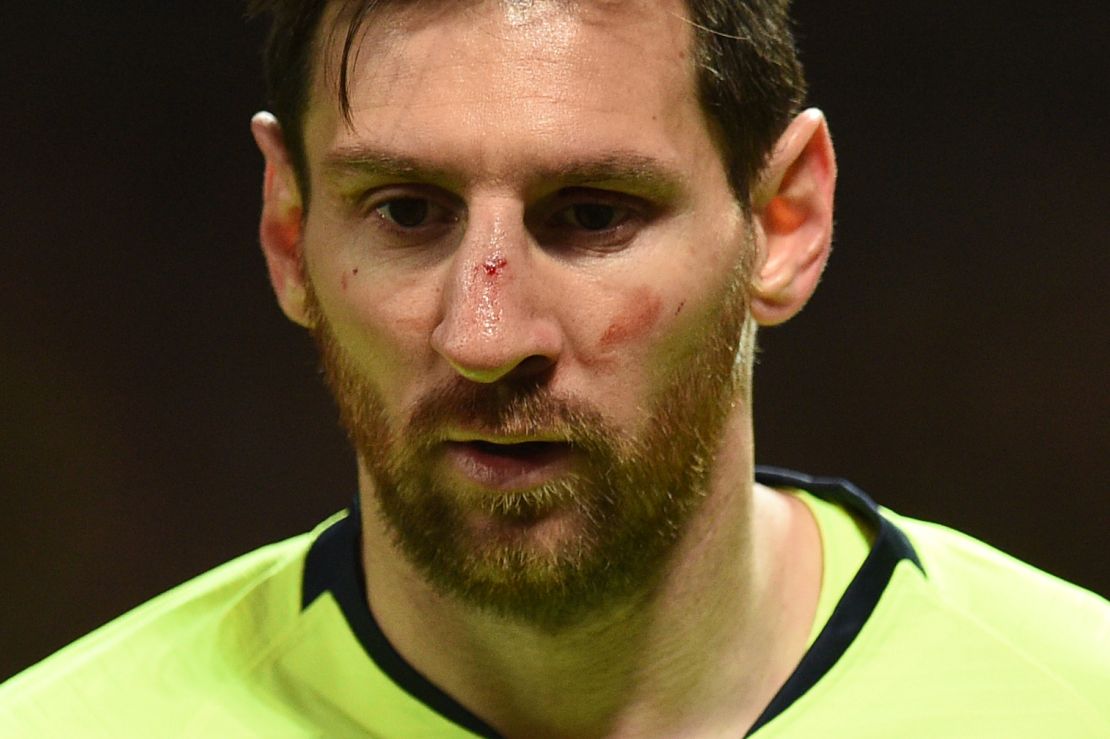 Few had expected United, playing in its first Champions League quarterfinal since 2014, to progress past Paris Saint-Germain in the previous round.
That it did owed much to a remarkable victory in Paris, overturning a 2-0 first leg deficit by winning 3-1 and advancing courtesy of the away goals rule.
READ: How 'Little Seoul' fell in love with its favorite Son
READ: From Cruyff to de Ligt: The evolution of Ajax's $500 million football factory
Under Ole Gunnar Solskjaer, who was appointed full time coach last month after replacing Jose Mourinho in December, United has improved markedly, though overcoming Barcelona in next week's second leg is likely to prove a step too far.
There is a reason that Barcelona, 11 points clear at the top of La Liga and beaten just once in all competitions since January 23, remains the hot favorite for the Champions League title.
Much of that optimism centers around Messi, who arrived at Old Trafford having scored 13 goals in his past nine games.
Yet, it was his strike partner Suarez, the scorer of seven goals in his past nine games, that appeared the more threatening of the duo as was evident as early as the 12th minute.
Messi, taking the ball onto his left foot, produced a perfect cross for his strike partner and the Uruguayan's header was deflected into the net by Shaw.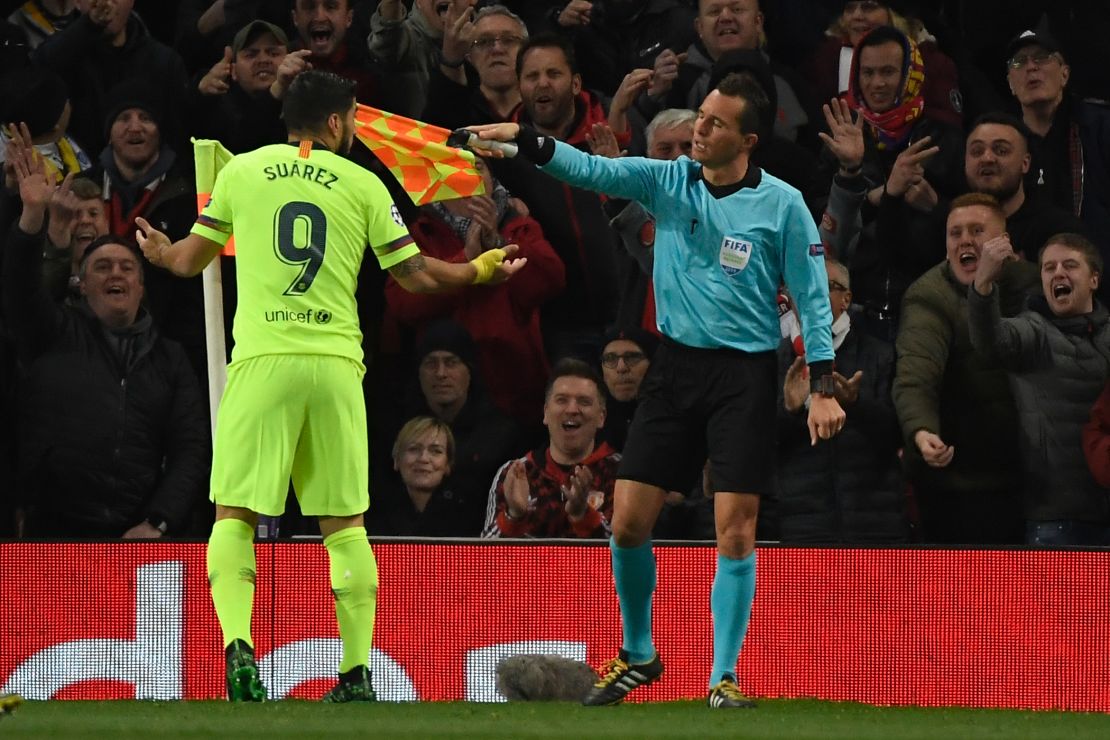 Yet, as Suarez sprinted away to celebrate, the assistant referee raised his flag for offside. Suddenly, it was the United supporters who were on their feet, gently lampooning the Barcelona players and directing rival fans to be quiet.
What transpired however, was another starring moment for VAR.
Does VAR ruin the beautiful game?
While those inside the stadium awaited news, or any inkling of what may be happening, the players stood and waited. For supporters watching on television there are no shortage of replays or information, but for those inside the stadium, it is often a feeling of bemusement.
No big screens, no replays, no information.
Finally, referee Gianluca Rocchi blew his whistle and awarded the goal. Suddenly those United fans that had offered Suarez their opinion were reticent.
Suarez, who had been indignant at the original ruling, celebrated in front of the famed Stretford End, before being ensconced inside a luminous yellow huddle of happiness.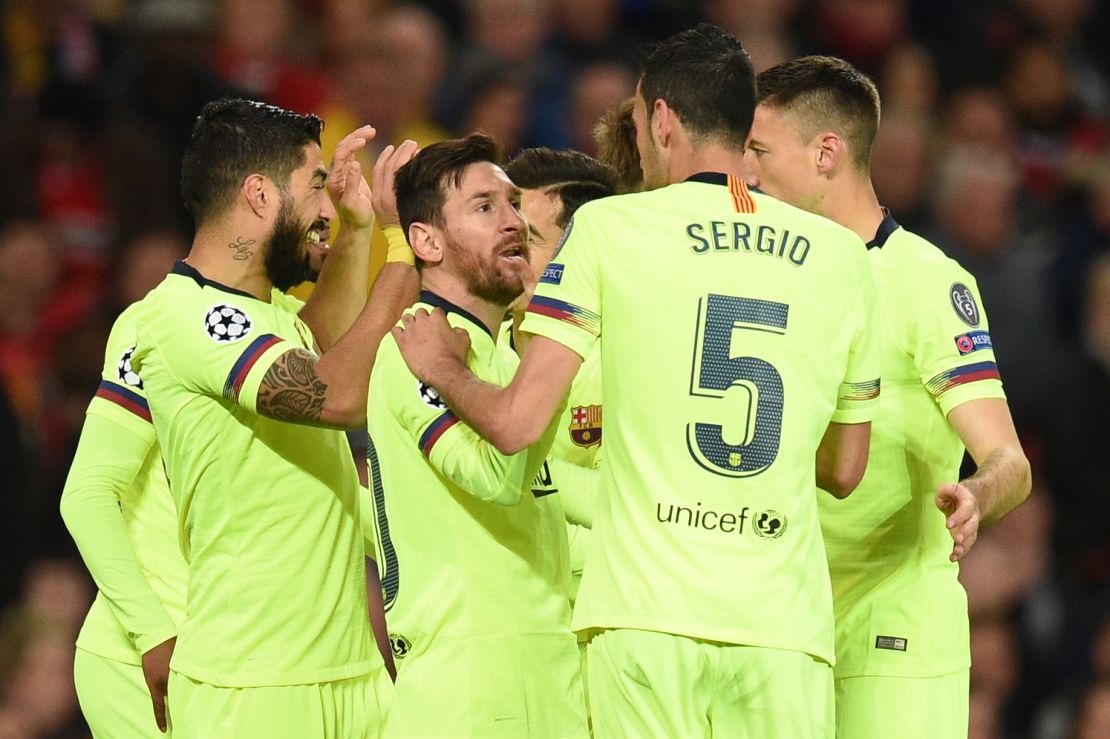 United, which had not faced Barcelona since losing to the Catalan side in the 2011 final of the competition at Wembley, struggled to cope with the pace and movement of the visiting side's front three.
Philippe Coutinho, another former Liverpool player who was given a suitable Manchester welcome, almost doubled his side's lead before the interval only to be denied by David de Gea's outstanding save.
United, sixth in the English Premier League and struggling to qualify for next season's Champions League, appeared caught between containing Barcelona and attempting to find an equalizer.
Diogo Dalot spurned United's best opportunity; heading across goal from close-range when he should have powered his effort toward Marc-Andre ter Stegen in the Barca goal.
The home side continued to try and find a way past the Barcelona defense after the interval but rarely looked capable of conjuring an opportunity.
READ: The stats that 'prove Messi is world's best'
Ter Stegen was barely tested, his kit without blemish by the time the full time whistle sounded.
While Barcelona's players celebrated cautiously, United's players trudged off knowing they will have to eclipse their achievements in Paris to progress. It will be an almighty challenge.