(CNN Business) —
France's three wealthiest families are coming to the rescue of a national icon, spearheading a fundraising drive to rebuild Notre Dame that has topped $700 million.
The billionaires behind luxury giants LVMH Group, Kering and L'Oreal on Tuesday pledged a combined €500 million ($565 million) after a massive fire ripped through the Paris cathedral.
LVMH and its CEO Bernard Arnault have promised €200 million ($226 million). The donation has been matched by the Bettencourt Meyers family, which controls L'Oreal (LRLCF).
The Pinault family, which operates luxury conglomerate Kering (PPRUF), has pledged €100 million ($113 million).
The three fashion dynasties have invoked patriotism and shared cultural identity in explaining their generosity following the devastating fire.
Other French companies have also written big checks: The oil and gas company Total (TOT) has promised €100 million ($113 million), while tech and consulting firm Capgemini will give €1 million ($1.1 million).
Combined with other donations from companies including French bank Crédit Agricole, the total amount pledged by business and wealthy donors has reached $700 million.
Luxury giving
LVMH, which owns Louis Vuitton, Christian Dior and Givenchy, said in a statement that its donation showed "solidarity with this national tragedy" and that funds would be used to rebuild this "extraordinary cathedral."
The fashion house went on to describe Notre Dame as a "symbol of French heritage and unity." LVMH said it would make its creative and financial teams available to help with rebuilding and soliciting donations.
Arnault, its CEO, is the third richest person in the world, according to the Bloomberg Billionaires Index. His net worth comes in at $90.4 billion, more than that of Warren Buffett or Mark Zuckerberg.
In addition to its fashion lines, LVMH controls high-end alcohol brands such as Dom Pérignon, Hennessy and Veuve Clicquot, as well as popular beauty retailer Sephora.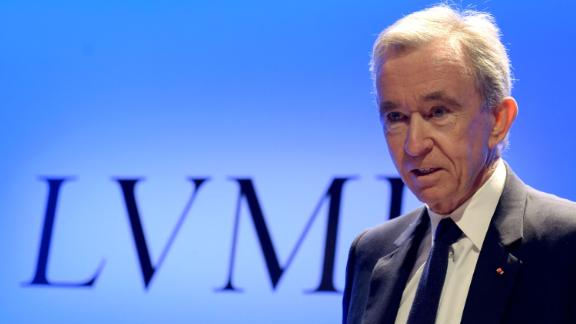 ERIC PIERMONT/AFP/Getty Images
Kering, which is the home for brands including Gucci and Yves Saint Laurent, was first out of the gate Tuesday with its donation.
"This tragedy is striking all the French people, and beyond that, all those attached to spiritual values," François-Henri Pinault, the CEO of Kering, said in a statement.
"Faced with this tragedy, everyone wishes to give life back to this jewel of our heritage as soon as possible," added Pinault, who is the son of the billionaire businessman François Pinault.