"Servant of the People" is a television series about a fictional Ukraine, but its plot mirrors reality. It tells the tale of an impoverished schoolteacher who unexpectedly becomes president after a profanity-laced anti-corruption rant goes viral.
And the show's star, comedian Volodymyr Zelensky, now stands a real chance of becoming Ukraine's next president.
So what does "Servant of the People" tell us about Zelensky?
Zelensky recently bested 38 other candidates in a national election – and will face incumbent President Petro Poroshenko in a runoff vote on April 21 – but he is still something of a political blank slate. That's provoked intense speculation about what kind of president he might make.
After all, the winner of the runoff must confront immense challenges. Ukraine is engaged in a proxy war with Russia in the eastern Donbas region, its economy is struggling and many Ukrainians have left the country to seek livelihoods elsewhere.
"Servant of the People" is fiction, so it's perhaps not the right place to seek concrete answers to the kind of policies Zelensky might pursue if he wins office. But taken at face value, the series still tells us much about Ukraine today, and the issues that most concern Ukrainian voters.
Here are some of the themes it touches on:
The influence of oligarchs
The opening scene of season one, episode one, features sinister characters looking out over Kiev's Maidan Nezalezhnosti, or Independence Square.
"We waste millions to ensure that our candidates appear (on) the political scene and then we pay twice as much to destroy their competitors," one says.
Those actors are playing caricatures of post-Soviet oligarchs, the powerful, politically connected individuals who have seized the commanding heights of the economy in countries like Ukraine.
The intersection between crime and politics is a persistent theme of "Servant of the People," and it's not surprising that many Ukrainian presidential candidates – not just Zelensky, but also Poroshenko – ran on a promise to get rid of corruption.
Cleaning house in Ukraine is easier said than done, however. The country still ranks 120 out of 180 on Transparency International's latest Corruption Perceptions Index, and Ukrainians – like Zelensky's character – routinely complain that the economic game is rigged in favor of a small group of elites.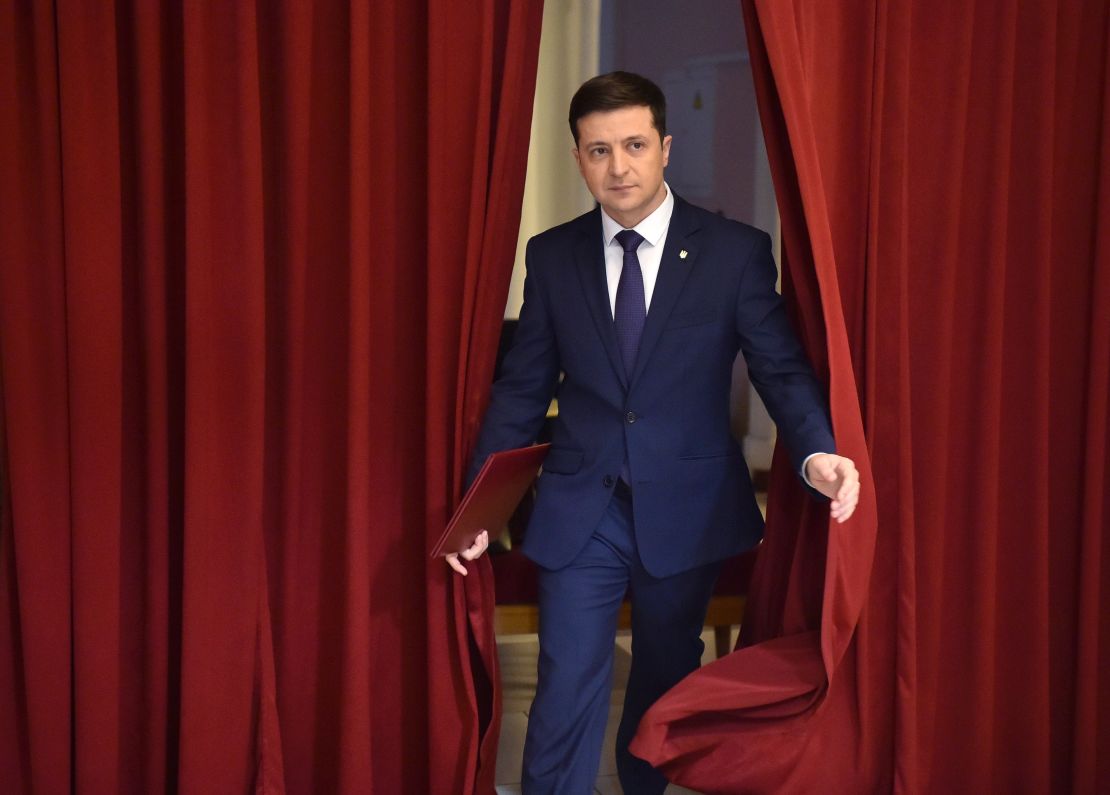 Ukraine's place in the world
If there is any messaging in "Servant of the People," it's what could be described, in shorthand, as a vision of Ukraine striving to be a "normal" European country: a prosperous, democratic, functioning state that is free of systemic corruption.
The first episode in series three features a flash-forward to 2049, where Kiev has a futuristic skyline with wind turbines. A modern schoolroom has a history class and students are using tablets. The teacher asks the students to describe their standard of living. They answer: "Normal, not bad."
The history teacher says Ukraine is a member of the G20, a world leader in economic growth and has paid off its debts.
"That's normal for you," he said. "But 20 years ago in our country, it was normal for a teacher to be unable to pay for a kommunalka (a communal apartment) on their salary."
The instructor then laughs: "You don't even know what that is."
Relations with the EU
Ukraine's Maidan revolution – the street demonstrations in 2014 that led to the ouster of President Viktor Yanukovych – began after he made a decision to ditch an association agreement with the European Union and sign an agreement instead with Russia.
In 2017, Ukraine saw the introduction of visa-free travel to the EU, a scheme that allows Ukrainians to enter the so-called Schengen area without a visa for up to 90 days.
A scene in season two, episode four, features a talk show where a correspondent is broadcasting live from Brussels with news on whether Ukrainians will be granted visa-free travel. The signal cuts out, and the television host says, "we'll find the decision on whether there will be visa-free travel after this commercial break."
Language matters
Some observers have made much of Zelensky's choice of language. His character primarily speaks Russian, and many members of the cast have their lines in Russian. Ukrainian is the language of official and public life, and police officers, court officials, and television announcers in the TV series often speak Ukrainian.
Does that make Zelensky more "pro-Russian" than his rival?
After all, Poroshenko has made defense of the Ukrainian language one of the cornerstones of his campaign, with the slogan Armiya, Mova, Vira (meaning "army, language, faith"). And the Russian government has cast language as one driver of the conflict in Ukraine's east, arguing that efforts to give primacy to Ukrainian have amounted to a form of discrimination and extreme nationalism.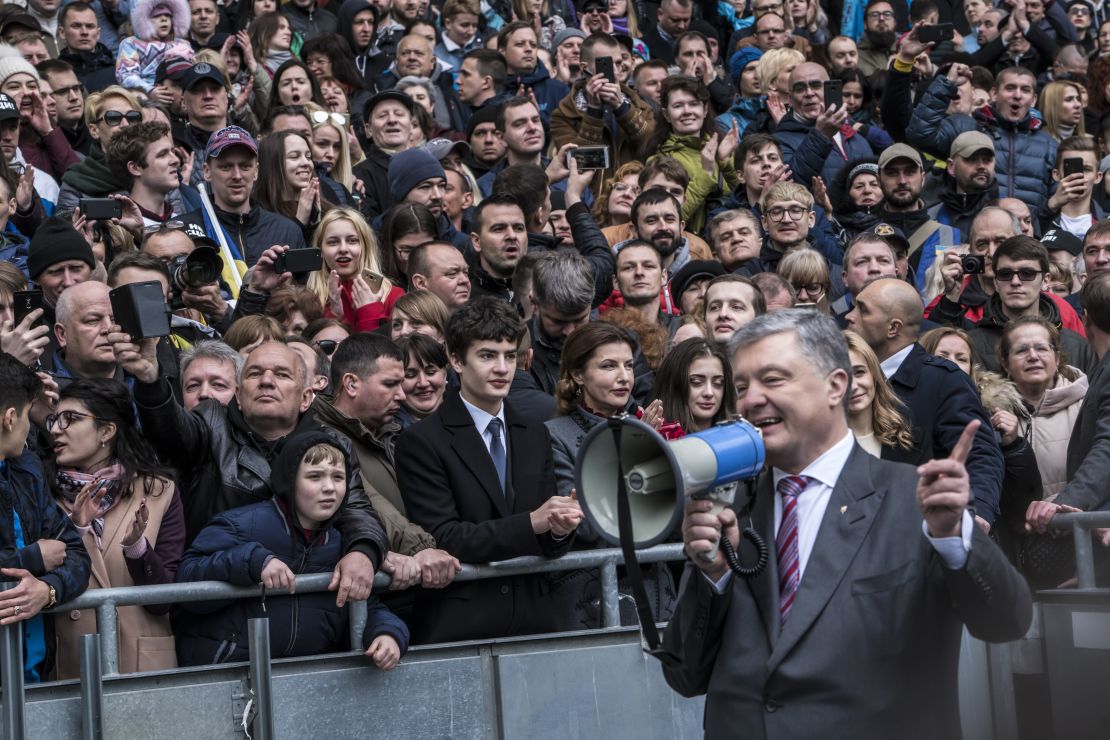 At many points in history, the Ukrainian language has been suppressed by imperial Russian and Soviet rulers (Ukrainian had official status in the USSR as a local language, but authorities also pursued a de facto policy of Russification).
Now the Russian government claims Kiev is pursuing an aggressive policy of Ukrainization, through a controversial 2017 law making Ukrainian the required language of study in state schools from the fifth grade on. A moratorium on Russian-language media in western Ukraine, where Ukrainian is the majority language, has also drawn international criticism.
"Servant of the People" reflects a complex reality, where language is not the only foundation of identity and patriotism in an independent, multi-ethnic, post-Soviet Ukraine. Many of the soldiers fighting on the front lines against Russian-backed separatists in Donbas are Russian speakers.
One of the catalysts for the Maidan protests was Mustafa Nayyem, an activist and journalist of Afghan descent who called on Ukrainians to come to the Maidan to protest Yanukovych in a Russian-language tweet.
The media's role
It's worth remembering that "Servant of the People" is, primarily, a comedy. It features cameos by legendary drag queen Verka Serduchka, has a fair share of slapstick, and even a ribald joke about Russian President Vladimir Putin (a double entendre about him wearing a Hublot watch, which sounds similar to a oft-used Ukrainian insult about the Kremlin leader).
But it's also clear that the series has served as a magnificent campaign advertisement for Zelensky. And that has brought the show in for criticism, particularly from Poroshenko.
In recent statements on Twitter, the incumbent president has blasted 1+1, the TV channel that broadcasts "Servant of the People," and its owner, tycoon Ihor Kolomoisky.
"My opponents have been pouring shameful lies on me over the past few weeks," Poroshenko said on Twitter. "The main tool of spreading lies during the last months, unfortunately, was 1+1."
The election drama in Ukraine will be televised. Zelensky and Poroshenko squared off Friday in a stadium debate, with the two contenders trading one-liners and barbs. Ukraine's politics have even fascinated viewers in Russia, where many have followed the spectacle of a genuinely competitive election.
"I am not a politician, I am not a politician at all," Zelensky said over the shouts of Poroshenko's supporters. "I am just a human being, an ordinary human being, who has come to break this system."