The New Orleans Jazz and Heritage Festival opens Thursday, marking its 50th year of delivering chart-topping headliners, rock 'n' roll legends and global rhythm-makers, all bathed in the sights, sounds and flavors that have made Louisiana a shining star of American culture.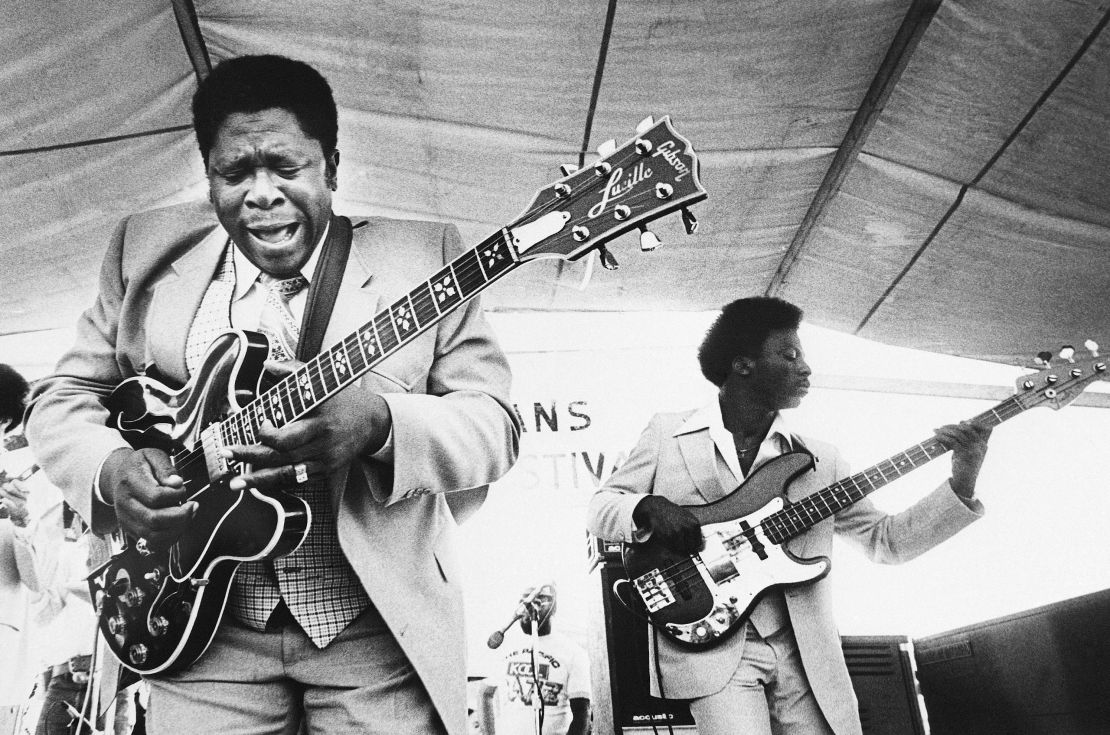 Held over two weekends at the Fair Grounds Race Course in the city's Gentilly neighborhood, "Jazz Fest is utterly unique," said Keith Spera, a music writer who over decades has spent more than 200 days covering the festival from inside its gates.
"That's because New Orleans is utterly unique, and the festival reflects the city."
The event offers endless options, but at its core lie five pillars.
Here's what's made Jazz Fest a must-do for a half century:
The headliners
The Jazz Fest marquee never disappoints.
There are always old favorites. This year, they include Santana, Earth, Wind & Fire, John Fogerty, Buddy Guy, Jimmy Buffett and Bonnie Raitt. And then there are the big contemporary acts: Katy Perry, Pitbull, Ciara, Leon Bridges and Dave Matthews among them in 2019.
"The Rolling Stones were supposed to have been the cherry atop the 50th anniversary birthday cake, that didn't work out due to Mick's wonky heart," Spera said, referring to frontman Mick Jagger's recent surgery. "And then Stevie Nicks and Fleetwood Mac stepped in only to step out because of their own medical issues."
"So they ended up with the Jazz Fest equivalent of comfort food, and that's Widespread Panic," he said of the road-tested jam band. "They know the drill."
It's this sort of solid lineup of proven staples and modern Billboard stars that's made Jazz Fest the "granddaddy" of American music festivals, said Spera, who writes about music and culture for the city's daily newspaper, The Advocate.
But the event's true roots, he said, lie in the fact that "so much of this festival is local."
"Almost 600 acts, upwards of 80% to 85% are indigenous to South Louisiana," he told CNN. "This is very much a festival showcasing New Orleans and Louisiana talent, with some of these marquee names added to the mix."
The music cubes
With that many performers, no seasoned festivalgoer would be caught inside the gates without his or her annotated copy of that day's vaunted "cubes" – intricate matrices that display every musical offering, itemized by set time, across the venues' 12 tents and stages.
The charts provide a died-and-gone-to-heaven buffet of musical choices – 70 alone on the opening day – from the likes of the Doobie Brothers on the main Acura Stage to Goldman Thibodeaux & the Lawtell Playboys – "Playing Louisiana Creole La-la music since 1946!" – at the Sheraton New Orleans Fais Do-Do Stage to Jekalyn Carr in the Gospel Tent.
"It's kind of like the Rubik's Cube: You've got to arrange it just right to get from place to place and, of course, you can never see everything that you want to see," Doug MacCash, entertainment reporter for NOLA.com | The Times-Picayune, told CNN.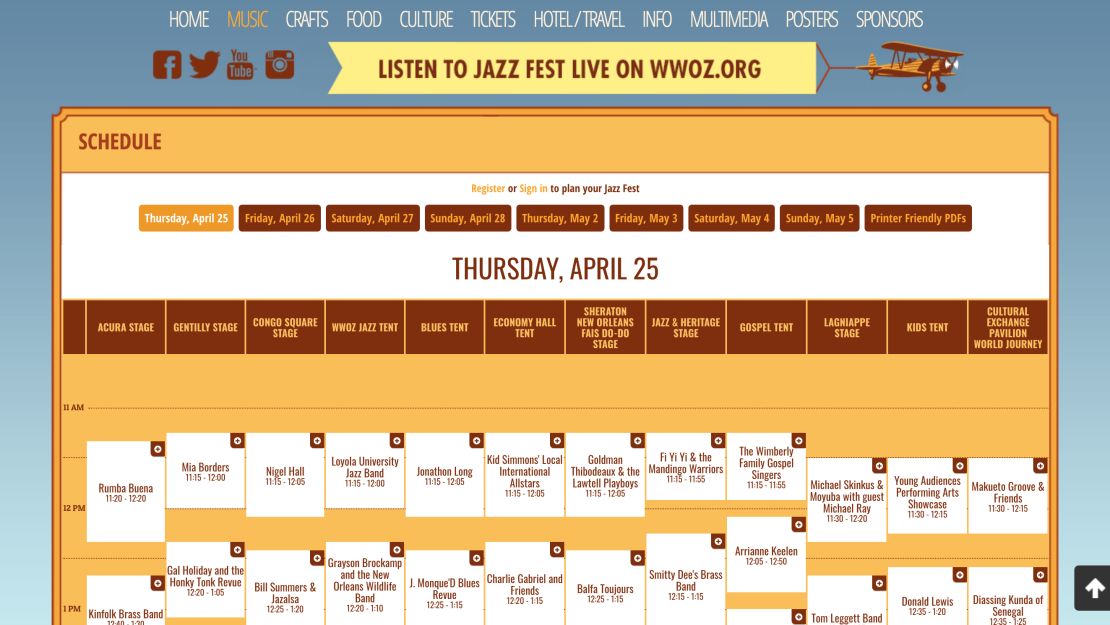 But all those choices can breed untold headaches and heartbreak. Consider this:
"There's a bitter coincidence on Saturday: Katy Perry is the closing act, and we gotta go see her," said MacCash, who's dying to know how a performer known for her surrealistic, "Fantasia"-like productions will fare "under an awning in Gentilly."
"But at the same time is Aurora Nealand & The Royal Roses, which is one of the best traditional jazz acts in New Orleans. It's a little act and it's very precise and they play, like, Sidney Bechet, and you gotta see them, too," he said.
"And worse yet, at the same time is one of my all-time favorite New Orleans acts: The Original Pinettes Brass Band, that's almost entirely made up of women," MacCash continued. "They play Amy Winehouse and Katrina and the Waves. And all those things are going on at once."
The food
While tourists might sprint toward a front spot at the main stages when the festival gates fly open, locals often rush to another prime Fair Grounds destination: the long rows of food booths that specialize in the kind of Creole and Cajun fare that's made Louisiana a global culinary mecca, said Ian McNulty, who covers dining and food culture for The Advocate.
"The amazing thing about Jazz Fest is that many of these dishes may be right at home in white tablecloth restaurants, but it functions as festival food," he said, with hot plates served up at lightning pace, most at $5 to $10 a pop.
Among the time-tested delicacies are pheasant, quail and andouille gumbo, crunchy fried cracklins, creamy Crawfish Monica and the cochon de lait po-boy, with its tender pork and crisp coleslaw. A sweet and icy Mango Freeze serves dual roles as palette-cleanser and cocktail mixer, while powdered sugar-laden beignets make for a classic Crescent City dessert.
Then, even after a day of gorging, tourists especially will find room for more.
"They'll eat the equivalent of five meals at Jazz Fest , but they then have dinner reservations booked," McNulty told CNN.
The gluttony is key for the city's restauranteurs, akin to Black Friday for retailers nationwide, McNulty explained. Jazz Fest meal bookings mark the "last gasp" for a local industry whose big-money season lasts roughly from the Saints first kickoff through Mardi Gras and into the festival-laden spring.
"After this we face the abyss of the New Orleans summer," he said, "so for restaurants, this is the time to make hay while the sun is shining."
The parades
Music doesn't stand still, and since Jazz Fest started in 1970, neither have its acts, MacCash said.
Marching, dancing and free-wheeling at any moment around the dusty (or muddy, depending on Mother Nature) paths that traverse the Fair Grounds might be professional or neighborhood-based brass bands, second-line parades in the city's funereal tradition or Mardi Gras Indians, African-Americans whose ornate, handmade beaded and feathered costumes honor Native American ceremonial garb.
"The way the music works has a lot to do with how it moves and that it's passing through a crowd," he said. "So, a lot of the really cool stuff, everything from the Mardi Gras Indian tradition to the second-line tradition … all of that stuff has to do with motion, so Jazz Fest, wisely, right from the beginning, they incorporated these little parades."
"And the great thing is," MacCash said, "they come to you."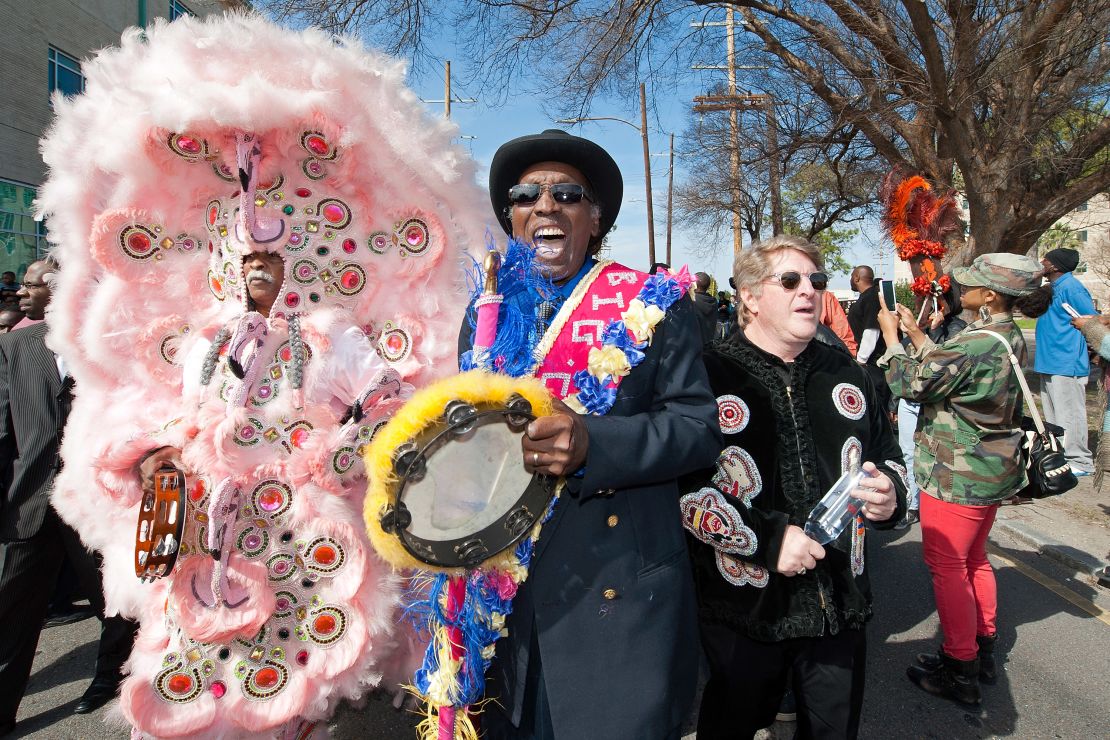 The nightlife
And just because the Fair Grounds gates lock for the night, that doesn't mean the party ends.
"It's like Yogi Berra might have said: 'It ain't over when it's over,'" MacCash riffed.
Musicians in town to play the festival often book nighttime gigs at New Orleans' renowned clubs. And spots like Tipitina's, Rock 'n' Bowl, Maple Leaf Bar, Snug Harbor Jazz Bistro, and Chickie Wah Wah book two and three sets per night, including on the weekdays between festival dates.
"You have shows that are not starting until midnight or perhaps later," McNulty said. "The sets will go until sunrise."
Indeed, die-hards leave the Fair Grounds, catch a shower and a nap, then head out into the city long after dark to catch the after-hours shows. Sometimes, they find jam bands that have formed more or less on the spot, what McNulty called "one-off combo plates" that might well make music history without so much as promo tweet.
"It's like an 11-day Super Bowl for musicians here," Spera said.
The possibilities really are endless. Tucked deep in every option, though, is the heart of the place that calls Jazz Fest home.
"You're going to see what makes New Orleans special," Spera said. "And bands, they bring their A-game during Jazz Fest because they know they're showing off for the world."