Office workers who embrace a "Thank God It's Monday" motto. Co-living apartments with bustling communal areas so you never feel alone. Schools that unleash the entrepreneurial superpowers of your children.
These are some of the utopian visions of The We Company, the parent company to coworking giant WeWork, which filed confidential paperwork this week indicating its intent to go public.
The We Company joins a host of other highly-valued privately-held companies that expect to make their Wall Street debuts this year. Even by the lofty standards of Silicon Valley, The We Company stands out for its incredibly broad, and arguably vague, ambitions.
While Uber and Lyft are promising to upend how we get places and Pinterest is trying to shift how we shop, WeWork is looking to change the rest of our lives: how we work, live and even educate our children.
Putting a price on community
Through its various ventures, The We Company is aiming to sell "community."
What that looks like is a growing network of coworking spaces, coliving buildings, and a school. It also has a fitness studio, Rise by We, and a new hybrid retail/cafe/coworking location in New York City. The store sells "We" merchandise, such as a limited edition $148 "We The People" Army Jacket with buttons spewing its catchphrases such as "Do What You Love" (one of several trademarked expressions the company has secured).
The We Company claims its value lies not just in the physical spaces it makes but in a more nebulous value: creating a sense of belonging. Its mission, it says, is to "elevate the world's consciousness." It believes it'll do so through its "physical social network," a phrase it has also trademarked.
"As one of the world's largest physical networks, it is our responsibility to help lead the way and set the global example for people and corporations on how we should take care of each other and of our planet," CEO Adam Neumann told staff this week in an email obtained by CNN Business. "Partly due to technology and partly due to the times we live in, the world has never felt smaller and yet more people than ever are sharing that they feel alone."
Some people have concerns about the sustainability of its business model: "The company's executives position WeWork not as an office provider, but a community. The company makes money primarily through rent arbitrage: charging its members more than it has to pay its landlords," reads a new report from CB Insights.
Like other unicorns planning to IPO this year, The We Company is bleeding money. Its financials are more extreme than most of the others: Its net loss was higher than its total revenue, according to the select metrics it released at the end of March. They showed The We Company's revenue more than doubled last year to $1.8 billion, but its losses totaled $1.9 billion.
But it is also pouring funds into more pie-in-the-sky efforts such as building a new kind of school. At WeGrow, kids can learn Mandarin and Hebrew, and there's a focus on teaching them the basics of entrepreneurship while young. Older kids are shuttled to and from a farm upstate one day a week to learn how to grow vegetables and experience nature.
Those investments apparently haven't hindered its fundraising. It has raised $6.5 billion to date and has been valued as high as $47 billion, according to CB Insights. It is deemed to be one of the most valuable privately-held startups in the US.
WeWork's like-it-or-don't internal culture
The We Company has about 10,000 employees around the world and has taken a similar new-age approach to creating its own internal corporate culture. That includes having required staffers to fly out to its annual "Summer Camp" in the English Countryside in an effort to bond.
It has also taken bold stances on what employees consume under its watch. Last summer, WeWork banned meat from company meals, and it said will no longer cover the cost of meat-filled meals on expense reports. It also started limiting the number of free beers some members could drink in its coworking spaces. That rule didn't extend to its own employees, despite some concerns about the impact of drinking on employees.
Not all are a fan of its culture, though: Some former We Company employees have called the culture cult-like and complained it places pressure on drinking and participating in company events. Some have said in GlassDoor reviews that they loathe the mandatory overnight retreats with colleagues, for example.
One former employee sued the company last fall over allegations that she was sexually assaulted at two company events and claimed she was fired in retaliation for reporting the incidents. WeWork disputed this, saying she was fired for performance reasons. A New York State Supreme Court justice sided with WeWork on dismissing some of her claims last month; the case is ongoing.
Different kinds of founders
To understand The We Company and its obsession with the concept of community, it helps to know more about its co-founders, Adam Neumann and Miguel McKelvey. Neumann grew up on a collectively-owned and run community known as a kibbutz in Israel. McKelvey, who was raised in Oregon, lived on a sort-of commune started by five women and their children.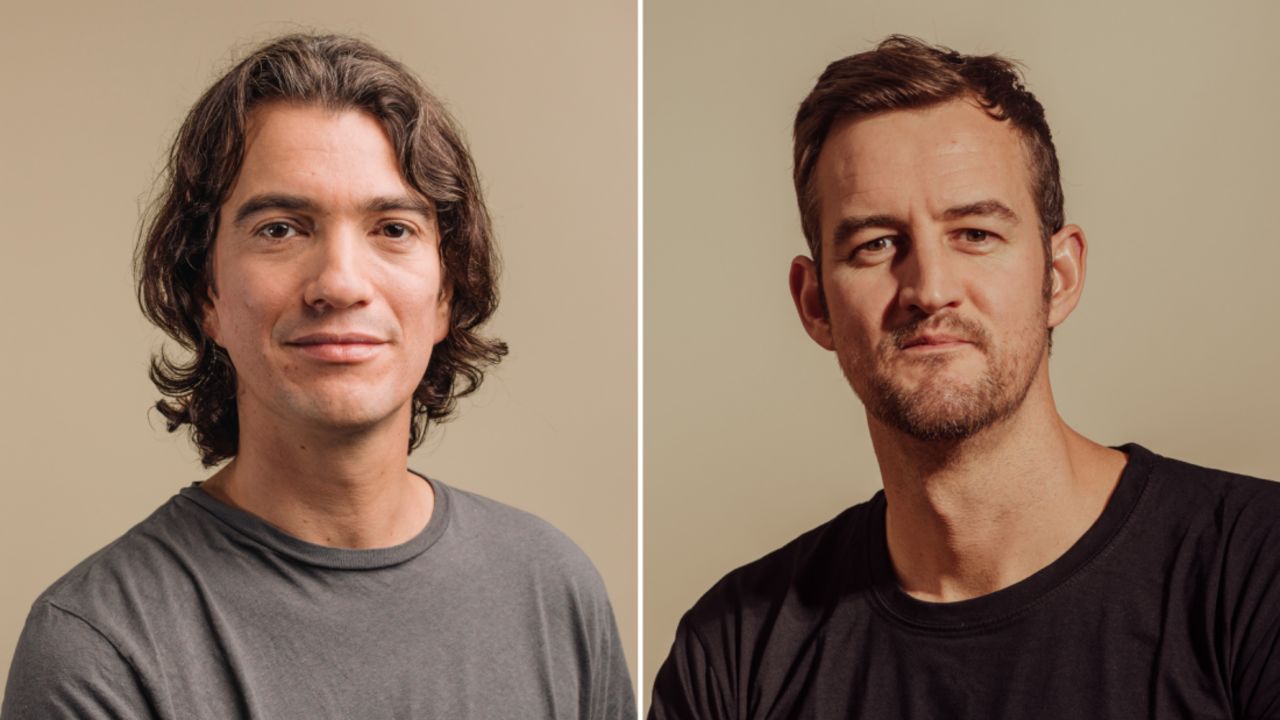 The duo met far from their rural roots in New York City — at the time, Neumann was trying to get a baby-clothing startup off the ground and McKelvey was working for an architecture firm. Their first iteration of WeWork was a startup called Green Desk, which provides affordable and eco-friendly office space. They began the company in 2008 and quickly sold it in 2009.
With bigger ambitions, the two launched WeWork in 2010 and renamed the parent organization The We Company in 2019.
Neumann's wife, Rebekah, is also a founding partner as well as CEO of The We Company's school. In a speech at the United Jewish Appeal Federation, Neumann reflected on the early days of meeting Rebekah, whose viewpoint seems to have had an indelible mark on WeWork. Rebekah explained success to him, something he says he previously believed was tied to monetary wealth.
"Success is the person who in their 80s is surrounded by the most loved ones, the most family members, has created the most impact on this planet, has connected to something greater than themselves and don't forget, had a great time doing it," he recalled her saying to him.
Now the three are leading their massive, growing "physical network" together, hoping their unique vision can find a way into every part of people's lives — but not just for the money.
Neumann once pointed out that revenue was not the sole point of interest for investors.
"No one is investing in a coworking company worth $20 billion. That doesn't exist," he is quoted as saying in a 2017 Forbes profile. "Our valuation and size today are much more based on our energy and spirituality than it is on a multiple of revenue."