Tens of thousands of investors decamped to Omaha, Nebraska, on Saturday for Warren Buffett's annual shareholder's meeting to hear about the state of Berkshire Hathaway (BRKB).
Buffett and the company's vice chairman, Charlie Munger, spoke at length on a variety of topics, including how Berkshire's stakes in top companies, including Apple (AAPL) and Wells Fargo (WFC), are doing. They also discussed who should get credit on the economy and even Jeff Bezos' blood.
Here's what you might have missed:
Problems with Kraft Heinz
Berkshire, which holds s 27% stake in the food company, said that it did not report any income from Kraft Heinz because it doesn't have enough data from the company. Buffett said that the news is "very unusual" and suggested that it may be because of a dispute that Kraft Heinz is having with its auditor PwC.
What's different about Apple?
Buffett is optimistic about Apple's future because it's "an incredible product and management." Berkshire owns more than 5% of Apple and sees that stake growing "without spending a dime."
But would he buy more? Here's what he told CNN's Poppy Harlow:
Warren Buffett gives his take on the future of Apple
Buffett thinks Bezos is 'unbelievable'
Berkshire Hathaway bought its first stake in Amazon (AMZN) last week. But company stock isn't the only thing Buffett wants from CEO Jeff Bezos. He jokingly told investors he would get a blood transfusion from him.
Buffett's admiration for Bezos didn't stop there, telling reporters that he "kept looking at what was coming in and saw what was possible, and he's unbelievable."
He went on to talk glowingly about Amazon with CNN's Poppy Harlow: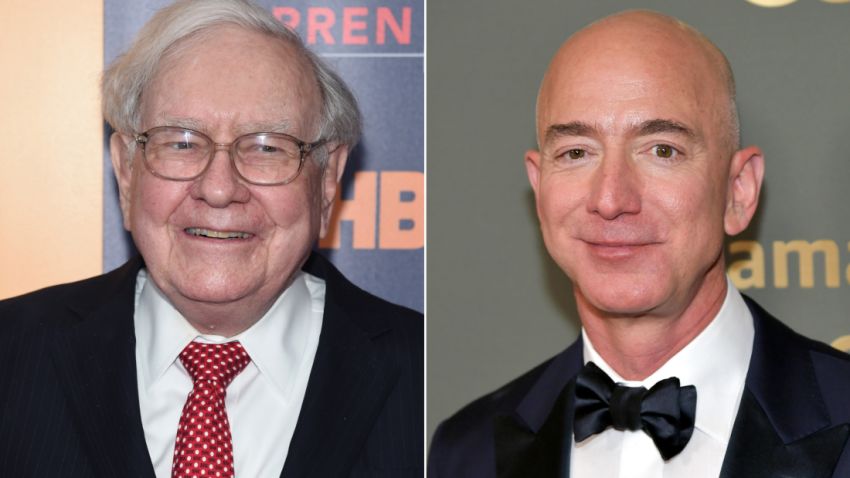 Buffett says Bezos has created a 'miracle' with Amazon
Wells Fargo made 'big mistakes'
Berkshire Hathaway has nearly 10% stake in Wells Fargo. So, investors are wondering what Buffett thinks about the litany of scandals plaguing the bank. The Oracle of Omaha admitted that Wells Fargo has made some "big mistakes" and incentivized wrong behavior and did some "crazy things."
But Buffett didn't blame former CEO Tim Sloan for the bank's numerous scandals, and Munger said he wishes Sloan was still there.
The housing boom
The housing market has done extremely well over the past few years thanks to low interest rates and steady job growth. That's great news for paint giant Benjamin Moore, the Berkshire-owned company.
CEO Dan Calkins said that there is one problem. A well-publicized shortage of workers in the housing industry means that sales could be even better than they already are – even though he said the housing market is "hot."
Not concerned about Tesla
Tesla (TSLA) CEO Elon Musk recently said that the company plans to offer auto insurance to buyers of its electric cars. That isn't making Buffett nervous. He joked that insurance companies were as likely to be as successful building cars as auto companies selling insurance.
If there's any competition he might be nervous of, it is from Progressive, a rival to the Bekshire Hathaway-owned Geico.
A big mistake on Google
Buffett and Munger both said that one of their biggest regrets was not buying shares of Google (GOOGL) owner Alphabet. Munger joked they were just "sucking their thumbs" and that he feels like a "horse's ass" for not identifying it as a great investment earlier. "He's saying we blew it," Buffett quipped.
Fixing US health care
JPMorgan CEO Jamie Dimon, Bezos are working together on a new healthcare company, called Haven.
He called the task "herculean" but he's bullish on the company being a success:
Buffett on health care initiative: We'll do our best
Succession plan
There's no way around it: Buffett and Munger are both very old.
So, what's next for the conglomerate? There was a hint on what could happen in the future when Berkshire executives Ajit Jain and Greg Abel, as well as portfolio managers Ted Weschler and Todd Combs, were invited to answer shareholder questions.
Buffett hinted that Jain, who is in charge of the company's insurance businesses, and Abel, who runs the non-insurance subsidiaries, could one day join him and Munger to answer shareholder questions. But Buffett cautioned that "this format is not set in stone."
Bullish on Britain despite Brexit
"I would like to see Berkshire Hathaway more well known in the UK and Europe," Buffett said, adding that he'd love it if more businesses over there would look to Berkshire as a potential buyer of their assets.
He added that it was a mistake for the British people to vote to leave the European Union instead of remain in it.
It's 'stupid' not for US and China not to get long
Munger, a Republican, criticized the two countries trade disputes. "Think how stupid it would be if the two countries didn't get along. Stupid on both sides I might add," he said.
Buffett suggested that Berkshire was eager to do more in China as well. "It's a big market, and we like big markets," he said.
Buffett's 2020 views
He doesn't expect to back a Democrat during the primary, but said he's "not sure" about it. He also gave CNN's Poppy Harlow a surprising answer on who deserves credit for the roaring economy:
Warren Buffett's take on the 2020 presidential election
Bitcoin blues
Buffett once called Bitcoin "rat poison" that "will come to bad endings." It appears that he hasn't changed his mind:
Paul R. La Monica contributed to this report.