Carved into the north east coast of Kyushu, Japan's southern island, Fukuoka Prefecture is known for its ornate gardens, a majestic 17th century castle, a newly renovated art museum and some mouth-watering seafood. It will also play host to this year's Rugby World Cup.
But a less prominent feature of this emerging tourist destination could add another attraction to this list in years to come: the unassuming Kitakyushu Kartway race track. It was there that a rising Japanese MotoGP star first took to the circuit.
In March, at a thrilling season opener in Qatar, 19-year-old Kaito Toba made history as the first Japanese rider to win a Moto3 race, and the first in the sport's entry-level lightweight class in 12 years. He is the standout talent in an exciting crop of young Japanese racers and tipped for big things.
Slight, fresh faced and quietly spoken, Toba patiently recounts his first experiences on two-wheels to CNN Sport.
"When I was a child my father and mother rode motorbikes, and I liked riding with them," he explains.
"I wasn't aware of racing or MotoGP or anything like that, but my parents bought me a small pushbike, and after that I would go to the park, and I liked that a lot."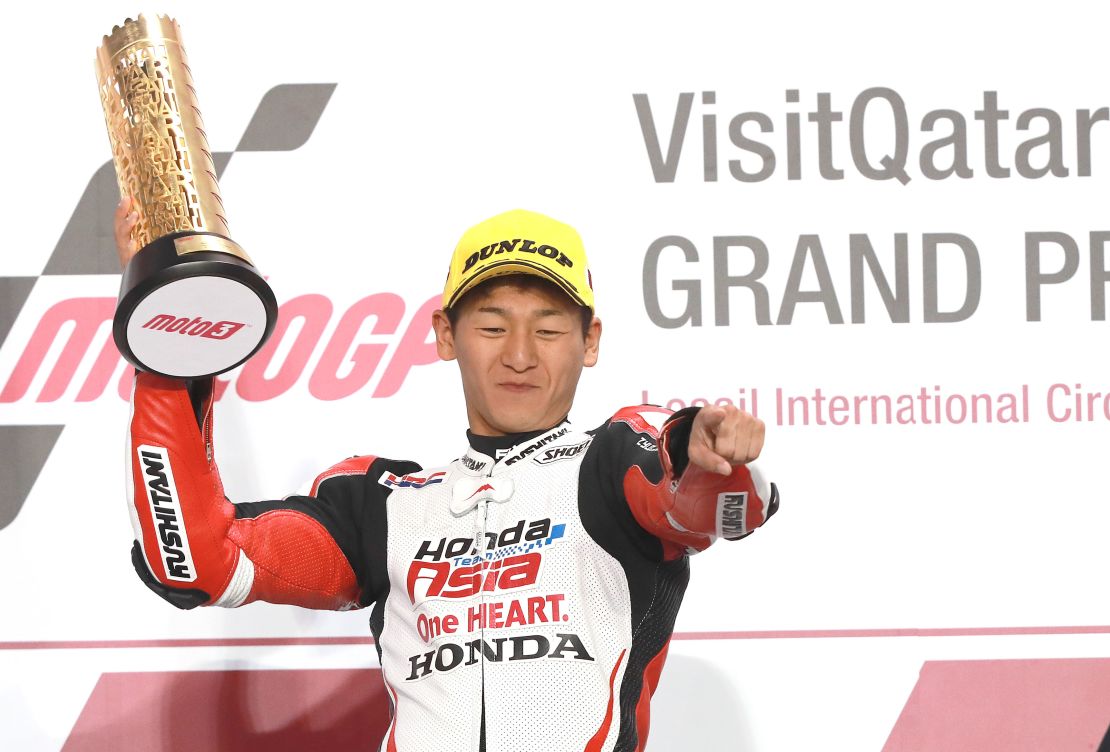 READ: MotoGP – The King of COTA is deposed
READ: How to drive a 225kph electric race car
Pocket bike
Like so many successful riders, Toba's step up to motorized transport began early.
"When I was about three years old I started to like motorbikes," he said.
"My family tried to find a real motorcycle, like a pocket bike. When we found one, and the first time I rode it, it was an incredible feeling, I liked it a lot. Then I started wanting to practice a lot, and that was really the start."
By the age of five, Toba was riding his pocket bike around Kitakyushu's curves.
"At first it was really just for fun. But by the time I was six, I started to become aware of racing and MotoGP, and I found out we had a race in Japan," he recalls.
Just a year later, Toba paid his first visit to Motegi and the Japanese MotoGP. He smiles broadly at the memory.
"It was then I thought 'I want to ride here, I want to be a MotoGP racer.'"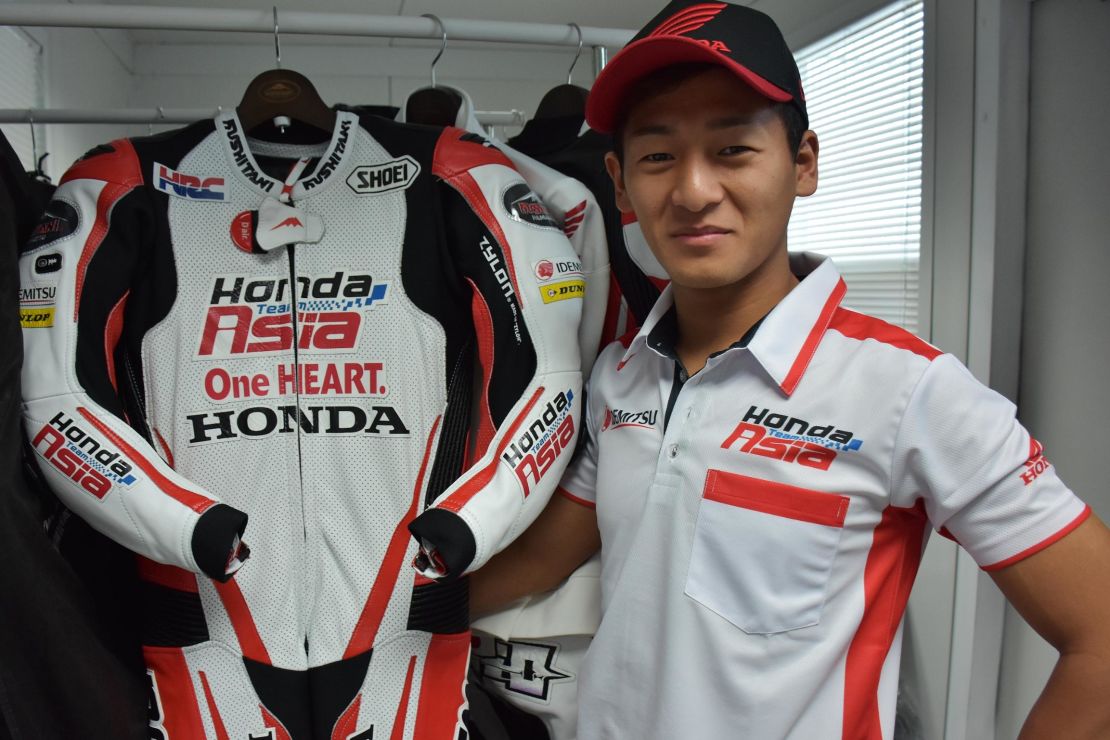 Toba's ascent to the MotoGP circus has come via the sport's grass-roots development 'Road to MotoGP' program. It was through this that he was exposed to the sheer scale of the championship in Europe.
"I saw the tracks, the hospitality, it really was amazing," he grins. "And then I realized, more than ever before, that I wanted to be part of this. In Spain and Italy especially, you see incredible numbers of fans coming to races."
Toba won the Idemitsu Asia Talent Cup in 2014 and clinched two race wins among four podium finishes in the Red Bull Rookies Cup in 2015 and 2016. As such his maiden Moto3 victory brought considerable satisfaction to Carmelo Ezpeleta, the CEO of MotoGP's administrators, Dorna.
"After many years working behind the scenes and seeing so much promise from the ranks … it was a great moment to see Kaito winning in Qatar – becoming the first former IATC Champion to win a race." Ezpeleta told CNN Sport. "[Qatar] was also a very tight race and he demonstrated some great race-craft under pressure. We were really proud."
MotoGP is headquartered in Spain, where the sport is followed obsessively, while Italy's Ducati and Aprilia, as well as riders like the legendary Valentino Rossi, ensure the sport is second only to soccer in Italians' hearts. However, Japan's Honda, Suzuki and Yamaha have dominated the MotoGP grid as well as the championship for many years.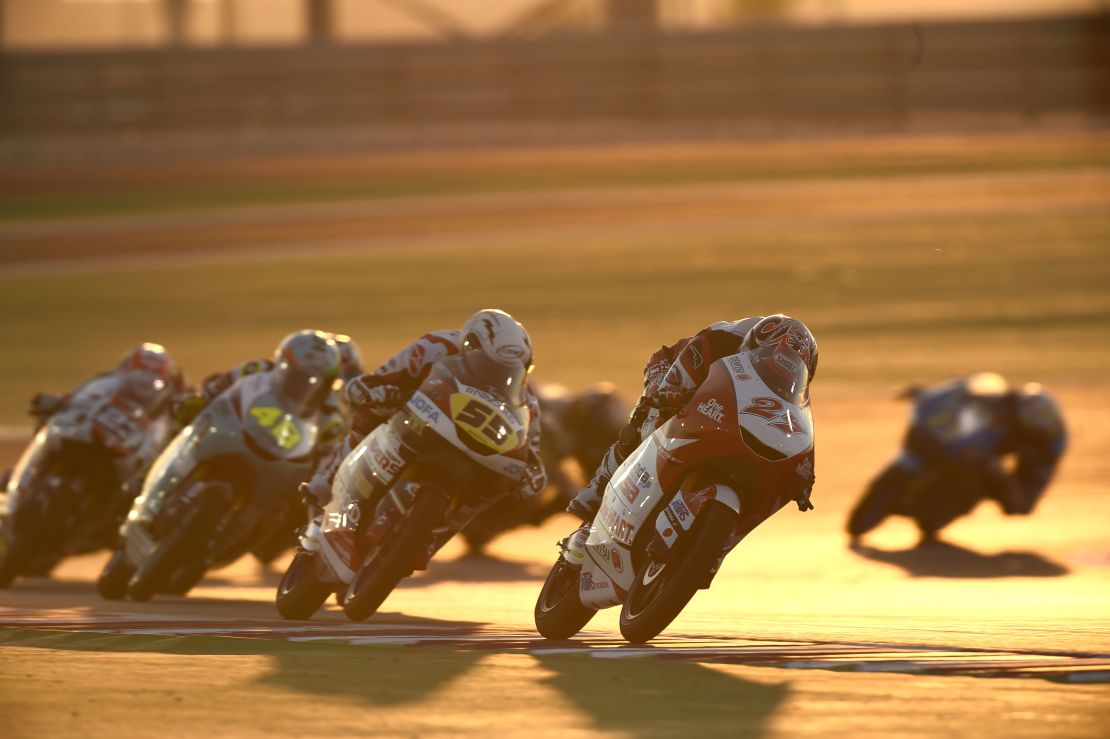 Sharp decline
Given the ubiquity of Japanese motorcycles, it might be safe to assume that bike culture has a strong footing in the country, but as in the United States, motorcycle sales have been in sharp decline of late.
"Even though you have Honda, Suzuki and Yamaha, actually there's maybe a little less interest in motorcycles in general (in Japan)," Toba says.
"You notice more people riding bikes when you travel internationally than you do in Japan. I don't know why that is, maybe it's people thinking about the danger, and I think also you see motorcyclists being a little crazy in the streets, and that puts people off."
In this context, Tetsuhiro Kuwata, Honda Racing Corporation's Director, recognizes the importance of a successful Japanese rider.
"We're really happy with Kaito, he's a talented rider and we've trusted him for a long time. We're working hard with the young Japanese and Asian riders, because it's important for us from the sporting point of view, but also the market. We hope that with Toba and guys such as (LCR Honda MotoGP rider) Takaaki Nakagami they will help to grow even more."
Ezpeleta agrees: "It's always important to have riders representing Japan and if one of those is a frontrunner, that's even better for the World Championship. This country is truly a point of reference for MotoGP because Honda, Yamaha and Suzuki are a huge presence in the market."
Conquering the sand dunes with e-bikes
READ: Iconic Ayrton Senna photo up for auction
READ: Valtteri Bottas claims Azerbaijan GP as Mercedes continues to dominate
Dedicated fans
While bike sales may be in decline, attendances at the Japanese MotoGP have actually increased in recent years. More than 96,000 came to Motegi for 2018's race weekend, up from 89,000 in 2017, and fans there are renowned for their dedication.
"You can see that the Japanese fans are extremely committed to our sport and they make the pilgrimage to Motegi every year," Ezpeleta says.
After his Qatar win, Toba did notice an uptick in attention.
"I suddenly got a lot of new Instagram followers, lots of fans sent me messages, and I got a lot of messages from Japanese people," he grins.
"When I saw this I thought, 'okay, Japanese people are looking,' I was a little surprised at that."
He also got recognition from other riders, including current world champion Marc Marquez, and Toba's childhood idol, Casey Stoner.
"Marquez came up to me and talked to me, congratulated me. My hero was Casey Stoner, and he sent me an SMS congratulating me. I was really happy."
Motorbike veteran Capirossi goes electric
For Toba the next step is to cement his place in Moto3, then make the step up to the top class.
"My target is to win the world championship. I'm in Moto3 right now, and my first job is to win here, then Moto2. I hope, maybe after six years, I want to be in the MotoGP category. That is my target."
He also hopes any success will reignite Japanese passion for bikes.
"My hope is that I can make MotoGP a little bit more famous in Japan, because now, not so many people are following it. I hope I can make it a little bit more famous, especially because so many MotoGP factories are Japanese companies."