The Impossible Whopper is now available in four cities.
Burger King is now selling the meatless, plant-based burger patty at some restaurants in Miami; Columbus, Georgia; and Montgomery, Alabama; the burger chain announced on Tuesday.
Burger King first started offering the Impossible Whopper in St. Louis, Missouri, last month. That test went so well that the chain decided to roll out the Impossible Whopper nationwide this year.
Interest in plant-based protein is on the rise as meat eaters look to diversify their diets to be healthier and reduce their impact on the environment. That's good for Burger King, which is using the meatless version of its signature burger to attract Whopper fans to restaurants.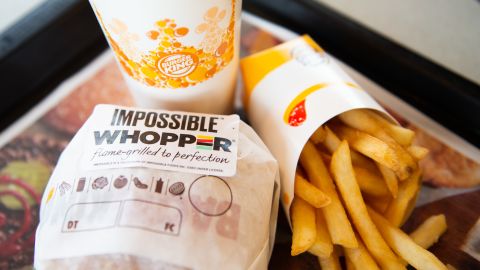 The Impossible Whopper is a way to "give somebody who wants to eat a burger every day, but doesn't necessarily want to eat beef everyday, permission to come into the restaurants more frequently," Chris Finazzo, president of Burger King North America, told CNN Business in April.
Burger King isn't the only business benefiting from the sudden popularity of plant-based protein.
Demand for Impossible is so high that the company has been experiencing product shortages. This week, Impossible said it has raised another $300 million from both institutional investors and big-name celebrities to help it keep up with demand.
Beyond Meat (BYND), Impossible's competitor, went public earlier this month and is trading well above its $25 IPO price.
"It really is a time of unlimited growth," Beyond's CEO Ethan Brown told CNN Business when the company started trading publicly.
McDonald's (MCD) is also inching closer to get on board with the trend. Late last month it started selling a vegan burger, the Big Vegan TS, in Germany, one of its five leading international markets. The patty for that burger is being made by Nestle (NSRGF).
Burger King plans to advertise the arrival of the Impossible burger with an Impossible Whopper tour bus, which will drive through each city this month.