More than 350 million people in the European Union are eligible to cast ballots in the world's biggest multi-country election this week.
Between May 23 and May 26, citizens from 28 member countries will have the opportunity to vote for who will represent them in European Parliament over the next five years.
The biggest challenge for these elections, however, is communicating to voters what the parliament and its members actually do, according to Simon Usherwood, deputy director of the research initiative, UK in a Changing Europe.
"A difficulty for the European Parliament is that it does have a lot of power, but its fame is fairly limited," Usherwood said. "I think a lot of people don't really know about it, they don't understand what the parliament does and doesn't do."
Here's everything you need to know about the upcoming vote:
Who can take part?
At the European Parliament, 512 million people from 28 member states are represented by 751 members. All EU citizens and qualifying Commonwealth citizens have the right to vote, as long as they have registered.
Voting will begin in the Netherlands and the UK on May 23. However most of EU countries will vote on May 26, with results expected later that evening or early on Monday morning.
Recently, the turnout to vote in these elections has been steadily dropping. In the last election, in 2014, there was a turnout of just 43% – ranging from 90% in Belgium, where voting is compulsory, to just 13% in Slovakia.
How can someone become a Member of European Parliament?
Anyone can stand to become a Member of the European Parliament (MEP) in each country as long as they're a citizen of the European Union, and they can run as a representative of a political party or as an individual. It's also not a requirement for them to have any previous experience as a politician in their home country.
"It's like a national election but the difference is that EU citizens who live in other countries – other member states – are allowed to vote and stand as candidates in that country," Usherwood explained.
"The idea is to give all EU citizens to have someone represent them, wherever it is they live in the European Union."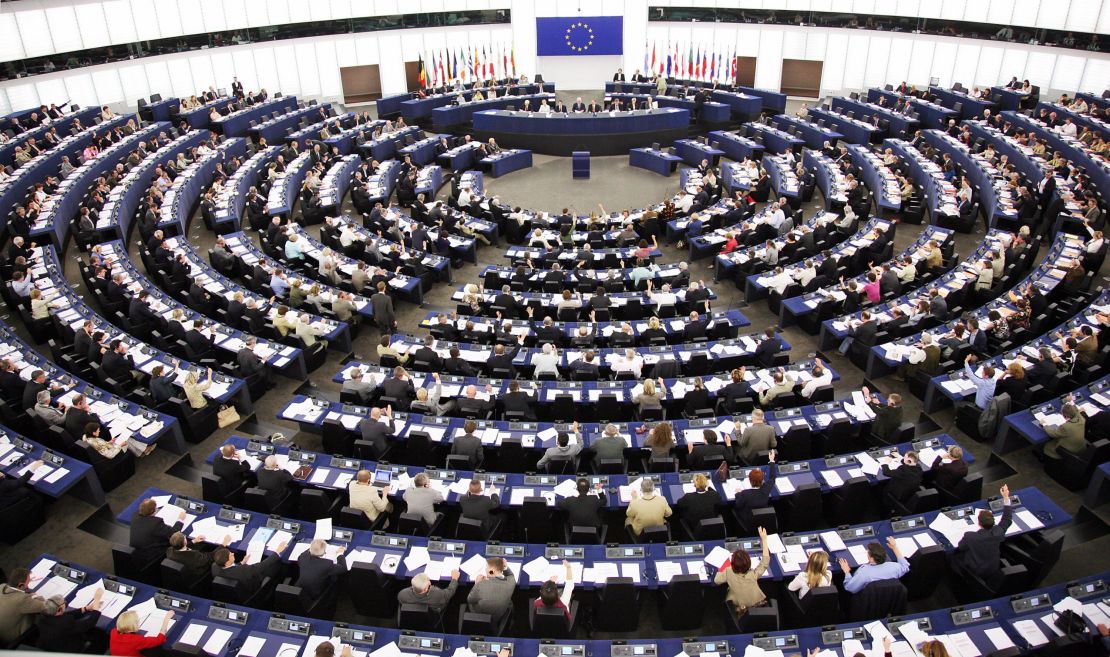 Each country is allocated a certain amount of seats in parliament, depending on its population. Malta for instance – which is the EU's smallest nation – receives six seats, while Germany – the largest – has 96.
"Roughly speaking, the larger you are as a member state, the more seats you get but because we have quite a lot of smaller member states they are generally over represented," Usherwood explained.
"That's really to make sure that even in the smallest member state there are enough MEPs to represent the different political voices and strands that exist in every country and make sure it's not simply a case of the large member states determining all the decisions by themselves."
How are MEPs organized?
The European Parliament isn't organized by political parties, but by political affiliations – otherwise known as groupings.
Currently there are eight political groupings in the European Parliament.
"This is one of the things that is quite unusual about the European Parliament," Usherwood said.
"Any MEPs will stand as members of national political parties but once they get to European Parliament they are encouraged by the rules to get together in cross-national groupings based on ideology."
The center-right European People's Party (EPP) and the center-left Progressive Alliance of Socialists and Democrats (S&D) are the two largest groups.
"The larger your group the more influence you have in parliament," Usherwood explained. "Speaking time is allocated by the size of your group (and) the number of chairs and committees you get is also determined by the same formula."
"Being part of a large group can give you real clout,' he added. "It means you get to encounter people from other countries, share ideas, share policies."
As well as the EPP and the S&D, there's also groups for euroskeptics, liberals, greens, as well as left and right-wing MEPs.
In order to establish a group, there needs to be at least 25 MEPs who represent at least 25% of EU Member States. If a MEP doesn't belong to any political grouping they're known as "Non-Attached Members."
What powers do MEPs and the EU Parliament have?
The European Parliament makes up one of three institutions that are responsible for legislating across the EU.
The Parliament is made up of directly elected MEPs who represent EU citizens. Then there's the Council of the European Union, which is made up of representatives of individual member countries, and the European Commission, which is a politically independent executive arm, responsible for proposing legislation and implementing the decisions of the EU Parliament and Council of the EU.
In order for any legislation to be implemented, both the Council and Parliament have to agree.
"The easiest way to think about it is that … you have 28 member states and they're trying to work together to do useful things for their citizens, so to do that they've created a commission which is kind of a European civil service but also a place where you have some political direction," Usherwood explained.
MEPs pass laws on behalf of EU citizens which are then applied all over the bloc – from abolishing telephone roaming fees to adopting measures to limit the effects of global warming.
They also elect the President of the European Commission (who is currently Jean-Claude Juncker) and holds him or her to account.
"It's quite a significant power that the European Parliament has," Usherwood said. "That's ranging from environmental legislation to questions about regional development. So it does make a real impact on people's lives and shapes the continent as a whole."
However, Usherwood said it's important to note that the European Parliament isn't like a national parliament.
"It's not able to start its own legislation – that power belongs to the European Commission. And there's still some things that the European Parliament can't decide on – that's still with member states."
Auke Willems, a fellow of EU law at the London School of Economics, told CNN that the Commission is "the most important institution."
"It ultimately operates as an agent hanging over the two institutions, making a compromise," he said.
But that doesn't mean the Parliament isn't a crucial part of the lawmaking process. Where it "really gains power," said Willems, is by "proposing amendments that go to the Council."
The European Council is made up of the leaders of the 28 member states. It's not part of the EU's legislating institutions, but it does define the overall political direction and priorities of the bloc.
Wait, I thought the UK was leaving the EU?
Originally, the intention was that by the time these elections came around, the UK would no longer be a member state – the first planned date for the country to leave the EU was March 29. As such, it would not have needed to hold the elections.
However, as a result of Prime Minister Theresa May being unable to receive approval for her deal from UK Parliament, she sought a Brexit extension.
EU leaders stipulated that it would allow an extension only if the UK continued operating as a member state in the meantime, which included taking part in the upcoming elections.
What will happen after Brexit?
The UK currently has 73 MEPs but if and when Brexit does happen, 46 of its seats will be abolished while the remaining 27 will be redistributed to other countries.
Usherwood said the removal and redistribution of those seats could influence current political groupings, such as where some may no longer be large enough to qualify for funding. It could also affect the amount of speaking time that each group receives.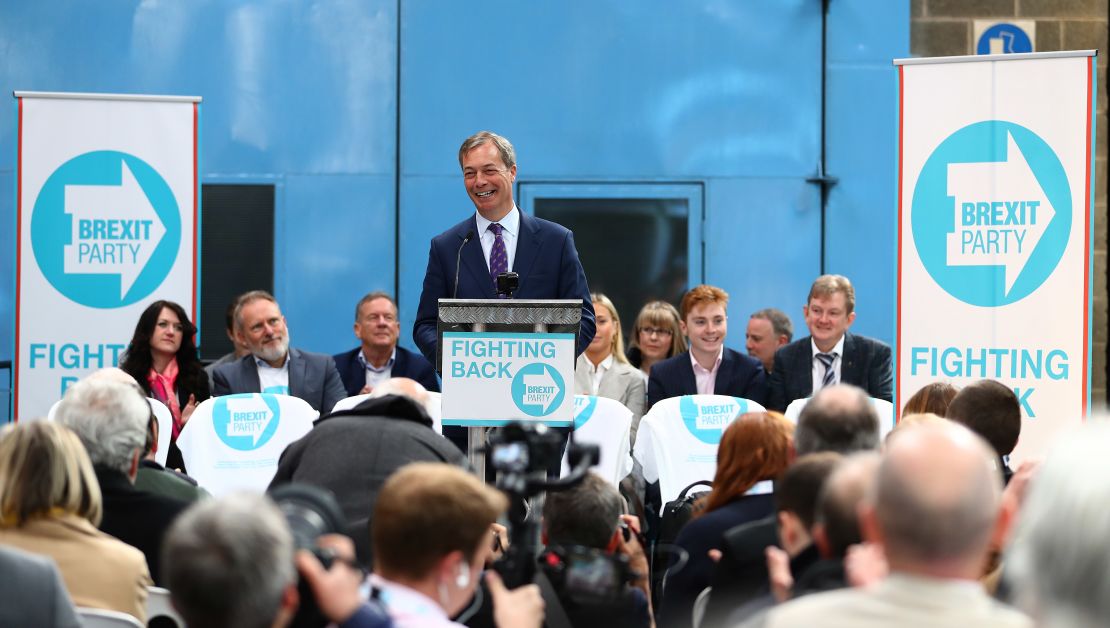 If the UK can agree a deal before European Parliament returns on July 2, he said, the UK MEPs who were elected during these elections will not have to take up their seats, but adds that it's unlikely.
"I think you're likely to see … that the 73 British MEPs will take their seats in Parliament and they're going to have a real influence on a number of decisions, not least determining who gets what job within the new parliament," Usherwood said.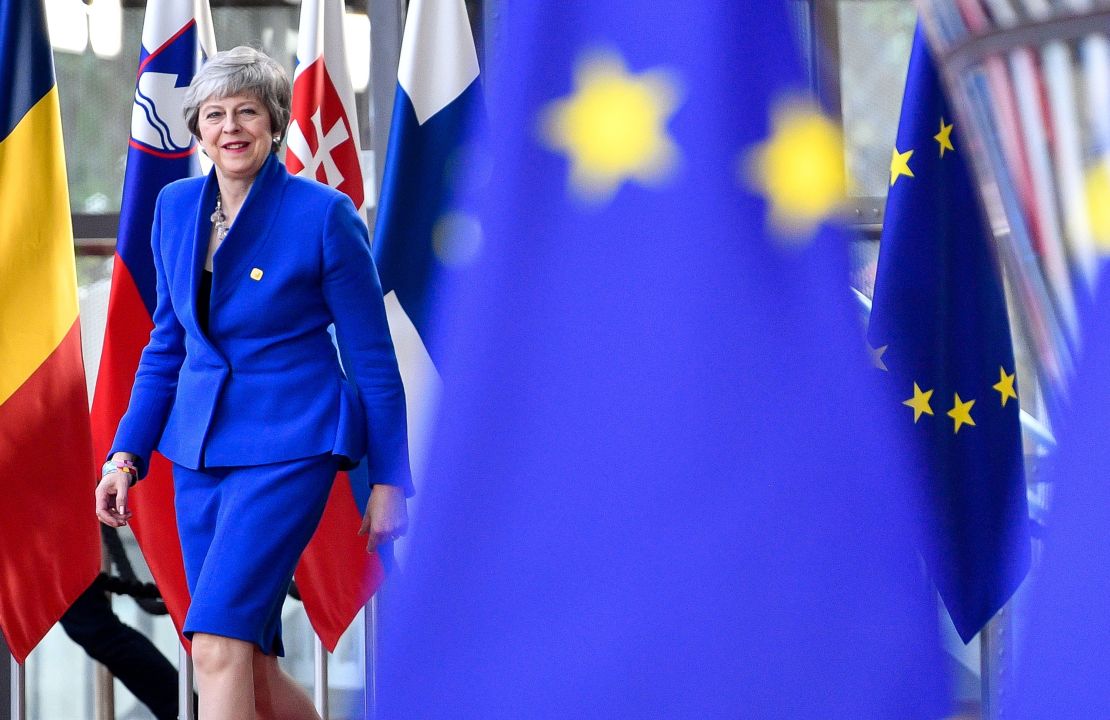 However, policy analyst Dominic Walsh, from the think tank Open Europe, noted that when the UK does exit the EU, it "won't necessarily make much difference" in Parliament.
"Historically, voting in the European Parliament is not usually very close, so UK MEPs won't necessarily have a decisive influence on the outcomes," he explains. "If they did, however, this would be hugely controversial."
But Usherwood argued regardless of whether or not the UK sits in the next EU Parliament, its presence, or lack there of, will be felt.
"In or out it changes the balance of votes on particular bits of legislation," he said.
"There's always important legislation going through the European Parliament and British MEPs have typically been more towards the more liberal side of trade policy, they were more interested in deregulation, liberalization and without them you may find the European Parliament is a bit more willing to impose limits on what markets can do than what's previously been the case."
What could happen once the UK leaves, Walsh believed, is that the so-called "grand coalition" of the center-right and center-left may gain a "slightly larger majority."
What themes and groups are expected to dominate this year?
Usherwood said this European election is all about populism and the role the EU plays not only internationally but also internally.
"One of the things that's going to become more of an issue is what role do populists play within the campaigns in different countries," he said.
"We've seen the rise of many parties in many countries that talk about populism, that talk about kind of reasserting the national over the European – so (the question is) how well are they going to do? And how much do other parties try and copy their behavior to limit their progress?"
Trends in the domestic politics of countries like Germany, Italy and Spain now look likely to be "elevated to the European level," Walsh said.
"The 2014 elections took place in the wake of the Eurozone crisis – which meant issues such as youth unemployment and austerity were very important to voters," Walsh explained.
"This time, it comes after the EU has experienced two different crises – Brexit and the Mediterranean migration crisis. Immigration and security will be important issues in many countries – as will climate change."
While Usherwood said Europe's relationships with the US, Russia and China have become more uncertain than five years ago, which will "raise questions about where the EU sits in the world."
Usherwood added that the EU still has many internal challenges. "The eurozone doesn't look very healthy economically, there's still a problem with unemployment and low growth."
The problem with European elections, he said, is that voters are usually "more concerned with their national situation than they are with the Europe-wide situation."
"Here in the UK people are voting in many ways to express their views about Brexit – which the European Parliament doesn't really play a role in, just as in other countries they'll be voting on that country's politics and politicians," Usherwood said.
This story has been updated to correct the number of eligible EU voters.