Prince Harry and his wife Meghan kept much under wraps about the birth of their first son, Archie Harrison Mountbatten-Windsor, in the morning of May 7.
It was something that was made clear by the royal couple during and after the pregnancy – when the world was left to wait a couple of days for the name and first images of their son.
Speculation on where Archie was born has finally been put to rest with Friday's release of his birth certificate.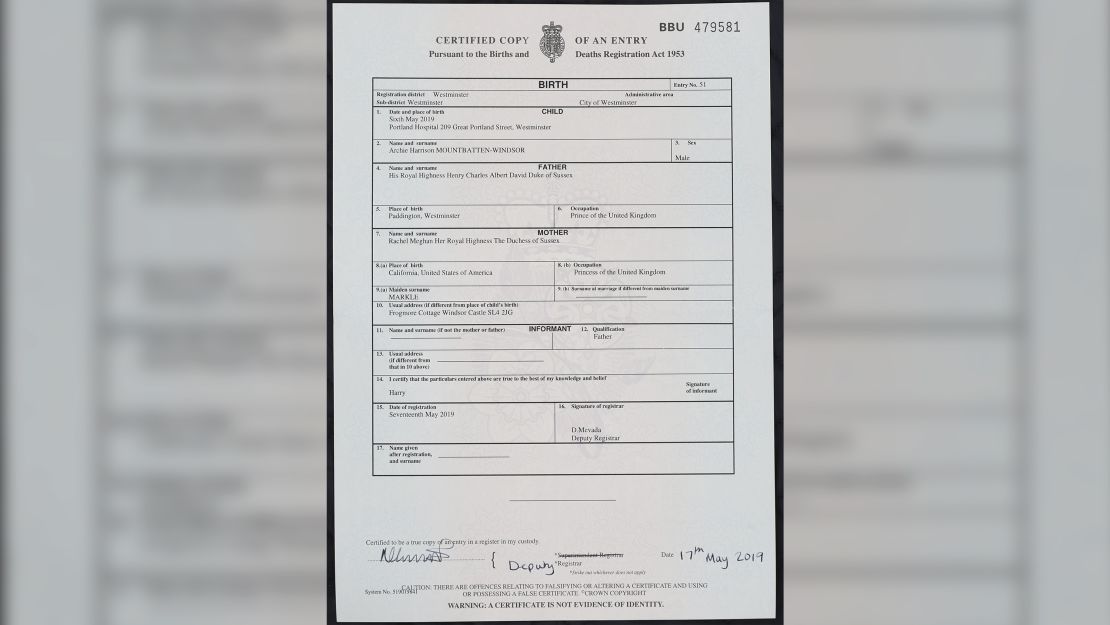 Here are three things we learned from the document:
Archie was born in London
In the days leading up to the birth, there was speculation in the tabloid press that Meghan would opt for a home birth at Frogmore Cottage, in Windsor. Some British media later reported that she gave birth in London.
The certificate shows Archie was born in the Portland Hospital, a private hospital in London's West End.
A spokeswoman for the Portland Hospital said in a statement: "Huge congratulations to the Duke and Duchess of Sussex on the birth of baby Archie.
"For reasons of patient confidentiality, we are unable to provide any comment or information."
Meghan's occupation is listed as Princess
On the certificate Meghan's job is listed as "Princess of the United Kingdom."
While Meghan has Princess as an occupation, she will never officially be called Princess Meghan as she does not have royal blood. Only direct descendents of the royal bloodline are allowed the title of Prince and Princess followed by their first name.
The royal family is riddled with arcane traditions and protocol, which includes one that says the wife's position in the pecking order is validated by her husband of royal blood.
So even if Meghan has the job title of Princess, she is formally known as Meghan, the Duchess of Sussex – which the Queen gave to her ahead of their wedding in 2018.
Harry registered the birth
Prince Harry registered Archie's birth himself, according to the certificate. It also shows the new dad took 11 days to do so – the registration date is listed as May 17.
When a couple is married in the UK, only one parent is required on the register.
CNN's Max Foster contributed to this report.