Austrian Chancellor Sebastian Kurz will face a no-confidence vote in the wake of an undercover video scandal that has blown apart his coalition with a far-right party.
The main opposition Social Democratic Party of Austria (SPÖ) requested a special parliamentary session next Monday, according to parliamentary spokesman Karl-Heinz Grundbroeck.
The opposition "Jetzt" party is planning to introduce the no-confidence motion during that session, party spokeswoman Eva Kellermann said. CNN has seen the written motion sent to parliament.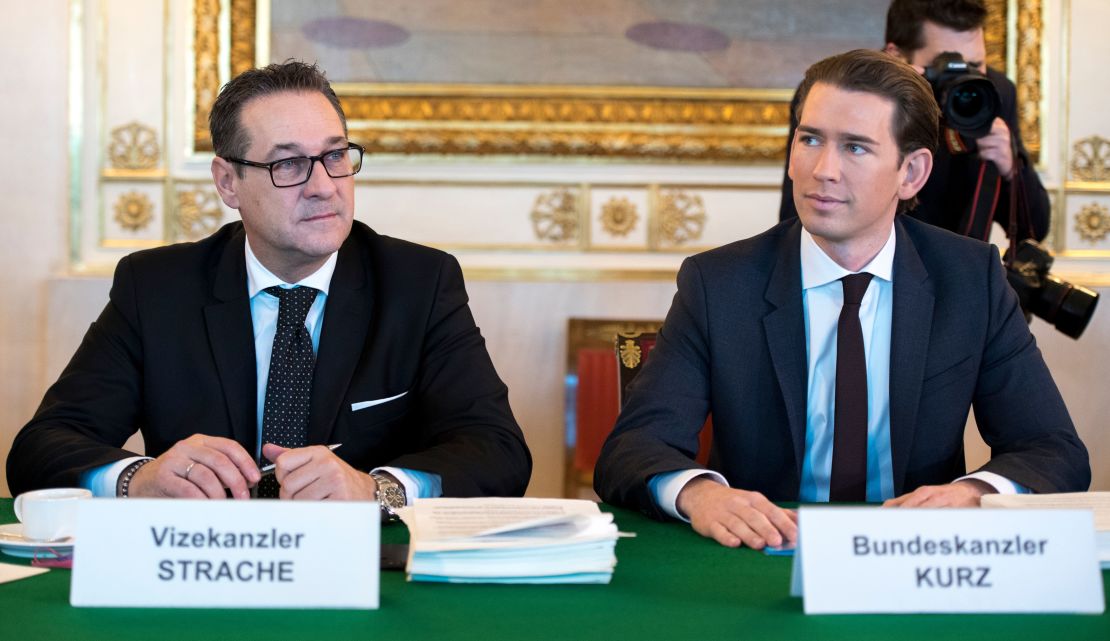 Kurz's government was plunged into crisis over the weekend when a video emerged of his Vice Chancellor – Heinz-Christian Strache of the far-right Freedom Party of Austria (FPÖ) – appearing to offer state contracts to a woman claiming to be the niece of a Russian oligarch.
Strache resigned on Saturday, and Kurz's conservative People's Party (ÖVP) – which governs as the senior member of a coalition with the hardline FPÖ – was quick to distance itself from its partners.
Interior Minister Herbert Kickl, who was secretary general of the FPÖ at the time the video was filmed in 2017, will be dismissed at Kurz's recommendation, the country's president announced Tuesday.
Alexander van der Bellen also said that the other FPÖ ministers in the cabinet were quitting over the scandal, though he added that Foreign Minister Karin Kneissl would stay on.
Kurz said he would suggest replacements for the resigning FPÖ ministers as early as Tuesday, and lamented that the episode had "damaged the reputation of our republic."
The scandal is the biggest crisis Austria's governing coalition has faced since forming in 2017, and over the weekend more than 5,000 protesters gathered outside the Chancellor's office in Vienna calling for fresh elections.
Kurz responded by calling for a snap election in September, though it's unclear how the coalition will work together in the meantime. Van der Bellen said Tuesday that he expected the current government to stay on in the interim.
Dent in populist support?
The crisis in Austria comes at a delicate time for Europe's populist parties, which have been tipped to make big gains at the upcoming European parliamentary elections between May 23 and May 26.
Austria's FPÖ is in an alliance with Italian Interior Minister Matteo Salvini's League, and Salvini has spoken openly of forming a nationalist bloc in the European Parliament that would take a harder line on immigration.
The secret footage of Strache, filmed in Ibiza two years ago, was published Friday by Germany's Der Spiegel news magazine and Süddeutsche Zeitung daily newspaper.
It is not known who recorded the video or set up the meeting.
The following morning, Strache denied doing "anything against the law" but apologized to "everyone I have disappointed with my behavior."
Russia has denied any involvement in the affair, with Kremlin spokesman Dmitry Peskov saying that "I cannot in any way evaluate the appearance of this video, because it has nothing to do with the Russian Federation, the President or the government."
"We do not know for sure who this woman is, whether she is Russian, therefore this is a story that does not and cannot have anything to do with us."
Denise Hruby reported from Vienna and Stephanie Halasz reported from London. Jack Guy wrote from London.