After former WWE star Ashley Massaro died last month, her lawyer announced that she wanted her brain donated to CTE research, rekindling the conversation about the risk of head trauma in professional wrestling.
A study in the American Journal of Sports Medicine found that the rates of concussions among college athletes were higher for male amateur wrestlers than for football players.
Though pro wrestling is different from amateur wrestling in many significant ways – the winners and losers are predetermined, the moves more varied and often planned in advance – the injuries that pro wrestlers sustain are very real, and can be as serious as in other combat sports.
Here's what we know and don't know about CTE in wrestling, and what's being done to make the industry safer.
Did Ashley Massaro have CTE?
We can't know unless an autopsy is done on her brain. Chronic traumatic encephalopathy, a condition that develops from repeated, or sub-concussive, hits to the head, can't be diagnosed definitively in a living person.
CTE produces Alzheimer's-like symptoms such as memory loss and mood swings, and other symptoms like rage and suicidal ideation.
Massaro worked for WWE between 2005 and 2008. She died in May at the age of 39, two months after she said she had started training to return to wrestling. The Suffolk County medical examiner's office declined to release a cause of death, citing a New York law that allows the withholding of information that "would constitute an unwarranted invasion of personal privacy."
Massaro had earlier blamed wrestling injuries for her depression and participated with more than 50 other wrestlers in a class action lawsuit against WWE. "Like everyone on the WWE lawsuit Ashley was committed to the study of CTE in professional wrestlers who have been neglected and it was her desire to donate her brain to be studied," Massaro's lawyer, Konstantine Kyros, told CNN in an email.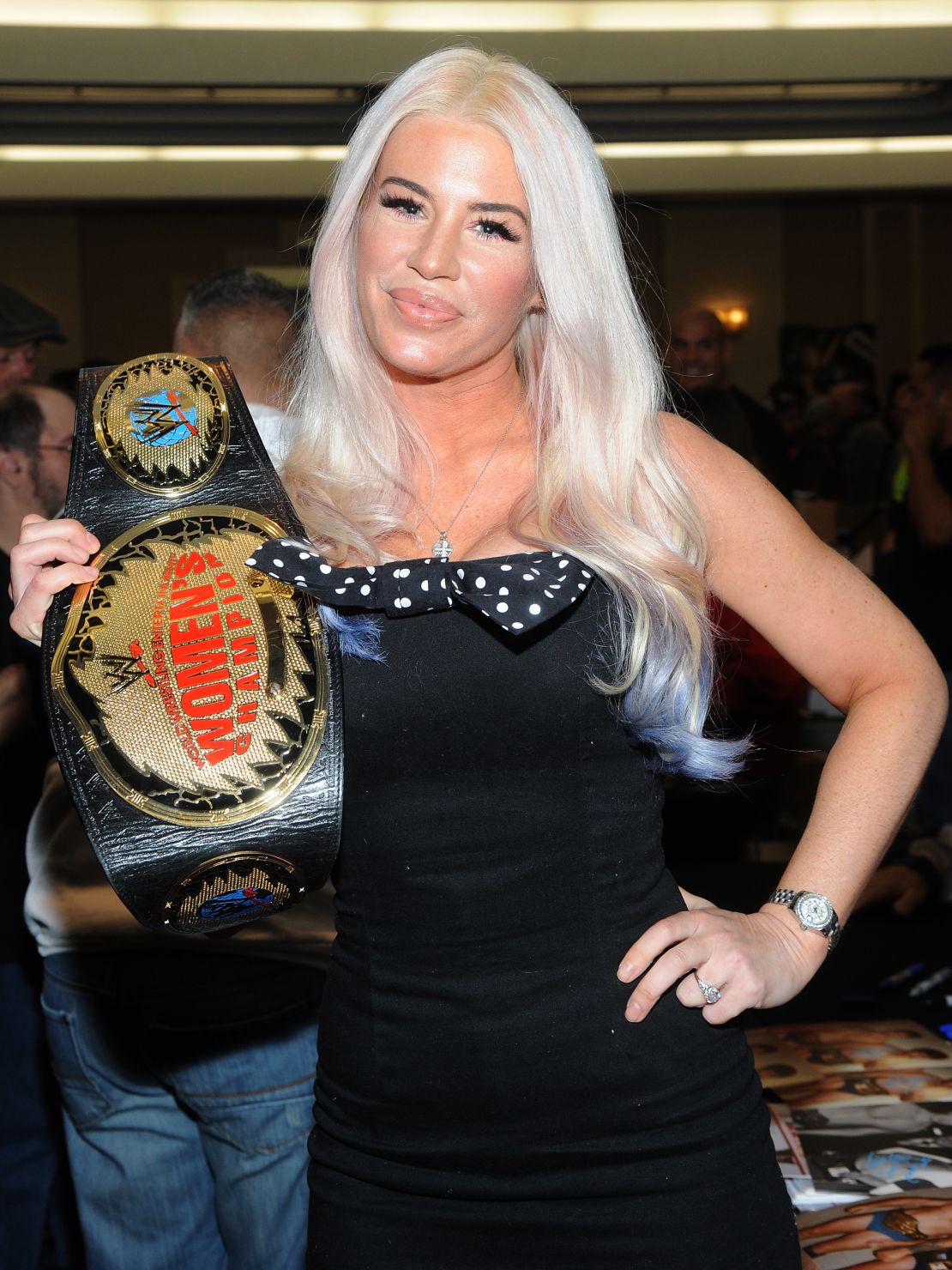 In a 2017 affidavit as part of Kyros' lawsuit, Massaro claimed she wasn't properly trained in the ring and didn't receive proper medical care for injuries. The lawsuit was dismissed by a federal court in September 2018. Massaro's appeal was scheduled to be filed on July 8, Kyros said.
WWE rejected the allegations, and said that Kyros has repeatedly made false claims in a "malicious campaign" against the organization.
"WWE never had any lawsuit/claims by former talent alleging CTE before a lawyer, Konstantine Kyros, started soliciting disgruntled former performers to sue WWE in the hopes of a payday for them and him," WWE said in a statement.
How many wrestlers have been found to have CTE?
Chris Benoit was the first wrestler to be diagnosed with CTE after death, according to Dr. Bennet Omalu, who first identified CTE in football players.
Benoit murdered his wife and son and then killed himself in 2007, in an act of violence that shocked the wrestling world.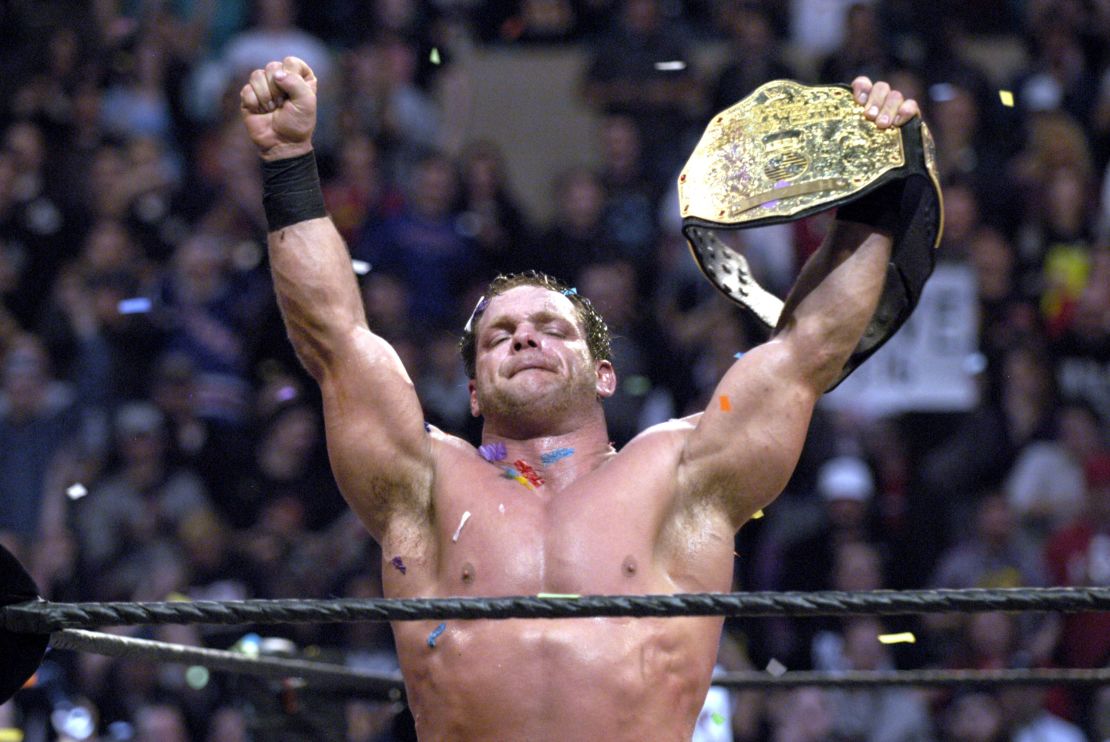 In 2009, Omalu also found CTE in the brain of wrestler Andrew "Test" Martin. The wrestler had died of an accidental drug overdose, according to ESPN.
Omalu told ESPN that Benoit and Martin's brains resembled those of Alzheimer's patients more than twice their age.
Kyros' firm has coordinated autopsies of the brains of six other deceased wrestlers who were found to have CTE, the lawyer said in a statement: Jimmy "Superfly" Snuka, Mr. Fuji (Harry Fujiwara), Rex King (Timothy Smith), Balls Mahoney (Jon Rechner), and Axl Rotten (Brian Knighton).
How has the industry responded?
Dave Meltzer, editor of the Wrestling Observer Newsletter, has covered the industry for over 30 years. He says that over the past 12, awareness of the risk of concussions has grown tremendously.
Many American companies, including WWE, have banned direct chair shots to the head.
"The really hard blows to the head have been toned down a lot," he said. "They are way more concerned over them than in the past."
WWE says that it began developing concussion protocols long before Kyros brought the class action lawsuit. The organization began mandatory testing for all of its wrestlers in 2008, and has a strict protocol in place once a performer is suspected to have a concussion.
"All performers undergo annual mandatory baseline retesting of brain function, including memory, processing speed and reaction time," a WWE spokesperson said.
After a series of concussions, WWE wouldn't clear wrestler Daniel Bryan to get back in the ring, leading him to retire in 2016.
"I have been wrestling since I was 18 years old," Bryan said during his emotional retirement speech on WWE RAW. "Within the first five months of my wrestler career, I already had three concussions."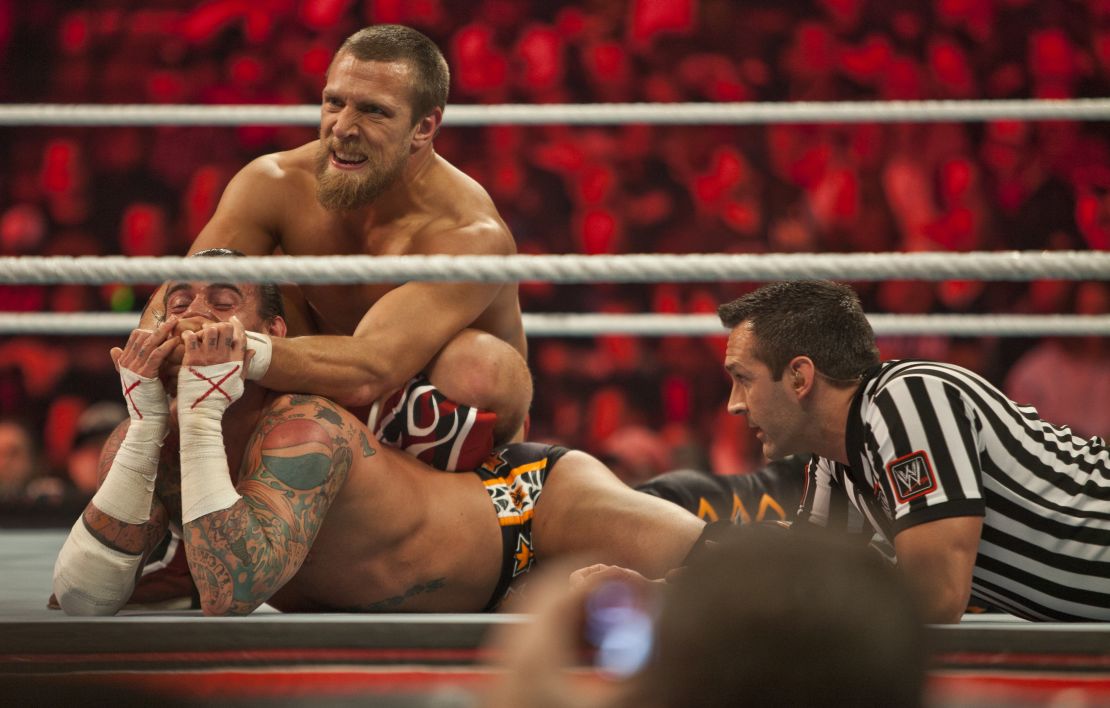 More than two years later, Bryan returned to the ring after being cleared by a team of neurosurgeons, neurologists and concussion experts. Now when he finishes a match, he goes straight into concussion testing. He told ESPN he gets his eyes checked, takes a balance test and then answers a math question.
Trainers have also implemented measures to protect against head trauma.
Michael Cuellari, owner and head coach of One Fall Power Factory in Georgia, told CNN that it's imperative his students learn how to fall correctly backwards onto the wrestling mat below.
"You have to protect your brain," Cuellari said. "When we get a new student we teach them to fall on a giant cushioned crash pad and then they wear head gear when they move up to the next level."
But CTE isn't just about concussions
Researchers believe that CTE can develop from repeated blows to the head even in the absence of a concussion – raising questions about whether concussion protocols are enough.
Each time the head takes a pounding, it shakes the brain inside the skull. All that sloshing around can lead to a buildup of an abnormal protein called tau, which can take over parts of the brain.
"Concussion protocol doesn't cover that because sub-concussion doesn't show signs," said Christopher Nowinski, a former WWE wrestler who is now co-founder and CEO of the Concussion Legacy Foundation. "That's where education comes in. That's where impact performance control comes in. Impacts to the head should be minimized."
More research and education needed
Nowinski, who performed under the name Chris Harvard, had to retire in 2003 due to developing post-concussion syndrome, a condition characterized by prolonged concussion symptoms. He now works on educating athletes about the risks and effects of head injuries.
"I know my lack of education led to my wrestling career ending," he said. "When I had a concussion I would still go out there. Now I know in retrospect it is dangerous not only for me but also my opponent. If I had a headache or felt nausea I shouldn't be out there with my opponent."
Nowinski holds annual lectures with WWE talent about head injuries and how to spot symptoms.
"When I do my education, we walk through studies on brain injury exposure, studies primarily focused on boxing and football, extrapolating the knowledge from these studies so they can learn," he said. "If you choose to do any dangerous activates, like hockey and football, you can't eliminate the head trauma."
Researchers are hoping one day to be able to diagnose living subjects so that they can understand how the disease progresses and in turn lead them to a possible cure.
In the meantime, a growing number of athletes say they are planning to donate their brains, including racing star Dale Earnhardt Jr., women's soccer icon Brandi Chastain and current WWE superstars Mick Foley and Jeff Hardy.
"It's a huge serious issue in wrestling," Hardy said during an interview with Ring Rust Radio. "I've rung my bells so many times especially back in the day when chair shots to the head were legal. My goodness, I took so many of those."
"We have over 5,000 people in our brain registry," Nowinski said. "Every week, I see another wrestler pledging their brain to research."
Almost two hundred brains were pledged last year, according to Nowinski. He hopes that the research made possible by these donations will allow for future breakthroughs in how people can manage their symptoms.
Similar to other organ donor programs, anyone can pledge for their brain to be donated to research on the Concussion Legacy Foundation's website.
CNN's Nadia Kounang and Rebekah Riess contributed to this report