Story highlights
A world-first mall only selling recycled goods in Sweden is reimagining the second-hand shopping experience.
Over half of global consumer waste ends up in landfill.
"It is possible to save the world and make money at the same time," says mall manager.
Broken toys. Odd kitchenware. Well-worn clothes. And funky smells.
These stereotypes about second-hand shopping are pretty unflattering – and in the age of a sustainable awakening – couldn't be further from the truth.
It's no secret that our relentless consumption and production of goods is straining the planet's natural resources and responsible for pumping vast amounts of greenhouse gases into the atmosphere.
Less than one percent of clothes worldwide are recycled, but the problem goes far beyond just clothing; over half of all consumer waste ends up in landfill. In the US alone that amounts to over 130 million tons of landfill waste each year.
In a bid to reduce waste and promote sustainable living, a world-first mall project selling recycled goods in east Sweden has reimagined the second-hand shopping experience.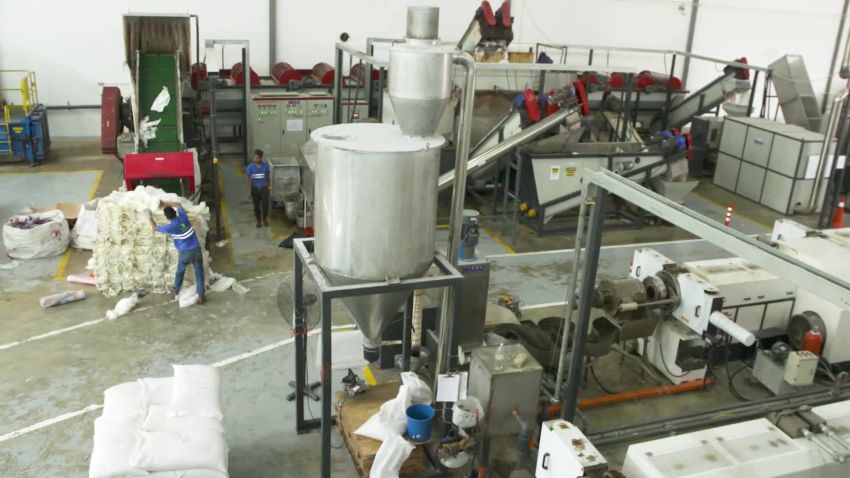 Recycling pays
When the ReTuna mall first opened its doors in 2015 some considered the concept to be a radical idea, but the project has sparked a new wave of second-hand malls internationally and offers hope in the fight against global waste.
"In the beginning they all wondered if this would last. There were so many entrepreneurs who took a big chance," Anna Bergström, the shopping center manager, told CNN.
The risks are paying off. Last year, the mall turnover passed 11 million Swedish kronor – over $1.1 million – and Bergström is confident it will continue to grow in 2019.
Read more: CO2 levels at their highest for 3 million years
In many ways ReTuna is like a 'regular' mall; fresh, clean and spacious, offering shoppers all types of goods and all sorts of brands from the high-end likes of Michael Kors, Gucci or Apple electronics, through to more mainstream products. Everything is in good condition – but all the products are second-hand.
The mall is owned by the local municipality's recycling department and collaborates with the recycling center next door, saving new items from landfill every week. Items of potential value are divided among store owners and used for re-selling or 'upcycled' into new items.
While the mall is publicly-owned, it has driven local entrepreneurship and nine of the eleven stores are owned by private companies.
"We have managed to create a really good business. Now everyone loves the concept," said Bergström, adding that her previous experience in commercial shopping centers has taught her that 'social entrepreneurs' need a business-oriented mindset to succeed.
Bergström said they don't exclude items from stock based on the original producer's sustainability record. "It is much better to sell the same item twice than to buy new items every time," she said.
Recently a restaurant and conference center have opened in the mall and Bergström is looking to add a sustainable supermarket.
Global impact
The mall's unique concept and its success has gained international attention for Eskilstuna – not an insignificant feat for an industrial steel town arguably best known as the childhood home of Frida from ABBA.
However it is ReTuna's impact beyond Eskilstuna that is perhaps most interesting – reshaping views about second-hand goods and inspiring similar projects internationally.
That includes projects from as far afield as Australia, California, Switzerland, Belgium, and the United Kingdom, she said.
In Sweden four other municipalities are aiming to start similar initiatives, while in neighboring Norway, a second-hand mall in the town of Hamar has been given the greenlight and aims to launch in April 2020.
The mall manager in Hamar, Maria Saetersdal Remoe, told CNN the ReTuna project proved second-hand malls could be a commercial success.
The Hamar model is similar to ReTuna's. The publicly-owned recycling department Sirkula is launching the mall; and it will collaborate with the local recycling operations.
Saetersdal Remoe said the ultimate goal "is to reduce waste by reusing things."
'Save the world and make money'
The waste footprint of wealthy nations is growing at an alarming rate.
Official figures from the US Environmental Protection Agency and the Center for Disease Control and Prevention show that the average American reproduces their own body weight in consumer waste every six weeks, amounting to a total of over 250 million tons annually.
Sweden is markedly better, recycling about half of municipal waste – compared to 34% in the US – and only sending one percent to landfill.
Read more: What is climate change? Your questions answered
So how much impact could an increase in second-hand trading have on our environment?
According to a report by the Swedish Environmental Research Institute and media company Schibsted it could be significant.
It estimates that online trading of second-hand goods across their auction sites in 2018 prevented more than 20 million tons of greenhouse gases from entering the atmosphere. This equates to the annual carbon footprint of over 2.2 million Europeans.
These issues are what drives Bergström, Saetersdal Remoe, their shopowners and their loyal customers.
"We want to show that it is possible to save the world and make money at the same time. This is an excellent concept that deserves to grow," Bergström said.