Very little rain, recent scorching temperatures and a late monsoon season are being blamed for the water shortage in India's sixth-largest city, with nearly 5 million residents.
Chennai's water supply comes from four reservoirs, all of which are almost completely dry because the monsoon rain that replenishes them has not come on time. Satellite imagery is making very clear just how low their reservoirs are.
Lake Puzhal, the city's largest, is the large body of water in the satellite image from Maxar below. On June 15, 2018, it was full of blue water.
One year later, the reservoir has been reduced to an almost completely dry lake bed.
Aerial video from a passenger plane shows the dusty lake bed now. Srini Swaminathan took the video of Lake Puzhal as he left Chennai on a flight.
"I intentionally paid for and chose a window seat to see the drought situation of my city from above," he told CNN.
Comparing more satellite imagery from Maxar shows just how much the water level has dropped in the last two months. The video and imagery above show's that there's barely any water in Lake Puzhal.
But just two months earlier, there was still some water left.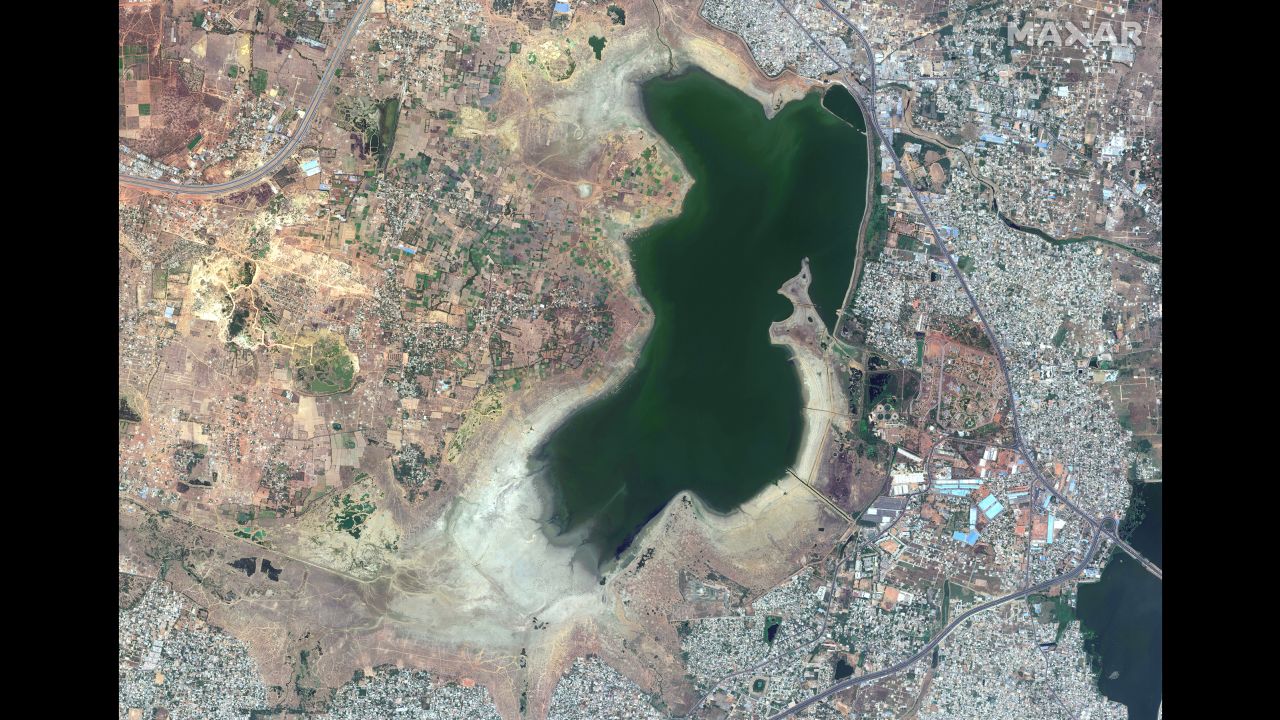 The reservoir's water supply dramatically shrank between June 15, 2018 and April 6, 2019. Since then, it's barely even a body of water.
The same is true further south in the smaller reservoir of Lake Chembarambakkam. It, too, is also dried up.
Only the deepest parts of the lake bottom hold water.
More satellite imagery from Planet Labs, Inc. shows Lake Chembarambakkam slowly drying up.
From February to June of this year, more and more of the lake bed turned to dust.
With the reservoirs dwindling, Chennai residents are being forced to find water. Richer residents and businesses are having water trucked in from nearby provinces.
Anyone who can't afford those deliveries is forced to find, and wait with buckets, for their rationed amount from state water trucks.
Any rain is a blessing for Chennai residents, and they got a little shower on Thursday – roughly 1.14 inches of rain fell.
While it isn't enough to alleviate the water crisis, it is a hopeful sign that the monsoon rains are beginning.