On a recent afternoon at a coffee house in the Istanbul neighborhood where Turkey's president grew up, Güngör Saytuğ was ruminating on his old friend's rise to power.
Decades ago, Saytuğ and Recep Tayyip Erdoğan were sitting in the locker room after an amateur soccer game when Erdoğan announced out of the blue that he would someday become prime minister, and then president.
Not long after that, Erdoğan launched his political career as a self-styled man of the people, playing on his "Kasımpaşalı" roots to rocket from relative obscurity to mayor of Istanbul in 1994. To many voters here, he is still the local boy from Kasımpaşa, a working-class neighborhood known for its naval tradition and its top-flight soccer team. Erdoğan never made it to the pros, but the stadium now bears his name.
"He never gives up. If he sets his mind to something, he manages to achieve it," Saytuğ told CNN.
But in March, for what seemed like the first time in more than 25 years of political dominance, Erdoğan suffered a devastating blow: his Justice and Development Party (AKP) lost the mayoral elections in Turkey's three biggest cities to the main opposition Republican People's Party (CHP).
Especially hard to swallow was the AKP's defeat in Istanbul – considered, at least by Erdoğan, to be the crown jewel of Turkish politics.
Perhaps no one understands the significance of Turkey's largest city more than Erdoğan, 65, who used it as a launch pad for his career. "Whoever wins Istanbul, wins Turkey," he is fond of saying. The president's birthplace has become a concentrated source of wealth and power for his party, oiling the rest of Turkey's political machine. Losing control of it means losing funds and resources that subsidize pro-government media, businesses, contractors and the AKP apparatus at large.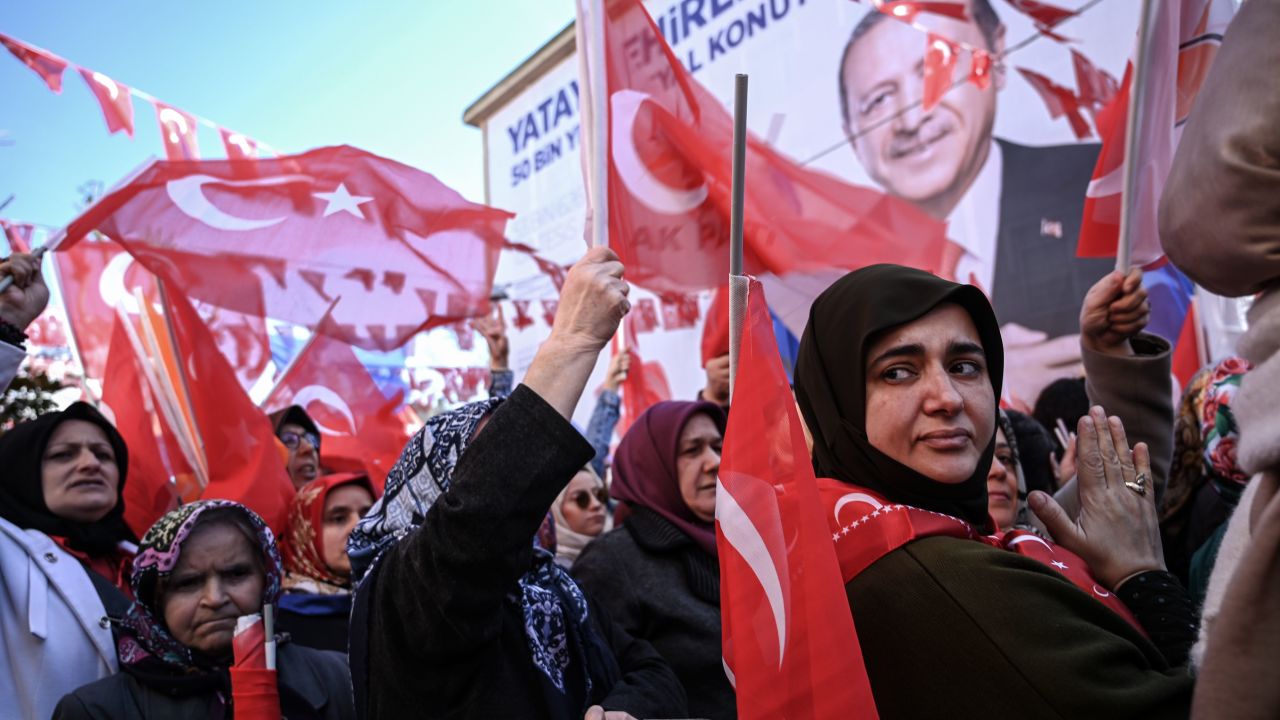 Rather than accept defeat, the AKP challenged the outcome of the race, claiming fraud. In a controversial ruling, the Turkish election board canceled the result and ordered a new vote, sparking outrage from the CHP, which described the move as "plain dictatorship."
The rerun, which will be held Sunday, is a pivotal moment. If the opposition defies the odds to defeat Erdoğan's party for a second time, its supporters will hail the victory as a turning point for a country that is sliding into autocracy. And even if the AKP reclaims Istanbul, experts say the re-vote has already exposed a chink in Erdoğan's armor.
"This is more than just a local election in the country. In many ways, it's a referendum on Erdoğan and his reign," said Aslı Aydıntaşbaş, a Turkey expert at the European Council on Foreign Relations.
Aydıntaşbaş, who covered Turkish politics as a journalist for years before becoming a senior policy fellow, said there has long been a misconception in foreign media that the rule of Erdoğan – who has been president since 2014 – is iron-clad.
"The image of Erdoğan here is not an almighty figure … not the popular leader who is so safe and secure … quite the opposite," she said.
Many residents of Istanbul are weary of the AKP's long reign, and blame Erdoğan for the economic crisis, which is felt on the streets in soaring food costs, double-digit unemployment and Turkey's plummeting currency, the lira.
But with the serious restrictions facing the opposition, including a ban on anti-government demonstrations in Istanbul, citizens have few remaining places to protest beyond the ballot box.
The president's office did not return CNN's request for comment on Erdoğan's involvement in the Istanbul election campaign.
Fight for democracy
Across the city in Bakırköy, an upper-middle class neighborhood overlooking the Sea of Marmara, people gathered last Sunday in bars and cafés to watch the top two candidates for Istanbul's mayor face off in the first live televised debate Turkey has seen in 17 years.
The debate pitted Binali Yıldırım, of the AKP, against opposition candidate Ekrem İmamoğlu, of the CHP, who won the vote in March. İmamoğlu, who i