On a recent afternoon at a coffee house in the Istanbul neighborhood where Turkey's president grew up, Güngör Saytuğ was ruminating on his old friend's rise to power.
Decades ago, Saytuğ and Recep Tayyip Erdoğan were sitting in the locker room after an amateur soccer game when Erdoğan announced out of the blue that he would someday become prime minister, and then president.
Not long after that, Erdoğan launched his political career as a self-styled man of the people, playing on his "Kasımpaşalı" roots to rocket from relative obscurity to mayor of Istanbul in 1994. To many voters here, he is still the local boy from Kasımpaşa, a working-class neighborhood known for its naval tradition and its top-flight soccer team. Erdoğan never made it to the pros, but the stadium now bears his name.
"He never gives up. If he sets his mind to something, he manages to achieve it," Saytuğ told CNN.
But in March, for what seemed like the first time in more than 25 years of political dominance, Erdoğan suffered a devastating blow: his Justice and Development Party (AKP) lost the mayoral elections in Turkey's three biggest cities to the main opposition Republican People's Party (CHP).
Especially hard to swallow was the AKP's defeat in Istanbul – considered, at least by Erdoğan, to be the crown jewel of Turkish politics.
Perhaps no one understands the significance of Turkey's largest city more than Erdoğan, 65, who used it as a launch pad for his career. "Whoever wins Istanbul, wins Turkey," he is fond of saying. The president's birthplace has become a concentrated source of wealth and power for his party, oiling the rest of Turkey's political machine. Losing control of it means losing funds and resources that subsidize pro-government media, businesses, contractors and the AKP apparatus at large.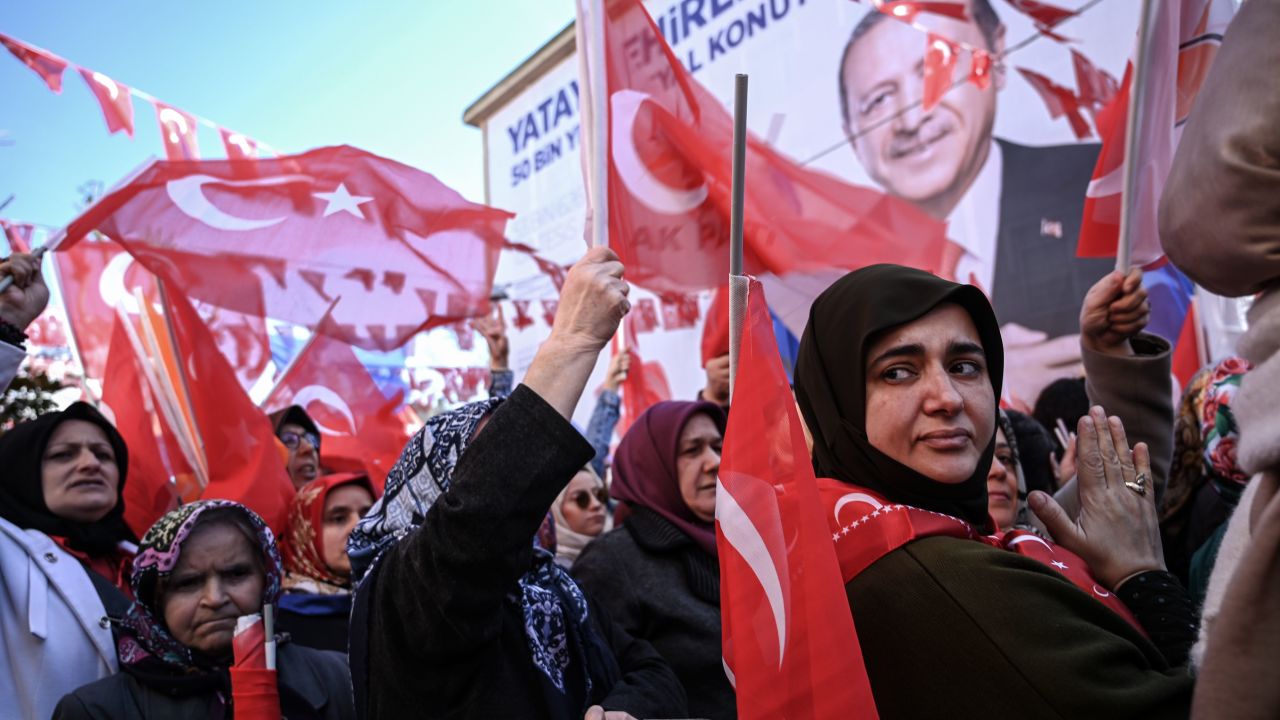 Rather than accept defeat, the AKP challenged the outcome of the race, claiming fraud. In a controversial ruling, the Turkish election board canceled the result and ordered a new vote, sparking outrage from the CHP, which described the move as "plain dictatorship."
The rerun, which will be held Sunday, is a pivotal moment. If the opposition defies the odds to defeat Erdoğan's party for a second time, its supporters will hail the victory as a turning point for a country that is sliding into autocracy. And even if the AKP reclaims Istanbul, experts say the re-vote has already exposed a chink in Erdoğan's armor.
"This is more than just a local election in the country. In many ways, it's a referendum on Erdoğan and his reign," said Aslı Aydıntaşbaş, a Turkey expert at the European Council on Foreign Relations.
Aydıntaşbaş, who covered Turkish politics as a journalist for years before becoming a senior policy fellow, said there has long been a misconception in foreign media that the rule of Erdoğan – who has been president since 2014 – is iron-clad.
"The image of Erdoğan here is not an almighty figure … not the popular leader who is so safe and secure … quite the opposite," she said.
Many residents of Istanbul are weary of the AKP's long reign, and blame Erdoğan for the economic crisis, which is felt on the streets in soaring food costs, double-digit unemployment and Turkey's plummeting currency, the lira.
But with the serious restrictions facing the opposition, including a ban on anti-government demonstrations in Istanbul, citizens have few remaining places to protest beyond the ballot box.
The president's office did not return CNN's request for comment on Erdoğan's involvement in the Istanbul election campaign.
Fight for democracy
Across the city in Bakırköy, an upper-middle class neighborhood overlooking the Sea of Marmara, people gathered last Sunday in bars and cafés to watch the top two candidates for Istanbul's mayor face off in the first live televised debate Turkey has seen in 17 years.
The debate pitted Binali Yıldırım, of the AKP, against opposition candidate Ekrem İmamoğlu, of the CHP, who won the vote in March. İmamoğlu, who is being backed by an energized array of opposition groups, called the re-vote a "fight for democracy against those who violated our rights and the rights of 16 million people." Yıldırım, a former prime minister, responded with the AKP's claim that the vote had been stolen.
Turkey's fractured opposition has rallied behind İmamoğlu, leaving their differences to one side in a bid to beat Erdoğan. But even with this coalition building, İmamoğlu only narrowly edged out the AKP candidate, signaling the enduring power of the president's party.
And while the matchup marked a historic moment for Turkey's electorate, whose daily news digest has increasingly consisted of pro-government programming on mainstream media outlets, few observers in a Bakırköy café felt that the broadcast signaled much in the way of change.
Sitting at a table watching the debate with a group of friends, all in their 30s, Gizem Sürer said that while everyone she knows is talking about justice, she sees little way for young people like her to get it.
"Since the first day of AKP's ruling this country, I personally have been observing a deep aspiration for democracy among people. When we look at these places, coffeehouses in villages, in public squares, or party tents, people are frequently putting into words the notions of democracy and justice," Sürer said.
"But, when we look to the streets, we see bans for equal and fair debates, bans for people to express their opinion," she added. Those around her nodded.
Since a failed military coup in 2016, Erdoğan has consolidated his power and set into motion a sweeping crackdown on dissent, jailing opposition politicians and journalists. And, last year, he won re-election with even greater unchecked authority. In response, many Turks have opted to leave the country, prompting what has come to be known as the country's "brain drain."
"Unfortunately, we are being forced to dream about going abroad," said Özgür Türker, who was playing Okey, a traditional Turkish tile-based game, and sipping coffee at a table near Sürer.
'For our president, it's his campaign'
Across the glittering blue Bosphorus in Üsküdar, a residential district on Istanbul's Asian side, campaigners for both candidates have set up election tents, blaring political anthems and handing out flyers to passersby on their way to the ferry station.
Nurettin Adıyol, an AKP volunteer, said that many of the people he speaks to on the street complain about the economy and tell him the government isn't working hard enough for its citizens. But Adıyol disagrees.
"We took [over] this city as a garbage city," Adıyol said, alluding to Istanbul's pre-Erdoğan days. "Did you forget about the days that you were carrying water in barrels? Children and youngsters do not know about those days."
The battle is on for the swing voter, and Adıyol is trying to remind them just how much the AKP – and, by extension, Erdoğan – has done for Istanbul over more than two decades.
"For our president, it's his campaign," Adıyol said. "In everywhere that he is present, we will win the election."
In reality, Erdoğan has been noticeably absent in the lead-up to the June 23 rerun, forgoing plans to campaign in dozens of rallies for the AKP. Political pundits say that's because of fears that his involvement could cost his candidate the race.
"Erdoğan has been told by a number of political advisers, as well as the Yıldırım campaign, that his overwhelming presence in the city is actually a turn-off for some voters … those that feel AKP is on the wrong path, that it's gotten too authoritarian, and that the government is responsible for the economic downturn," Aydıntaşbaş said.
But, in the days since the debate, Erdoğan's presence has increased as İmamoğlu appears to be pulling ahead of Yıldırım. Erdoğan met with foreign journalists on Thursday, claiming that polls putting the opposition candidate in the lead were "manipulative."
"The real poll will be Sunday," Erdoğan told reporters.
The sense of wariness among voters is palpable at a farmer's market in the tangle of back streets above Üsküdar's ferry station.
Two middle-aged women, who asked that their names not be used for fear of backlash from the government, said that they're reminded of just how bad things have gotten every time they go to do their grocery shopping.
"Everything is troublesome, prices are sky-high, everything is prohibitively expensive, we are having a hard time making ends meet," one of the women said, gripping a bag of produce.
Ahead of the initial mayoral election, Turkish authorities set up state food markets to sell subsidized fruit and vegetables amid a surge in food prices, which the government blames on retailers – rather than inflation. But the move, criticized by some as a bid to buy votes, hasn't done much to change hearts and minds here.
"Does anybody care about this, I don't know. I don't think they really care," she added, before turning on her heel and marching away from a selection of tomatoes.
"It is enough. Enough. Enough now. Somebody else should take over Istanbul," her friend agreed.
CNN's Işıl Sarıyüce reported from Istanbul and Eliza Mackintosh wrote from London.