Manacor, Mallorca, Spain
CNN
—
He conquered the clay courts of Roland Garros for a record-extending 12th time, but now Rafael Nadal has set his sights on a third Wimbledon title.
Once considered the second-best grass-court player in the world behind Roger Federer, Nadal's knees have prevented him from playing at his best on the All England Club lawns since reaching a fifth straight final in 2011.
Unlike high-bouncing clay, the ball bounces lower on grass and forces players to bend their legs more, placing strain on Nadal's already vulnerable knees.
But the two-time Wimbledon winner has found a way to impress again on grass over the last two years, losing an epic fourth-round clash in 2017 to Luxembourg's Gilles Muller and coming within a whisker of reaching the final after a classic encounter with Novak Djokovic in last year's semifinals.
"I felt myself ready to go all the way," Nadal told CNN Sport in an exclusive interview at his tennis academy in Manacor, Mallorca ahead of this season.
READ: Nadal wins 12th French Open
READ: Will Nadal surpass great rival Federer?
Suffering on grass
A five-time finalist at the All England Club between 2006-2011, Nadal won the title twice, overcoming long-time rival Federer in a historic final in 2008, and beating Czech Tomas Berdych two years later.
He also lost twice to Federer (2006 and 2007) and once to Djokovic (2011).
In 2017, Nadal played in the match of the tournament in the fourth round against Muller, eventually succumbing 15-13 in the fifth set after almost five hours. There was also high drama last year, when he went the distance against Djokovic, losing 10-8 in the fifth set in five hours, 15 minutes in a match that lasted two days, and during which he had break points at 4-4 and 7-7 against the eventual champion.
"Most people think, if you lose, he is not happy," said the 33-year-old Spaniard, who has struggled with injuries throughout his long career and missed Wimbledon in 2009 and 2016.
"Of course, it had been a tough loss against Muller," he said. "Of course it had been a very tough one against Novak in that semifinals, because it was a big chance for me to win Wimbledon, but at the end of the day for me, what makes me happy is feel myself competitive after a lot of years suffering a lot playing on grass."
READ: 'I can't practice': Nadal reveals how he lived 'tragedy' of Mallorca floods
Injury woes
Even by Nadal's standards, the past 18 months have been testing. Injury problems meant he only played in nine events last season. After his US Open title defense came to an end with a knee injury in the last four, he ended the year early to rest and recover.
He underwent ankle surgery in early November, but bounced back in January by reaching the final of the Australian Open, where he lost to Djokovic.
But in Paris, Nadal revealed the knee injury that had forced him to withdraw from Indian Wells in March caused him so much pain, he almost took an extended break from playing.
"The outlook was bleak," he told the ATP Tour website. After losing to Dominic Thiem in the semifinal of the Barcelona Open in April, Nadal sat alone in his hotel room thinking through his options.
"I did a lot of reflecting, self-evaluating," he added.
Determined to adjust his mindset and fight through the setbacks, Nadal played at his best throughout the French Open and beat Thiem in the final with relentless baseline tennis.
After clinching his 18th major singles title, just two shy of Switzerland's Federer, Nadal said he wouldn't play any Wimbledon warmup events and would instead rest and prepare at home in Mallorca.
"What gives me better chance is being healthy more than play a lot of matches before," Nadal told reporters at Roland Garros.
Visit CNN.com/sport for more news, features and videos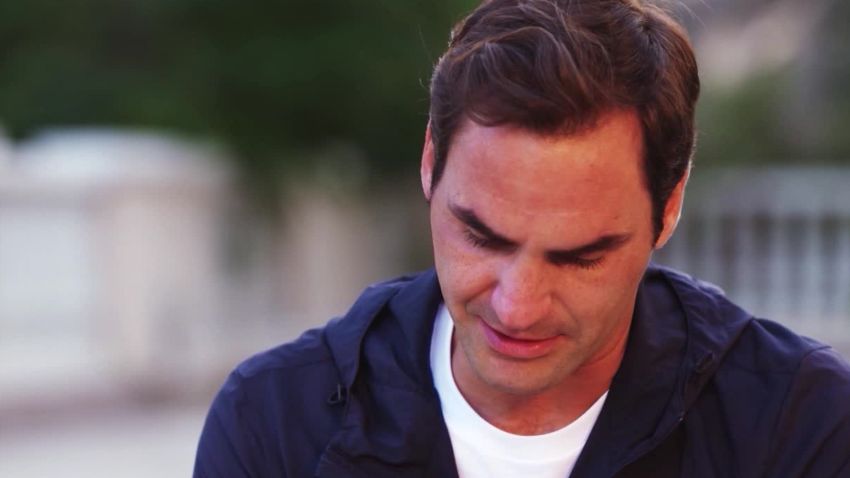 Tearful Roger Federer remembers late coach (2019)
'A mental genius'
Toni Nadal, the uncle and former long-time coach of the world No. 2, thinks his nephew is ready to go all the way this time around on the grass of London.
"When I talk with him today I say I think you have the possibility to win Wimbledon again," Toni Nadal told reporters after the men's final in Paris.
"Last year was very close," he added. "He has the possibility to win and I want to hope that this year it will be possible. I know that Federer is there, Djokovic is there, Dominic [Thiem], many good players, but I want to think that Rafael has the possibility because it's impossible to work well without confidence. I want to think that for Rafael, and he has to think that."
What separates Nadal from most of his competitors is his mental strength, according to Carlos Moya, the former French Open winner who is now his main coach.
READ: 'Thinker' Cilic's search for wining grand slam formula
"Hats off to what he's done this month and a half, because it's easy to play well when things are working well, but what he's been through these last couple of months is showing what a competitor he is and that mentally he is a genius," Moya told reporters in Paris after the final.
As for winning more grand slams, Nadal said it wasn't his goal to surpass Federer's record.
"It's a motivation, but it's not my obsession," he said after the French Open. "If you ask me whether I would like it, of course. Is that a goal in my career, no.
"It's not what makes me get up every morning or go and train and play. It's not the way in which I view the sport, and it's not the way in which I consider my sports career."