Boris Johnson, the man most likely to replace Theresa May as British Prime Minister, has finally broken cover and placed himself before the media to face public scrutiny.
Abandoning a "submarine" strategy after three days of front-page headlines about his private life, Johnson tore through British television and radio studios Monday and Tuesday.
But the glare of the journalistic spotlight exposed the reason why his campaign had been keen to keep him quiet. Johnson, you see, has a unique ability to make bad situations much worse. His vague answers on Brexit and unconvincing answers about his lack of personal transparency have merely led to more negative headlines.
The catalyst for the media merry-go-round appears to be the story that has dominated the British media since Friday, when The Guardian newspaper reported that police had been called to the home of Johnson's partner, Carrie Symonds. Neighbors had reported a heated argument; police later stated that Johnson and Symonds appeared fine and that no further action was required.
Speaking to the BBC's political editor Laura Kuenssberg, Johnson justified his refusal to comment on the grounds that it would unfairly drag his family and loved-ones into the public eye.
But in a near-farcical exchange with LBC Radio's Nick Ferrari on Tuesday morning, he repeatedly refused to explain how a photograph of him and Symonds enjoying each other's company in the English countryside made its way into the papers at the weekend – nor could he say when the picture was taken. (Newspapers were apparently guided to say that it was snapped on Sunday; Ferrari reckoned it was weeks ago.) This is causing many in the UK to question once again whether Johnson is a man who can be trusted.
And whether on Johnson's personal life or his controversial political style, it's this question of trust – or more precisely, character – that is dominating the news in Britain, rather than his policy plans or Brexit proposals. The preoccupation is understandable – the most striking aspect of Johnson's campaign so far has been his remarkably low profile. But Johnson's reluctance to answer questions on his own personal merits has led to others filling the gap.
"To say Johnson's character is deeply flawed is like saying water is slightly wet. If he becomes prime minister, he will be the man most deficient in probity ever to hold the post," Simon Heffer, under whom Johnson worked at the Daily Telegraph newspaper during the 1990s, told CNN.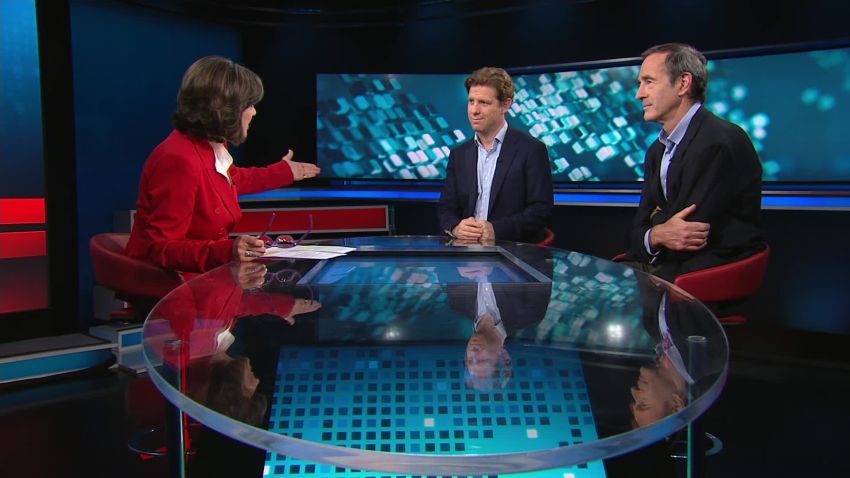 Columnists debate prospects for Boris Johnson
Others agree. Johnson's former editor, Max Hastings, wrote scathingly in The Guardian that Johnson cared about nothing other than his own "fame and gratification." He concluded: "The weekend stories of his domestic affairs are only an aperitif for his future as Britain's leader. I have a hunch that Johnson will come to regret securing the prize for which he has struggled so long, because the experience of the premiership will lay bare his absolute unfitness for it."
But even on the substantive issue of Brexit, Johnson comes up short. People who have followed Brexit closely know that his plan is entirely at odds with the political reality in both London and Brussels.
Johnson claims that where May failed, he can succeed because the politics on both sides have changed. "I think on both sides of the Channel there's a really different understanding of what is needed," he told Kuenssberg.
A "positive energy" would help solve thorny issues such as what to do about the Irish border, he claimed.
It all sounded like he was "crossing your fingers," as Kuenssberg brutally put it to Johnson. Or, as TalkRadio's Ross Kempsell told him, "It's going to take more than positive energy." That's something of understatement, given that the EU has remained solid in its position that May's Withdrawal Agreement is locked down.
And if he didn't get his way? Johnson was clearer than he has ever been before – he would take the UK out of the EU without a deal on October 31, "do or die, come what may," as he told TalkRadio.
While that hardline message might play well with the Conservative party members in Britain who will ultimately choose between Johnson and his rival, Jeremy Hunt, it is being shot down in Brussels.
"It is deeply disturbing that Boris Johnson, a high priest of the Brexit movement, still doesn't seem to understand the most basic aspects of his project, or the consequences of the whirlwind of populism he unleashed in the UK," Sophie In't Veld, a liberal member of the European Parliament told CNN. "It is likely he will now have to deliver on the undeliverable promises he made during the referendum campaign; Europe will not assist him with these matters,"
It's not just Johnson. The only other candidate left in the race, Jeremy Hunt, has been making equally evidence-free claims that he can get some kind of new deal on the basis that he used to be a businessman and is good at deals.
This is what Brexit has come to. Three years since the UK voted to leave the EU, it's becoming abundantly clear that those at the very top of the political elite have either not understood or chosen to ignore the lessons Theresa May learned the hardest way imaginable.