Libya's UN-backed government has said the United Arab Emirates used a US-made F-16 fighter jet in Wednesday's attack on a migrant detention center that killed at least 53 people.
Fathi Bashaagha, the Interior Minister of the Tripoli-based Government of National Accord (GNA), made the accusation to CNN on Friday, adding that further investigation is now underway.
"We accuse the UAE of bombing the center with an F-16 jet," Bashaagha said.
When asked if the GNA had any proof that an Emirati jet conducted the attack, the minister said: "The sound of the jet was identified by technicians and pilots who heard it. The destructive power (of the bombs) is very big and is similar to the destructive power (of the bombs dropped) in 2014."
"The UAE bombed Tripoli in 2014 and it interferes in the Libyan conflict," Bashaagha added.
In 2014, the Pentagon said it believed Egypt and the UAE had been conducting secret airstrikes in the North African nation. Egypt and the UAE denied that claim.
CNN has reached out to the government of the United Arab Emirates for comment but has not yet received any response.
The UAE and Egypt cooperate closely on Libya and back Gen. Khalifa Haftar, leader of the Libyan National Army (LNA), which has led an assault on Tripoli for the past two months.
"There is now a Libyan investigation that follows the flightpath of the jet, which is believed to have entered Libyan airspace from the east that is controlled by Khalifa Haftar," said Bashaagha.
The LNA has also denied responsibility for the attack on the migrant center in the town of Tajoura, east of the country's capital.
Libyan guards 'shot at fleeing migrants'
On Thursday, the United Nations said it had information that Libyan guards shot at migrants attempting to flee the detention center after it was struck.
"There are reports that following the first impact, some refugees and migrants were fired upon by guards as they tried to escape," the UN Office for Coordination of Humanitarian Affairs (OCHA) said. The GNA denied the accusation.
The UN report also stated that there were two attacks, one hitting an unoccupied garage and one hitting a hangar with around 120 refugees and migrants.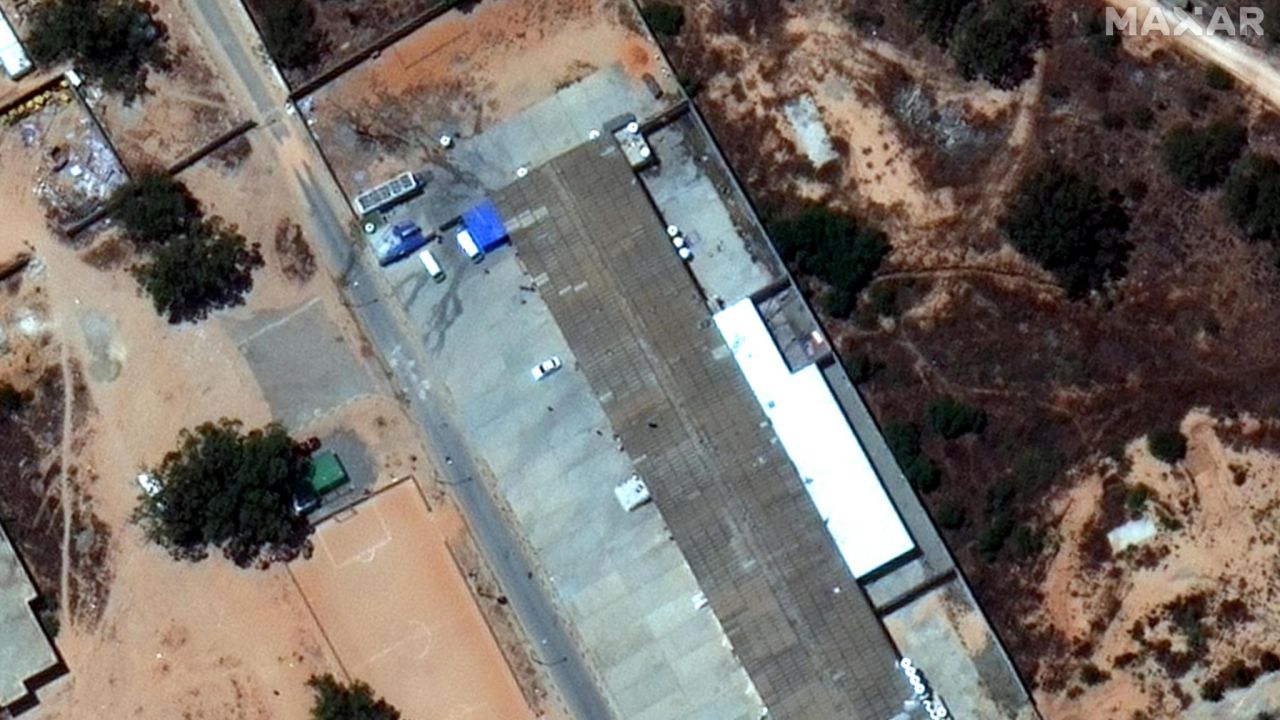 The Tripoli government is considering closing all detention centers in Libya and releasing all refugees and migrants, according to a statement issued by the Interior Ministry on Thursday.
"The Government of National Accord is discussing the closure of all migrant detention centers in Libya and releasing all detained migrants for their safety," Bashaagha said Thursday following a meeting with Maria Ribeiro, the UN Humanitarian Coordinator for Libya.
"The Government of National Accord is obliged to protect all civilians, but attacking migrant detention centers with F-16 fighter jets is beyond the government's capacity to protect them," he added.
CNN's Tamara Qiblawi, Mohammed Tawfeeq and Nada Bashir contributed to this report.