MotoE, the new all-electric motorcycle racing series, made its debut this weekend at Germany's iconic Sachsenring circuit. As the bikes assembled on the grid for the first ever race, it was easy to forget the astonishing story behind their journey there.
At 11:45pm on March 13 this year, MotoE director Nicolas Goubert was in Jerez, Spain, after a day of testing. He recalls the night he was in bed when his phone rang.
"I picked it up and a friend of mine said: 'You'd better get down to the paddock,'" he tells CNN. "I replied: 'Oh come on, I'm about to go to sleep.' My friend said: 'No, you need to get down here.'"
'Nothing remained'
When Goubert arrived at the track he could scarcely believe his eyes. The entire MotoE paddock – bikes, equipment, even the riders' leathers – was in flames.
The blaze, started by a short circuit in a piece of charging equipment, had torn through the tent in which everything was housed. By the morning, all was lost.
Giampiero Testoni, Chief Technology Officer of Energica – the small Italian company that manufactures the racing bikes for MotoE – was also in Jerez that night.
Airspeeder is the future of racing
"I woke up for some reason and checked my phone," he recalls. "There was a message from Nicolas that simply said: 'Bad news, everything burned.'"
Testoni remembers the scene. "Standing there, in the middle of the night looking at it all, almost alone apart from the firemen, was surreal," he recalls. "Literally nothing remained."
READ: Fire destroys entire fleet of electric bikes ahead of new championship
READ: Motor racing series aims to be the Formula One of the skies
Crying
Testoni waited until the morning to break the news to his colleagues back at Energica's factory in Modena. "They were of course devastated, people were crying. Having all the bikes ready, painted, the testing having gone so well, and then this shock, it was very hard," he says.
Having staked so much on the championship, the Energica team was desperate to recover the situation. MotoGP administrator, Dorna, along with MotoE sponsor Enel, concurred, and an action plan was quickly put in place to start again, with the aim of getting everything rebuilt and ready to race by the summer.
Airspeeder is the F1 of the skies
Livia Cevolini, Energica's CEO, told CNN she didn't have time to think. "I just reacted," she said. "I was straight on the phone. It was a hard two or three days calling all our suppliers, asking them to basically rebuild everything."
And it really was everything. "The most damaging thing for us was the fact that all our R&D equipment was lost," Testoni explains. "We had taken everything there from the factory and all of it, even our tools, was gone. We got back to the factory and the R&D area was literally empty."
Solidarity
Help, however, came from all quarters. "We had a lot of solidarity," the Italian continues. "Teams offered to send us mechanics, our suppliers really wanted to help. It was incredible."
With a background in manufacturing high tech parts for Formula One and the space industry, Energica was used to working on demanding projects, but this was an exceptionally hard slog.
"Even just building a battery pack takes almost a week," Testoni explains. "We have had to work day and night to get everything finished, testing, everything."
The Volocopter revolutionizes green travel
Goubert is full of admiration for Energica. "I think people were very impressed with them, they won a lot of people's respect with what they achieved."
Hervé Poncharal, Team Principal of Tech3, one of a number of MotoGP teams to commit to the new MotoE series, agrees.
"They did a great job, and it's not easy," he says. "The worst thing in the world would have been to not have a race in 2019. Dorna, Enel, Energica, they were all committed to making sure it went ahead, and everybody responded really well."
Overcoming such a catastrophic setback was not the only worry ahead of the championship.
Smiling
Poncharal says that one of his concerns was how the riders would react to the new bikes. "We thought they were going to come out of their first run with long faces. Honestly, everybody had a smile on their face, saying it's much better than we expected.
"The bike is heavy, but the power is good, the torque is unbelievable, they all said it is fun to ride."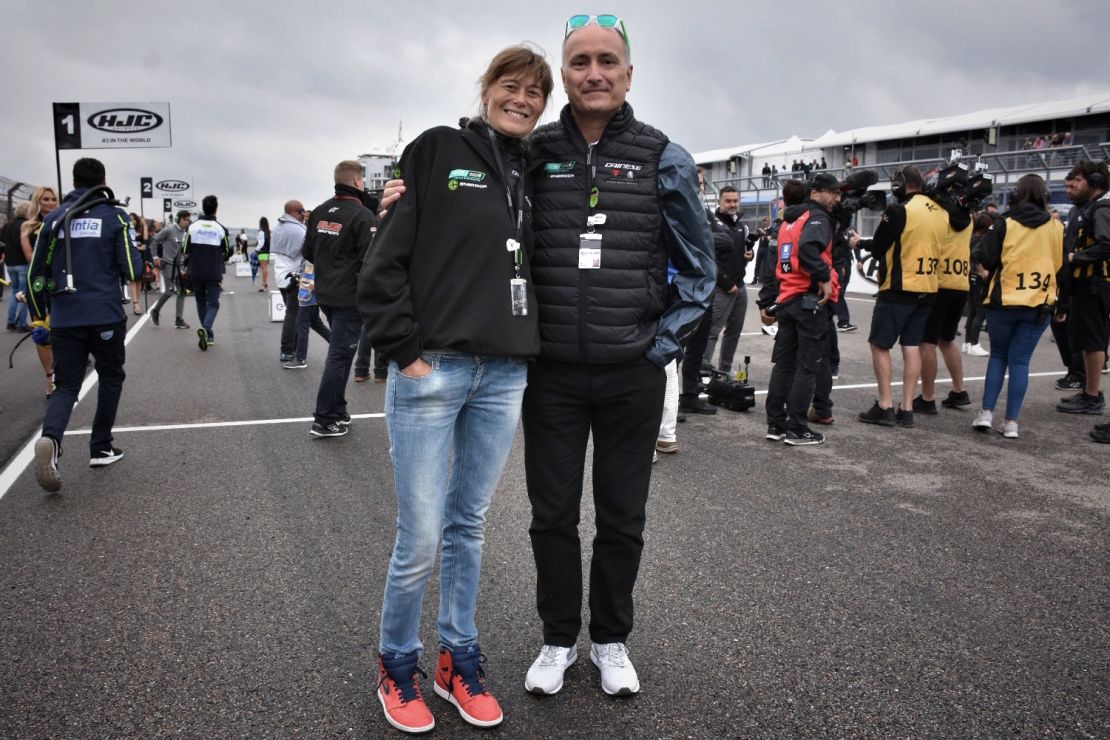 Despite the completely different power source, Poncharal says that his team engineers had a fairly simple task switching over from traditional bikes.
"For the mechanics it's not such a big challenge – there are a lot of common features from petrol bikes. It's more of a challenge for the riders."
Goubert says the simplicity is deliberate. "The engineers cannot do a lot with the bike, suspension and gearing are really the only areas, but we wanted to keep it simple. It would be difficult for the riders to get used to, they have so much that is new already."
Focus on the fight
MotoE has a different philosophy to its four-wheeled cousin, Goubert says: "Formula E has a different approach – if the battery has a capacity of 100 laps, they make the race 105, to test how the teams can develop a strategy to finish the race.
"I respect that, but car racing for me is perhaps more a competition between engineers than drivers. Motorcycle racing is 90% rider, 10% engineers and MotoGP wants to keep it that way.
Can an electric car make it from London to Paris?
"With MotoE, they decided to make it a shorter race but with everyone being there to fight until the last corner."
Poncharal acknowledges that motorcycle purists may take some convincing, but he isn't concerned. "Everybody is having fun. You will always have the old traditional people, who want the world to be how it was in 1960, but this is the future."
Established talent
The MotoE grid on Sunday was packed with established talent, from legendary veterans like Sete Gibernau, Mike Di Meglio and Randy De Puniet, to established MotoGP names like Bradley Smith and Moto2 talent such as Hector Garzo.
There was also a female rider, in former Moto3 racer Maria Herrera.
Niki Tuuli, the Finnish rider who joined the Ajo MotoE team from the Supersport category, was on pole after a dominant qualifying display in which he seemed to steal a significant march on his competitors.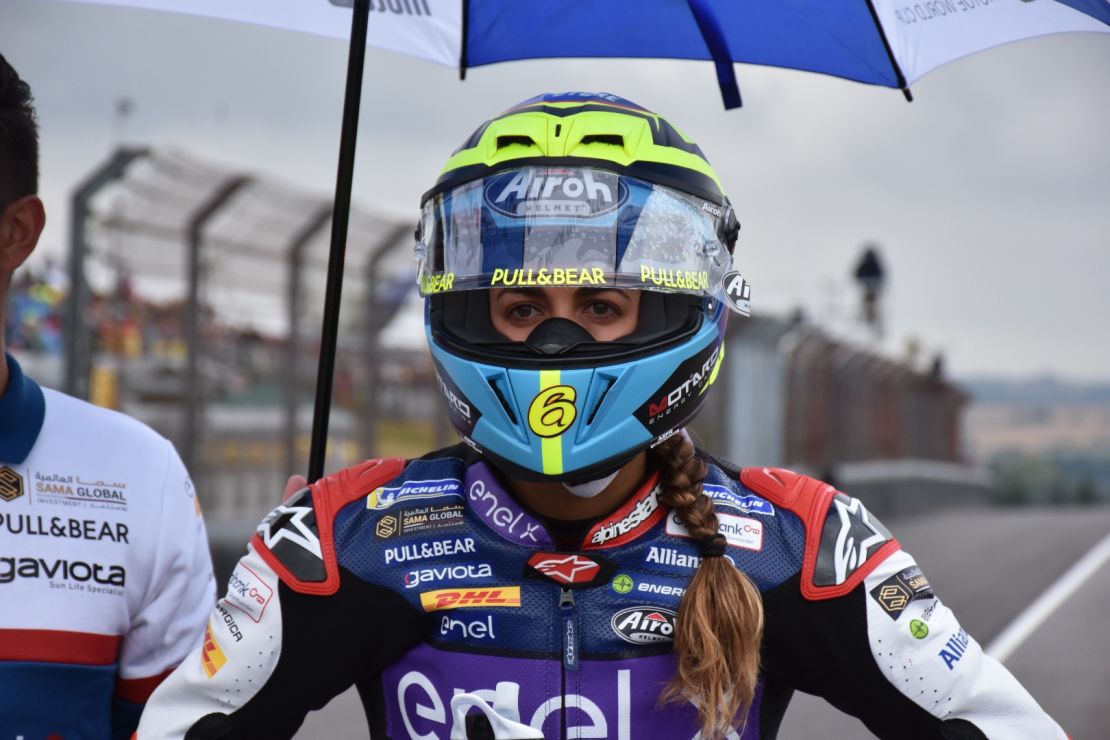 The race got off to a frenetic start, as the bikes whirred off the line in front of a curious Sachsenring crowd. For the first five laps, Smith, Di Meglio, Garzo and Tuuli switched places in a battle that lived up to the promise of close racing.
Red flag
But just as the fight for the win began in earnest, things came to a sudden and unexpected end. Lorenzo Savadori, riding for the Trentino Gresini team, slid out.
His bike tumbled into an air fence, cutting it open. Under MotoGP's strict safety rules, the deflated barrier meant an immediate red flag for the race.
Tuuli, the leader at the end of lap 5, was declared the winner. Smith was second, Di Meglio third. Garzo cut a frustrated figure in fourth.
Tuuli was delighted to be crowned the inaugural race victor. "We have many things to improve, and unfortunately today we had a really short race. But in the end we were first all weekend so it's a good start to the year," he told reporters.
Fourth place Garzo was philosophical. "The lap before the red flag I tried to overtake Mike, and I thought: 'Wait one more lap,'" the smiling Tech3 rider told CNN.
"I was keeping my tires in good condition for the last lap, but you never know when there is going to be a red flag. I'm happy because the four riders in the front group finished together, I was not on the podium, but for me it's okay."
The real victory
In a way, simply staging a race at all was the real victory in Germany. "I don't have words to describe the feeling of walking out onto the grid. It was crazy," Cevolini told CNN after the race.
Cactus biofuel: Mexico's 'Green Gold'
"Until that point, it was like being a mouse on a wheel, just running because you have to do everything. For the first time, today, I could look and understand what we have done. It was crazy, fantastic."
Testoni, too, was full of pride. "They say, if you really want to do it, you can do it. And we did it, not only once but twice."