(CNN Business) —
South Korea has warned that an escalating trade dispute with Japan could hurt the global tech industry.
President Moon Jae-in said Wednesday that Japan's decision to restrict exports to South Korea of materials used in memory chips are a "blow to the economy" and threaten to disrupt global supplies.
Japan announced earlier this month that companies would need a government license to export three materials to South Korea. The materials — fluorinated polyamides, photoresists and hydrogen fluoride — are used to make memory chips and smartphones.
The export controls are a massive headache for South Korean firms Samsung and SK Hynix, who between them control over 63% of the global memory chip market, according to the latest figures from the Korea International Trade Association.
South Korean firms sourced 94% of fluorinated polyamides, 92% of photoresists and about 44% of hydrogen fluoride from Japan In the first quarter of this year, data from the association showed.
Samsung, the world's biggest seller of smartphones, said in a statement to CNN Business that it was "assessing the current situation and reviewing a number of measures to minimize the impact on our production." SK Hynix did not immediately respond to a request for comment.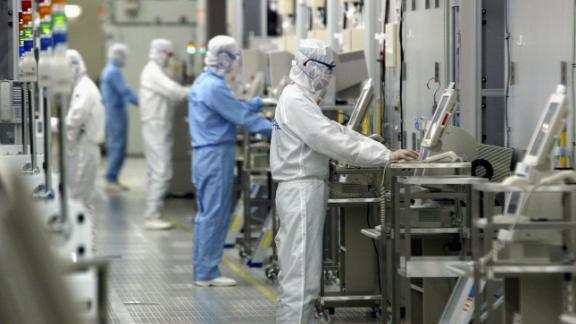 Koichi Kamoshida/Getty Images AsiaPac/Getty Images
The trade spat is the latest in a series of disputes between Japan and South Korea.