(CNN Business) —
Microsoft has unveiled a huge new advertisement in the heart of London. But this is no billboard — it's a store.
The tech company will on Thursday open a three-story, 21,932 square foot store on Regent Street. It's the only Microsoft (MSFT) retail outpost in Europe, and one of just three flagship locations globally.
"I've been working on this for several years because it's all about location in retail," said Cindy Rose, Microsoft's UK CEO. "We wanted the best possible location on the planet."
The software giant is trying to get closer to its customers, a project the store can help with. Visitors can test Microsoft software and games, or get some tech support. Corporate clients are catered to on a separate floor.
"Of course you can buy products here, but this is really about the experience we provide to our customers," said Rose.
"I think this is just the most prime piece of real estate you could possibly find," she said, adding that 86 million people a year shop on the street, which is also home to a huge Apple (AAPL) store.
Richard Scott of UK retail real estate agency Nash Bond said the store's location, at the intersection of Regent Street and Oxford Street, is the most desirable in London.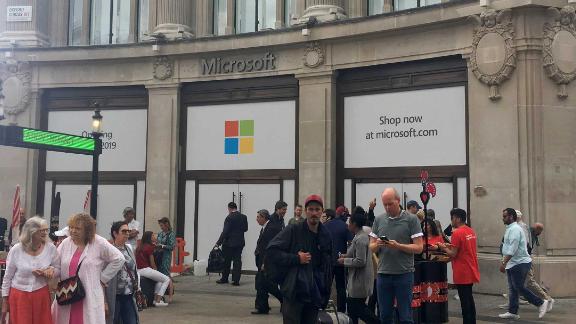 Brittany Gibson/CNN
Chris Capossela, the company's chief marketing officer, said the new store is "unique" in showcasing the Microsoft "experience." That means there's much more to see than just software.
The new Microsoft