She lit up Wimbledon and transcended tennis in a sparkling debut on the world stage, but the big question is what's next for Cori "Coco" Gauff?
And perhaps more importantly, how do you protect a 15-year-old from the trials and tribulations that come with sudden fame?
Two weeks ago she was unknown outside of the sport, but after reaching the fourth round at Wimbledon, as the youngest ever qualifier – and that courtesy of a wildcard – she was lauded on social media by the likes of First Lady Michelle Obama and actor Samuel L. Jackson.
"It's crazy how big this has gotten," said Gauff, a former junior world No.1. "Everything happened so quickly."
READ: Coco Gauff eyes US Open run after 'crazy' Wimbledon?
READ: Cori 'Coco' Gauff, 15, loses at Wimbledon to end magical run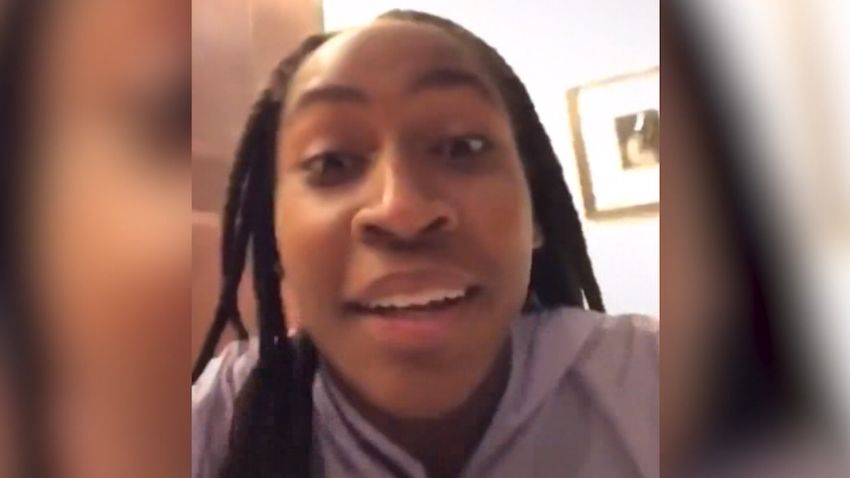 Cori 'Coco' Gauff flips out over celebrity shout-outs
Nothing promised
There are no guarantees in tennis, no cast iron proof that she will go on to excel in the game despite the lavish praise heaped on her at Wimbledon.
Plenty of uber-talented youngsters have burned brightly before their flames have gone out, through myriad combinations of injury, the pressure and weight of expectation, the external distractions, personal relationships, the grind of professional sport. Fame can change people, and not just the players, but those around them.
Luckily for Gauff, who will soar from No. 313 to No. 139 in the rankings, she can rely on some of the most experienced people in the business.
The young American has been guided by Patrick Mouratoglou, the coach of her idol Serena Williams, since she was 11 years old. At 13, she signed with Team8, the agency started by 20-time major champion Roger Federer and his long-time agent, Tony Godsick.
In an interview with CNN Sport at Wimbledon, Godsick said he had been "completely" inundated with requests from both the media and potential endorsers for Gauff in the past week. He's treading carefully, though.
"There is no rush in selling her to corporates," said Godsick, who started his career at management company IMG, where he guided former world No. 1 Monica Seles, former Wimbledon winner Lindsay Davenport and Anna Kournikova, who were all teenage tennis stars.
"I've been around long enough to know that that's actually not the most important thing."
A US Open junior finalist at 13, and a junior grand slam winner at Roland-Garros at 14, Gauff has already signed three deals in the past year: with racket maker Head, pasta maker Barilla and sports clothing company New Balance. The endorsements are estimated to be worth a combined $1 million, according to Forbes.
"She is a special talent, and she has been identified as that," said Godsick, adding there may be room for "one additional partner right now."
READ: Serena Williams fined $10,000 for damaging court
READ: Roger Federer: The power and presence of the $120 million man
READ: The Borg identity: Following in the footsteps of a famous father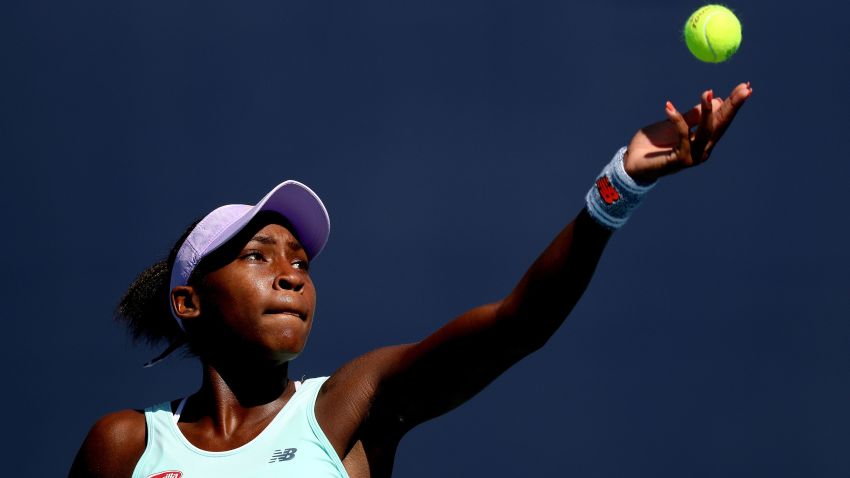 Cori 'Coco' Gauff on the Williams sisters
The importance of support
The weight of expectation can be a burden, even for players who are much older than Gauff.
Take Japan's Naomi Osaka, who became a global star after she won back-to-back majors at the US Open and the Australian Open. One of Japan's most popular athletes, and one of the world's best-paid female athletes with a host of lucrative endorsements, the 21-year-old left Wimbledon in tears, cutting short her press conference after a first-round exit to Yulia Putintseva of Kazakhstan.
"I just hope that – I'm sure she has a good team around her, and that her parents are smart people to keep her with her feet on the ground, and not let her go into this crazy lifestyle, that kind of is thrown at her a little bit now," former world No. 1 Kim Clijsters told CNN Sport at Wimbledon.
Gauff comes from a close-knit and sporty family. Her father, Corey Gauff, is a former college basketball player, while her mother, Candi, excelled in both gymnastics and track and field.