Weather conditions that brought a heat wave to Europe last week are spreading to the Arctic, where scientists predict they could trigger one of Greenland's biggest ice melts on record.
The weather front, which caused mass disruption in European cities, is drifting towards Greenland, where unusually high temperatures are expected to accelerate ice melting, according to the World Meteorological Organization (WMO).
Martin Stendel, a climate scientist at the Danish Meteorological Institute (DMI), wrote on Twitter that forecasts indicated this would be the second largest ice melt since 1950, when reliable records began.
Greenland's ice sheet usually melts during the summer but it started earlier than normal this year, in May, and has been melting "persistently" over the past four months, which have recorded all time temperature highs, Ruth Mottram, a climate scientist with DMI, told CNN.
"Our forecast suggests that will be just below zero degrees at the summit today which is 3000 meters above sea level. It's a very warm temperature for that altitude," she said.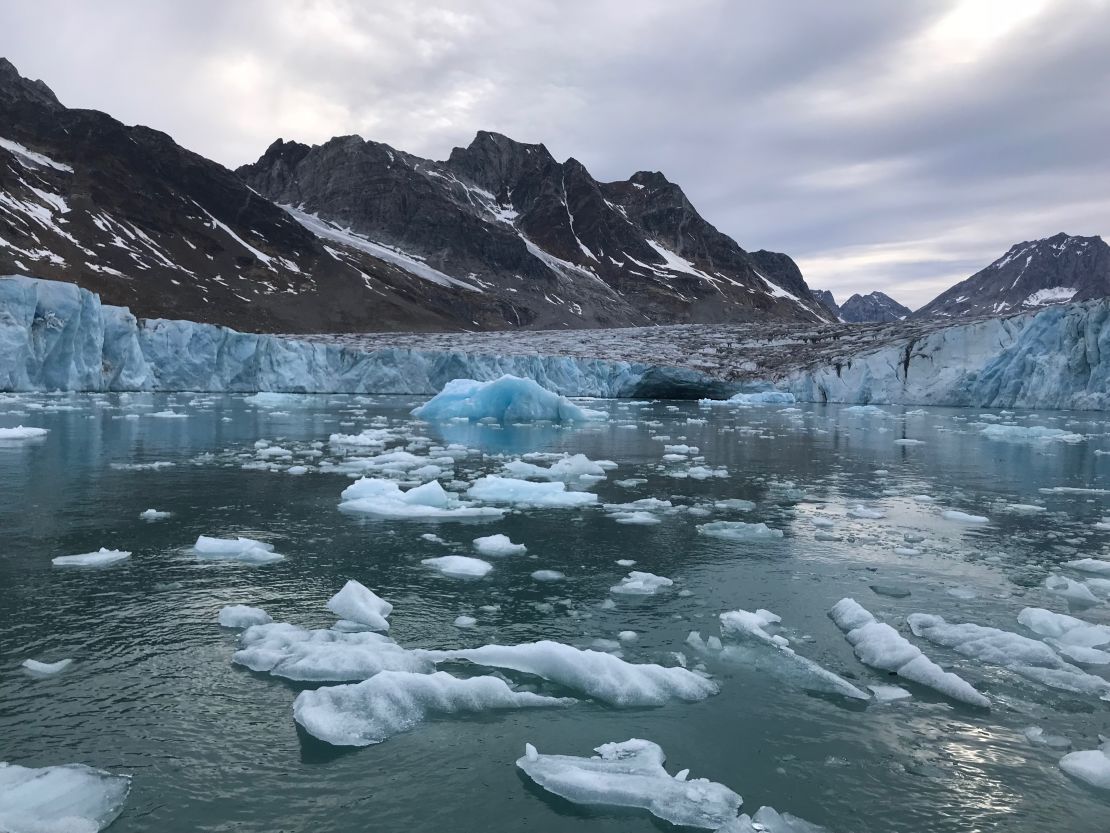 In 2012, Greenland experienced "sudden bursts of very extreme melting" and lost a record amount of ice, according to Mottram.
This year's melt is different to the one in 2012 as it is happening persistently every day rather than in extreme bursts, Mottram noted.
She said that Greenland's ice loss has added an estimated 180 gigatons (billion tons) of water to the oceans since the 1 July. This contributes to a global sea level rise of around half a millimeter.
"That is quite a lot higher than usual," she said, noting that the expected average would be between 60-70 gigatons at this time of year.
On average Greenland has lost 250 gigatons of ice per year since 2002, according to Mottram.
The ice melt comes after scientists say high temperatures helped facilitate "unprecedented" wildfires in the Arctic this summer.
Since the start of June, Copernicus Atmosphere Monitoring Service (CAMS), has tracked more than 100 intense wildfires in the Arctic Circle.
Temperatures in the Arctic are rising at a faster rate than the global average, providing the right conditions for wildfires to spread, Mark Parrington, a senior scientist at the European Centre for Medium-Range Weather Forecasts (ECWMF), told CNN last week.
The European heat wave saw Belgium, Germany and the Netherlands set national temperature records. France recorded its hottest day, reaching a scorching 42.6 °C, and the UK saw its hottest July on record.
The heat wave also set temperature records in Scandinavia, with Norway experiencing "tropical nights", according to the country's weather institute.
Scientists warn that the world should expect more scorching heat waves due to climate change and that current temperature highs are in line with predictions made over a decade ago.
"Such intense and widespread heat waves carry the signature of man-made climate change," according to Johannes Cullmann, director of WMO's climate and water department.